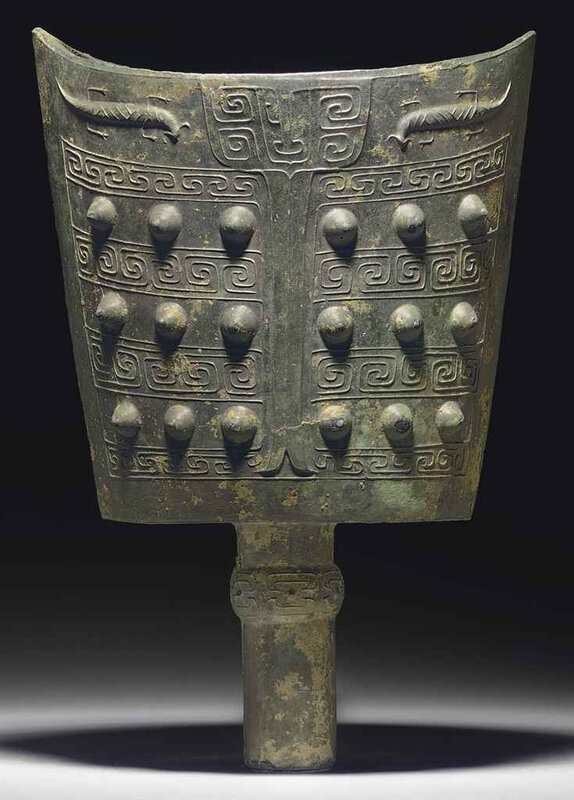 Lot 1262. An unusual large bronze bell, nao, Spring and Autumn period (770-476 BC); 17 in. (43.3 cm.) high. Estimate USD 100,000 - USD 150,000. Price realised USD 242,500. © Christie's Images Ltd 2011.
Of lenticular section, each side cast in high relief with rows of pointed bosses alternating with rows of scrolls cast in thread relief set within a panel divided in the center by a bifurcated band, above a small thread-relief scroll panel flanked by two unusual 'dragons', the tubular shank encircled by a rounded collar decorated with small bosses between thread-relief C-scrolls, with mottled grey and milky green patina, stand.
Provenance: Acquired in Hong Kong, 28 January 2000.
Note: This type of bell, known as a nao, was supported on its hollowed shank and was struck with a mallet to produce the tones. Large nao of this type have been found in excavations in southern China, in the lower Yangzi river basin, indicating that the south had developed its own bronze technology independent of the northern bronze centers, such as Anyang. Most of the early nao bells found at Anyang are small and in sets of three. See J. So, Eastern Zhou Ritual Bronzes from the Arthur M. Sackler Collections, The Arthur M. Sackler Foundation, 1995, p. 439, fig. M13, for a set of three from Anyang Dasikongcun dated to late Shang (Anyang period). They are decorated with taotie masks cast in low relief. As nao bells developed in the south, the taotie mask became increasingly stylized until it was dissolved into a ground of scrolls with only large eyes still visible, such as those illustrated ibid., p. 440, figs. M17 and M19, as well as by R. Bagley, Shang Ritual Bronzes in the Arthur M. Sackler Collections, Washington D.C. and Cambridge, 1987, p. 119, fig. 167.
The present bell is representative of a slightly later stage, where rows of bosses are now a main decorative motif. The present nao is a particularly unusual example of its type, however, due to the pairs of strange 'dragons' cast on either side in the uppermost band. Very similar creatures can be seen on a nao from the Buckingham Collection in the Art Institute of Chicago illustrated by C.F. Kelley and Ch'en Meng-Chia in Chinese Bronzes from the Buckingham Collection, The Art Institute of Chicago, 1946, p. 79, pl. LXIII, which like the present nao, is also cast with rows of bosses alternating with rows of scrolls in thread relief. A nao with very similar decoration, but incorporating a narrow border of dotted circles and lacking the 'dragons', from Guangyang county, is illustrated by J. Rawson, Western Zhou Ritual Bronzes from the Arthur M. Sackler Collections, vol. IIB, The Arthur M. Sackler Foundation, 1990, p. 743, fig. 126.4, where numerous other nao with various decoration are illustrated and discussed, pp. 726-43.
Christie's. Fine Chinese Ceramics and Works of Art Part I and Part II Including Property from the Arthur M. Sackler Collections, New York, 24 March 2011