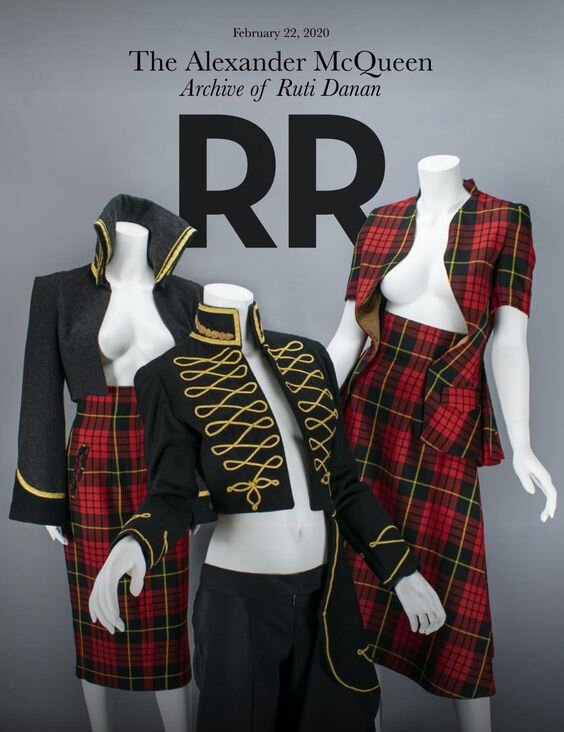 BOSTON, MASS.- An archive of British fashion designer Alexander McQueen's will be auctioned by Boston-based RR Auction.

Lee Alexander McQueen, the famed designer and creator whose boundless vision propelled fashion-forward from the mid-nineties with a game-changing dropped waistline, historically referenced clothing, and a cinematic sense of showmanship. Spanning from 1994 to 1996 and beyond, the archive includes some of the McQueen's most impactful and critically acclaimed early collections in a self-contained complete diary of his creations. An impeccable collection of rare early work— including garments hand-sewn by Lee, original patterns, and sketches–carefully conserved by former head of McQueen studio and friend, Ruti Danan.
"I obtained these items during my time as studio director working for Alexander McQueen in London in both Farringdon and Hoxton Square studios," said Ruti Danan in a press statement.

"Studio teams, models, hair and makeup at this time in fashion, especially for young designers, were often given items for their tireless work in the studios due to pure lack of funding. Days and weeks without rest and relentless work would be rewarded with garments, and I was often asked to wear pieces to meet clients on business trips to demonstrate cut and fit. I rescued a large amount of items of Autumn Winter 1995 from the Farringdon Studios when the landlord threatened to lock us out due to unpaid rent."

Highlights include: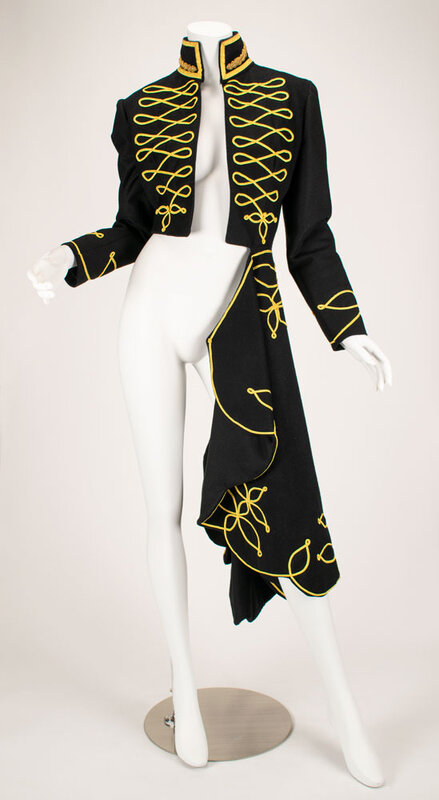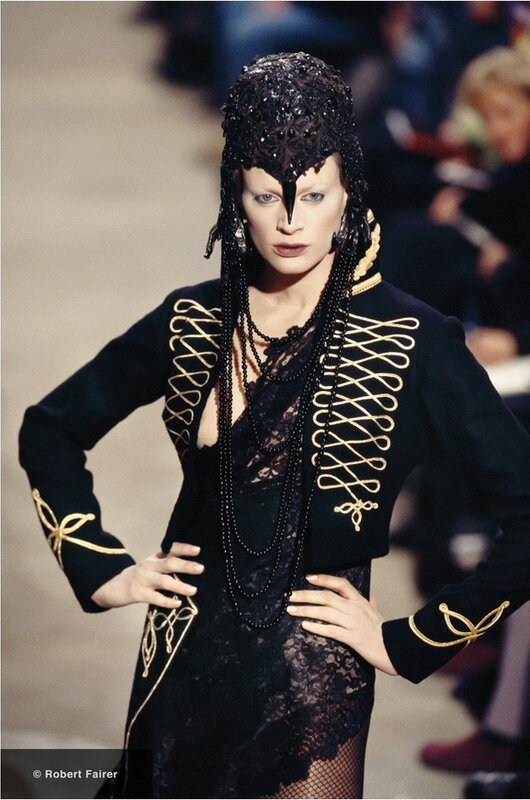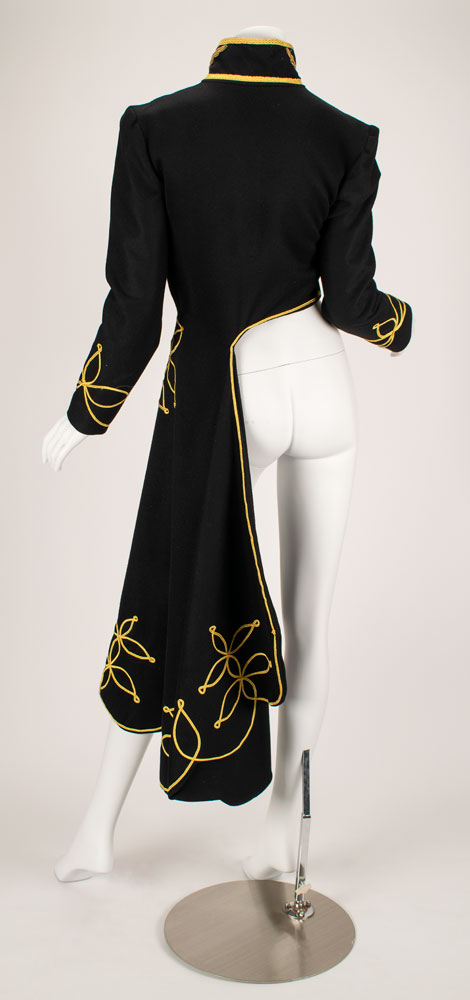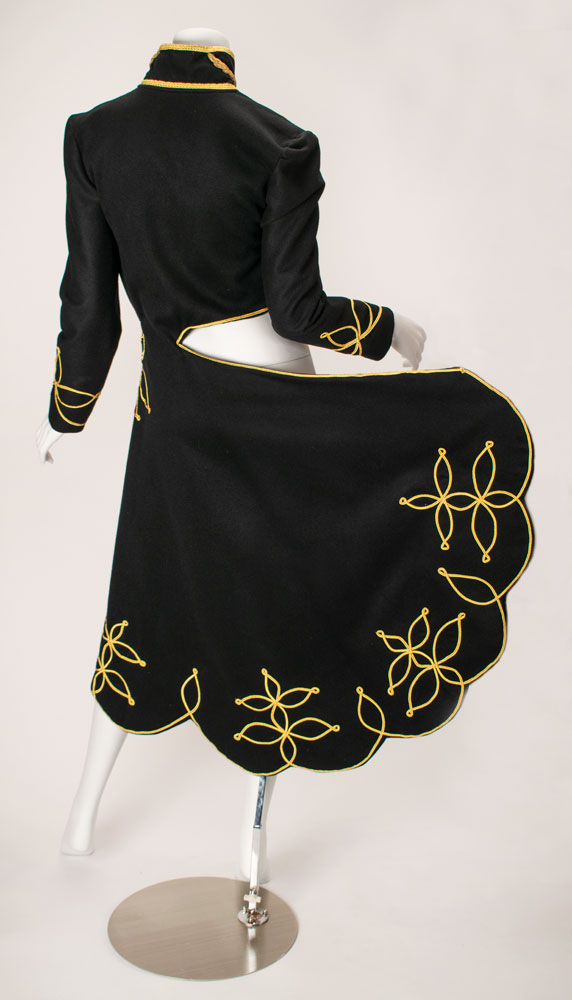 Lot 5054. "Black Dante Military Matador Coat with Original Construction and Braid Motif Patterns", Alexander McQueen AW 1996. Estimate: $150,000+. Courtesy: RR Auction.
An exquisite and documented wool and cashmere military matador-style asymmetrical tailcoat with extensive gold braid work detailing. The military braiding decorates the high collar with 14 karat goldwork leaf detail emblems. Extensive braiding accents the chest and the scalloped edges of the tailcoat with three leafed gold swirl motifs. Also featured are straight sleeves with braid detailed cuffs and signature McQueen padded shoulder. A stunning example of single panel construction which makes up the entire top panel and "tail" portion showcasing McQueen design mastery. This very rare early example of McQueen tailoring is a slight variant of the runway version and was photographed by Nick Knight and styled by Katy England for the Spring 2015 issue of Another magazine in tribute to Lee Alexander McQueen prior to the opening of "Alexander McQueen: Savage Beauty" at the Victoria and Albert Museum in London. Only three of this jacket were ever made with one being sold at Liberty Department store in London, and the last owned by Isabella Blow. Ruti recalls arriving to the McQueen studio one morning to find this jacket created from scratch overnight by McQueen. The jacket is accompanied by construction patterns, and templates for the gold work braiding.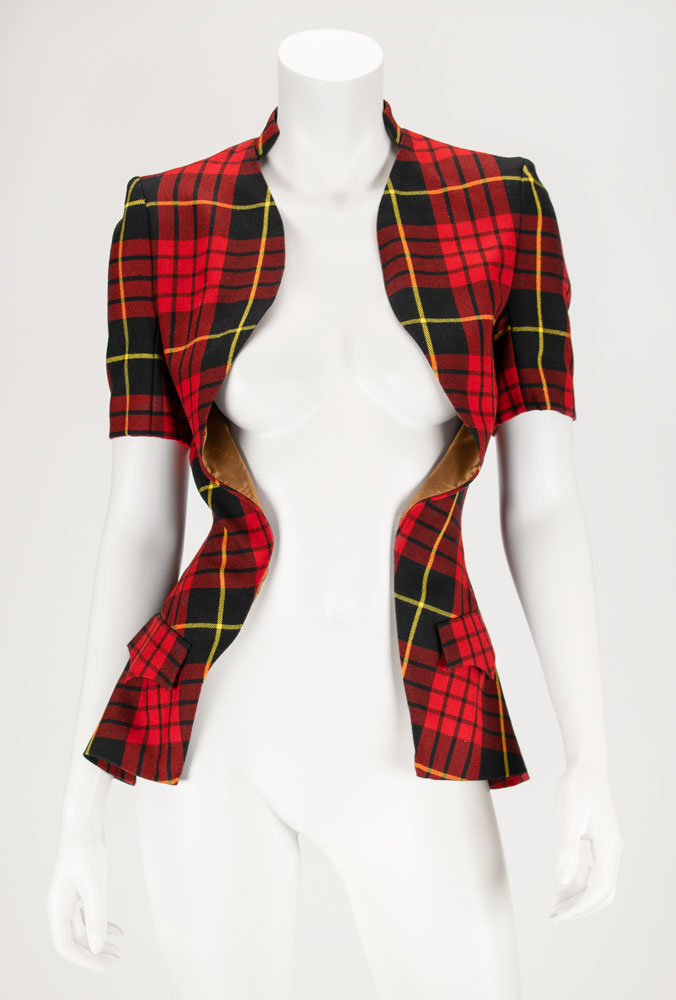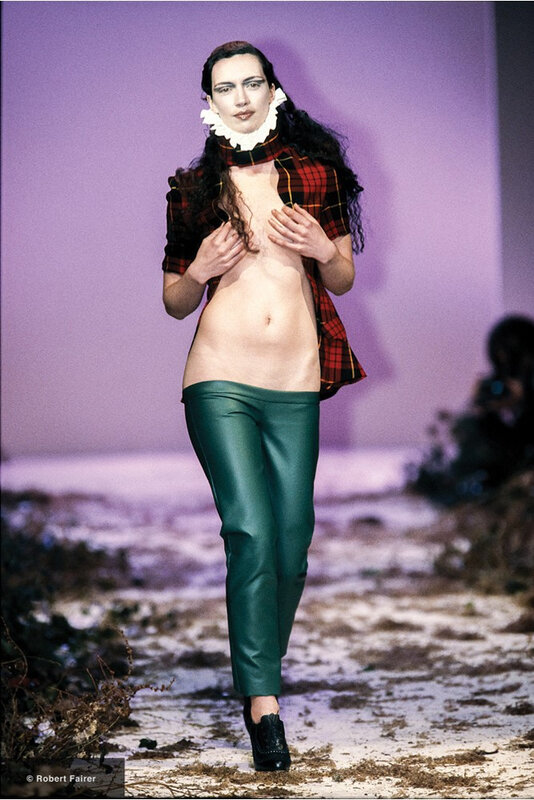 Lot 5020. "Highland Rape" MacQueen Tartan Open Front Jacket With Circle Peplum and Original Pattern, Alexander McQueen AW 1995. Estimate: $100,000+. Courtesy: RR Auction.
Well-documented wool MacQueen tartan open-front jacket with mandarin collar featuring rounded front panels shaped to follow the ribcage, narrow shoulders, and sleeves finished just above the elbow. The circular cut peplum hems are weighted with interior coin weights. The interior is a vintage gold tone men's suit-lining fabric and edged with green ribbon to finish. This jacket has been featured in "Alexander McQueen: Savage Beauty" at the Metropolitan Museum of Art in New York in 2012 and its companion exhibition by the same name at the Victoria and Albert Museum in London in 2015.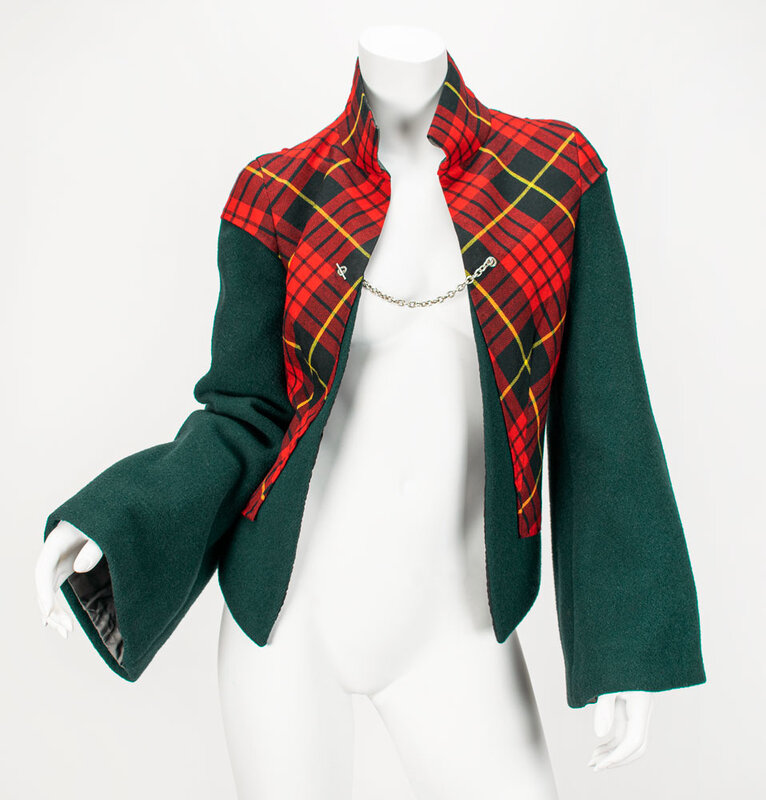 Lot 5021. "Highland Rape" MacQueen Tartan and Green Wool Jacket With Kick-Back Hip Panels and Original Pattern, Alexander McQueen AW 1995. Estimate: $75,000+. Courtesy: RR Auction.
A jacket in bottle green suiting wool with empire-line cut sleeves and mandarin collar. The front panels narrow to a point at the bottom with the bust line secured closed by a silver chain closure, and the rear features a kick-back hem. The interior is lined in gold suiting fabric and coin weights in the hems. This jacket appeared in the catwalk show and three portions of its original pattern included. McQueen himself sketched, cut the patterns, and hand-sewed this garment.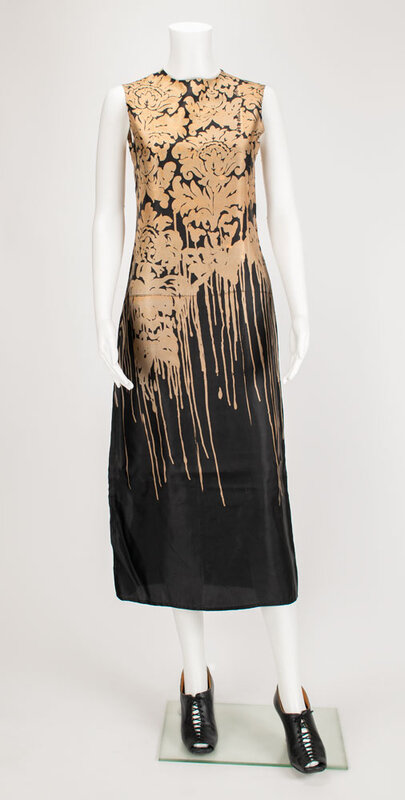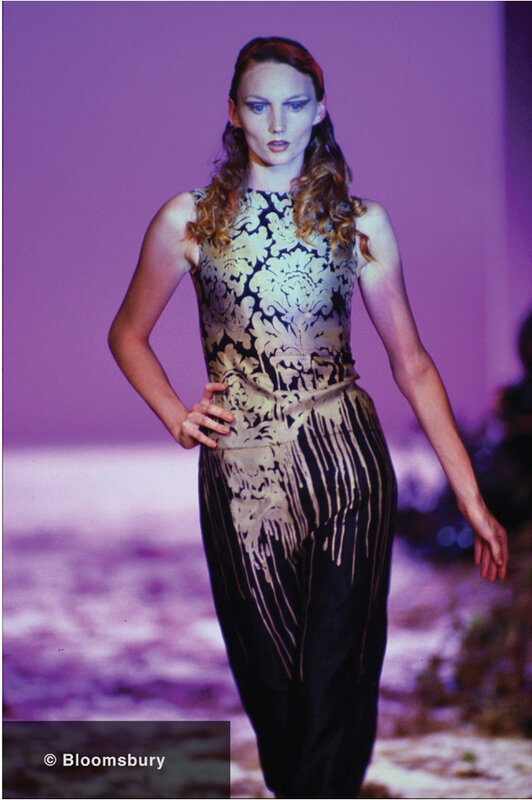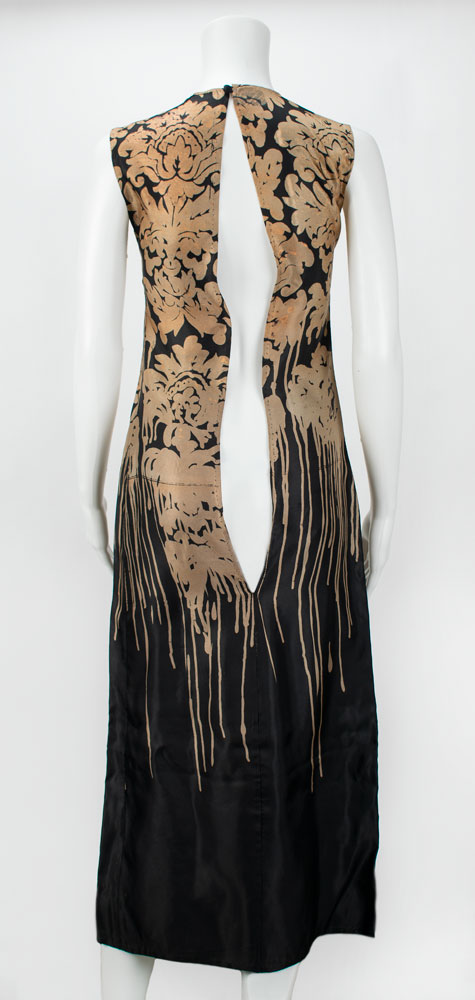 Lot 5017. "Highland Rape" Black and Gold Dripping William Morris Print Dress, Alexander McQueen AW 1995. Estimate: $85,000+. Courtesy: RR Auction.
Well-documented black and gold sleeveless sheath created from suit lining fabric printed by McQueen friend and print designer Simon Ungless at Central St Martins. The print is based on the woodcuts of William Morris deconstructed to emulate a dripping or melting effect. The fabric choice during this time period would have been based on the lowest cost options, which drove McQueen and his studio team to innovation, creating truly unique fabric effects and design. McQueen himself would have cut the patterns and assembled this garment.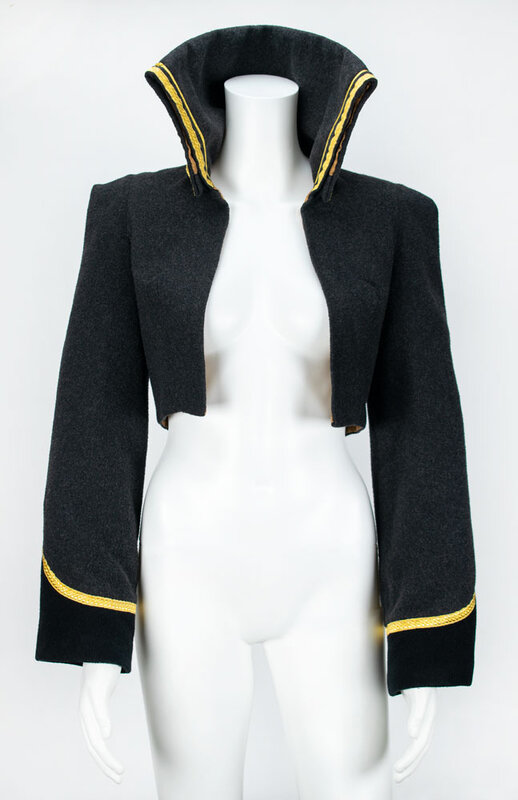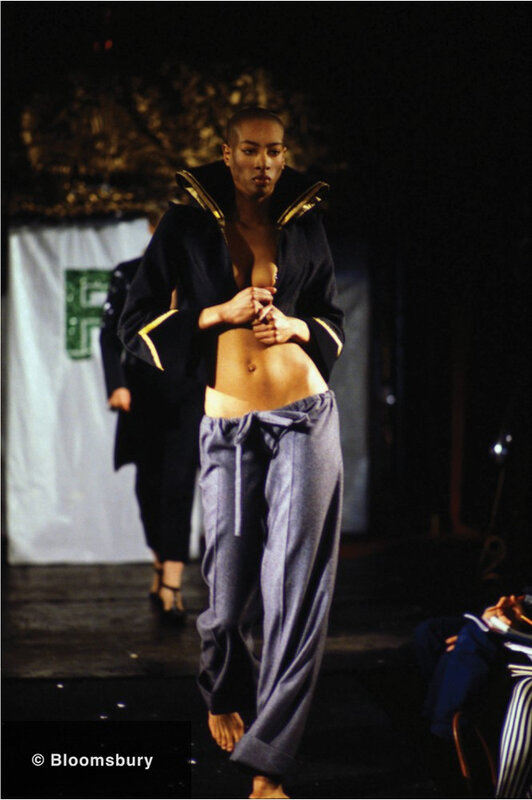 Lot 5001. "Banshee" Grey Military Cropped Jacket With High Collar, Alexander McQueen AW 1994. Estimate: $60,000+. Courtesy: RR Auction.
Well-documented jacket with extra-high collar, composed of gray and black coating wool with empire-line sleeve, sliced and open armpits, and delicate pinched seam shoulders. Its gold military braiding on the collar culminates at the back with a three leaf-motif and peaked accent on each sleeve surrounding a black wool cuff. This one-of-a-kind jacket created by Alexander McQueen himself, including sketches, pattern cutting, and hand-stitching. This was the first item given to Ruti from Alexander McQueen and was featured in "Alexander McQueen: Savage Beauty" at the Metropolitan Museum of Art in New York in 2012 and it's companion exhibition at the Victoria and Albert Museum in London in 2015.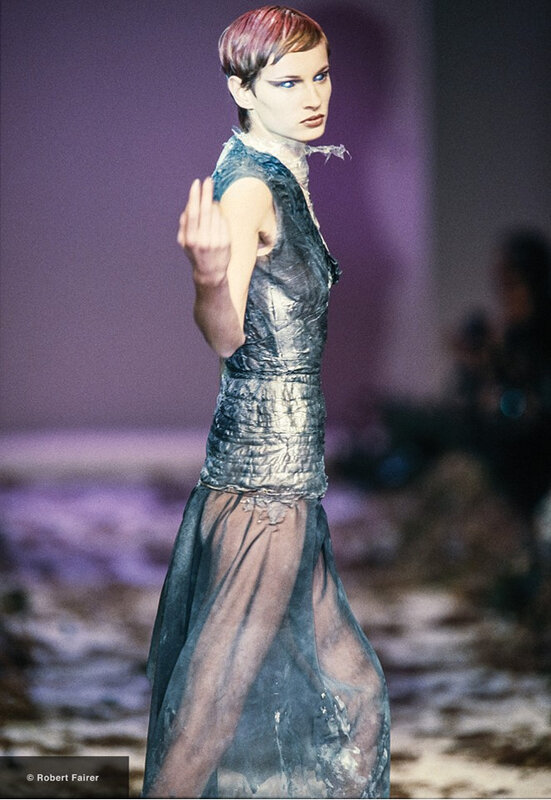 Lot 5026. "Highland Rape" Asymmetrical Deconstructed Torso Dress, Alexander McQueen AW 1995. Estimate: $45,000+. Courtesy: RR Auction.
A one-of-a-kind showpiece dress with diagonal cut neck that extends to expose one breast and features centre rear zipper. This unique silk rayon piece was created using layers of car spray paint and resin. The bodice is crafted with clear plastic wrap overlaid with thread and was sprayed and dipped to achieve a deconstructed effect by McQueen colleague and fabric designer Simon Ungless. Alexander McQueen would have personally worked on this piece cutting and assembling the garment by hand.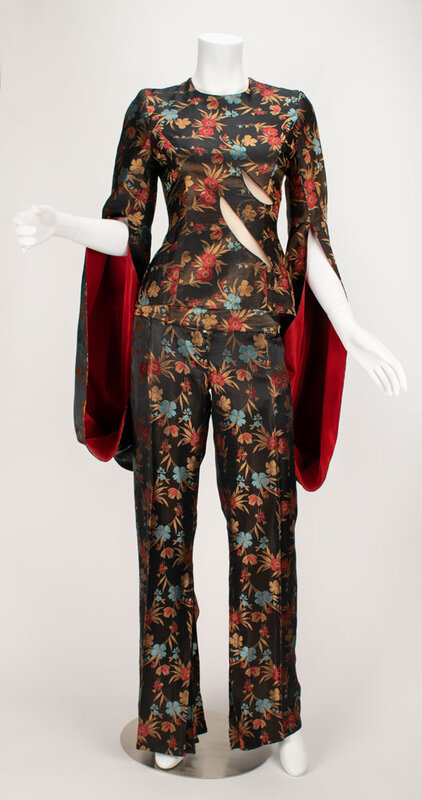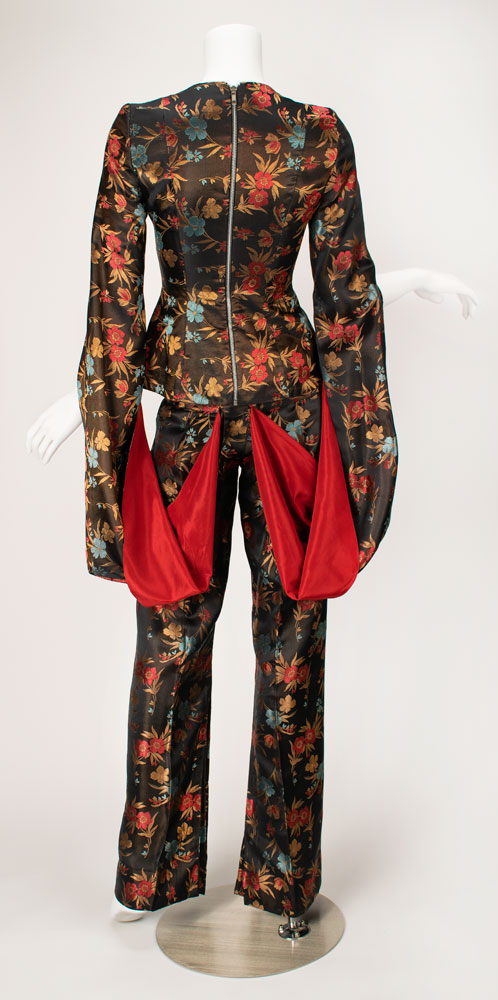 Lot 5042. "The Hunger" Chinese Silk Slashed Panelled Top Suit: Jacket and Trousers, Alexander McQueen SS 1996. Estimate: $80,000+. Courtesy: RR Auction.
With Pattern. A suit of Chinese silk brocade comprised of jacket and trousers. The jacket body is panelled like a corset and has double slashes across ribs with pale nude silk-mesh inserts, a round collar, as well as open slashed sleeves pulled back to a hook fastening on rear centre waistline. The jacket closes with open end metal zip, and is lined in red silk taffeta of which an extra piece of the same red silk taffeta from the studio is included. The matching trousers feature rear internal accordion pleated panels at the calf. The fabric for these pieces were sourced by Ruti Danan from Brick Lane in London during the show preparation and come with the original patterns.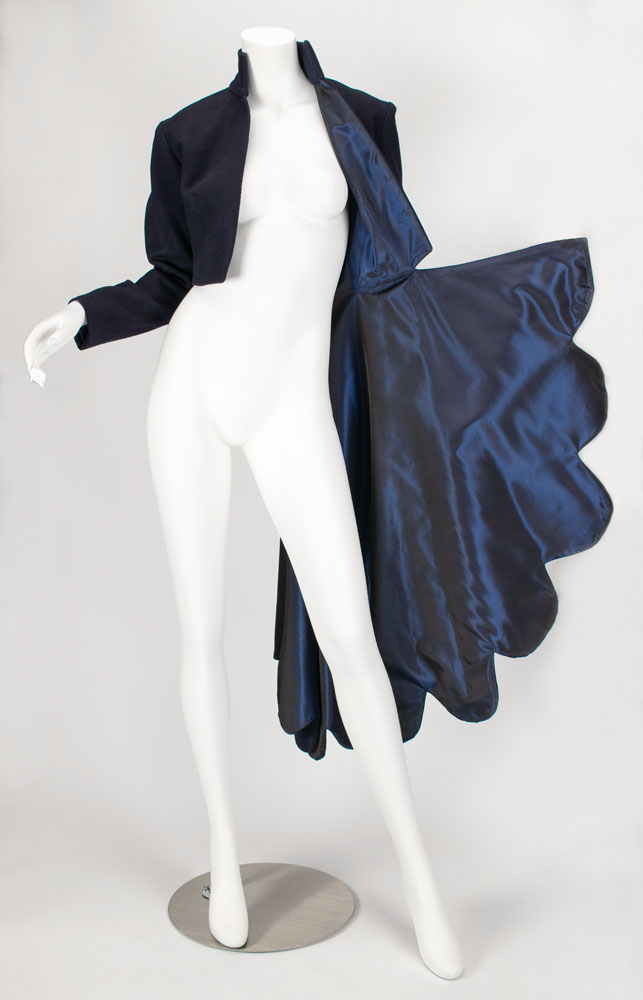 Lot 5056. "Dante" Blue Military Matador Jacket Toile, Alexander McQueen AW 1996. Estimate: $80,000+. Courtesy: RR Auction.
A original navy blue jacket toile comprised of wool for the "Dante" military jacket and fully lined with blue silk taffeta lining from the previous season "The Hunger" collection. Its construction mirrors the single panel tail and jacket body pattern construction of the final jacket.
Ruti Danan, was a colleague of Alexander McQueen and member of his original studio team, has maintained these items, patterns, shoes, and assorted unique personal affects since her time working with McQueen in the mid 90s.

Working as part of the Alexander McQueen Studio team during two years from 1994 to 1996, Danan was a key participant in the world of McQueen during some of the most pivotal moments of British Fashion and Culture in the early 90s. Ruti's archive reflects a relentless dedication to preserving his legacy through expertise and personal account; a rare selection of items and memorabilia given to her during her time and work for the legendary designer.

Danan lovingly preserved these coveted items, storing each one like precious jewels being locked away as heirlooms. Like many studio team members at this time in fashion, most were rarely paid for their non-stop dedication, but instead given items for their priceless time and work. While Ruti briefly wore some articles, she was also quietly dedicated to meticulously preserving every stitch and hem to ensure their longevity especially since many were made by McQueen's own hands. Her diligence was recognised when several of her unique archive pieces were chosen for both New York and London's blockbuster exhibitions "Alexander McQueen: Savage Beauty" and further in various high-profile fashion publication features.

With this unique offering, Ruti now looks to a global stage to allocate these items a new home and share her storied pieces so that future generations can celebrate the boundary- breaking legacy and genius of her comrade, mentor, and friend: Lee Alexander McQueen.

"It's a world-class private collection of rare and one-of-a-kind early Alexander McQueen items," said Bobby Livingston, Executive VP at RR Auction."This is a once-in- a-lifetime chance to own a such a unique portion of fashion history."