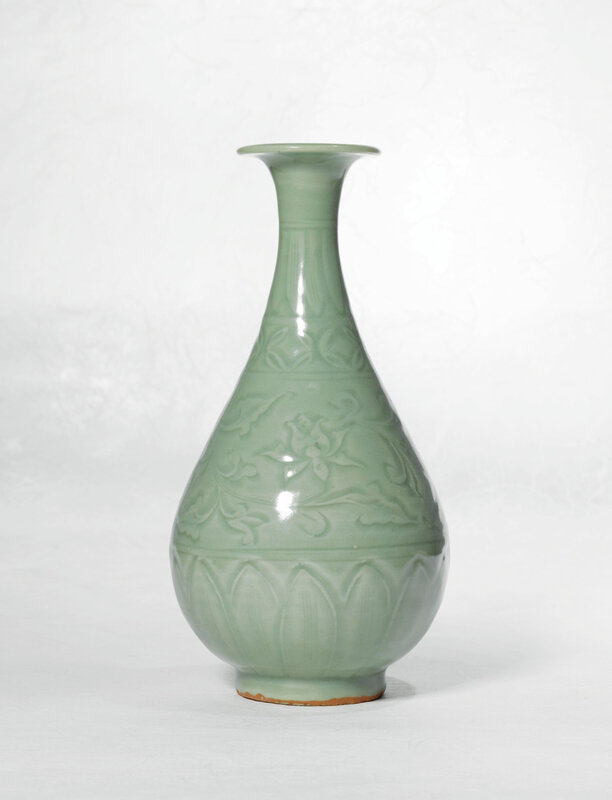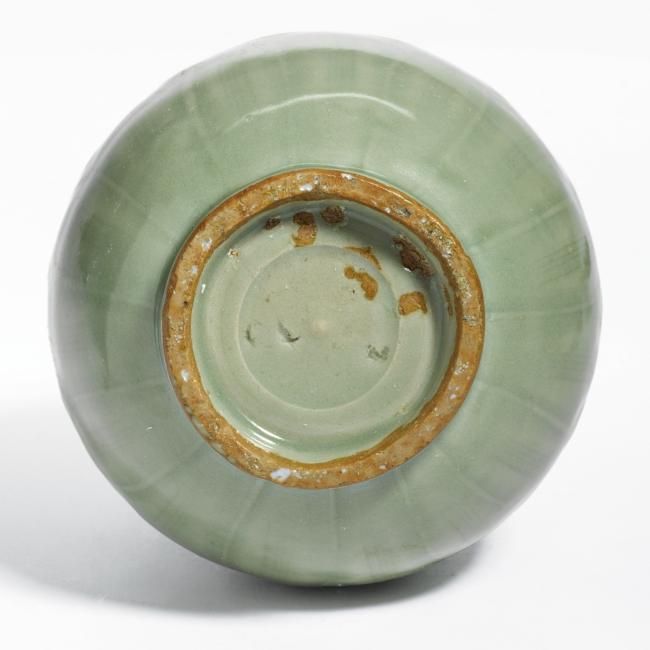 Lot 505. A fine carved 'Longquan' celadon vase (yuhuchun ping), Yuan dynasty (1279-1368); height 9 1/4 in., 23.5 cm. Estimate 80,000—120,000 USD. Lot sold 506,500 USD to an Asian collector. Courtesy Sotheby's.
the pear-shaped body rising to a slender neck with a pronounced flared mouth, well carved with a lotus scroll, the three open blooms among foliage on a combed fleshy stem all above a band of upright petals rising from the base, the sloping shoulders encircled by a band of cash motifs below a band of pendent lappets, the glaze a smooth pale green tone pooling to a deeper tone in the recesses of the carving, the grayish body burnt reddish-brown at the unglazed foot.
Provenance: Collection of Mr. and Mrs. Alfred Clark.
Sotheby's London, 25th March 1975, lot 53.
Sotheby's Hong Kong, 20th May 1980, lot 34.
The Collection of T.Y. Chao, Hong Kong.
Sotheby's Hong Kong, 18th November 1986, lot 28.
Literature: Godfrey St. George Montague Gompertz, Chinese Celadon Wares, London and Boston, 1980, pl. 94.
Note: Longquan celadon, which was introduced in the later part of the Song dynasty, was adopted in the Yuan dynasty with the period's characteristic flourish. As James C. Y. Watt writes in the exhibition catalogue The World of Khubilai Khan: Chinese Art in the Yuan Dynasty, New York, 2010, p. 269, 'Reduced to its most basic and obvious elements, the Yuan style in the decorative arts, in contrast to that of the Southern Song, is characterized by an emphasis on three-dimensional modeling and by the complexity of surface decoration.'
While Longquan celadon wares of the Song Dynasty emphasized the color, texture and form of the pieces, those of the Yuan demonstrate an interest in using the glaze to highlight the carved surface decoration. This difference in perception can be seen in the contrast between the present piece and lot 532 in this sale, the Southern Song period Longquan vase of similar shape but without carved decoration, which leaves the unctuous glaze undisturbed. The present vase, on the other hand, is fluidly carved with a tiered design element that is evocative of the decoration on contemporary silver wares as well as blue and white porcelain. The depth and movement on the surface of the vase draws forth a sensibiilty that is unequivocally Yuan.
Yuan examples of this yuhuchun form with carved decoration are rare among Longquan wares. However, a qingbai example with slightly looser carving design is illustrated in Jingdezhen Wares: The Yuan Revolution, Hong Kong, 1984, pl. 27, p. 94.
Sotheby's. Harmony of Form, Serenity of Color: A Private Collection of 'Song' Ceramics, New York, 23 march 2011