Hartford, Conn. —What many of us eat, the way food is cooked, and how we dine continue to be influenced by radical changes that took place in France and England between 1650 and 1789, the start of the French Revolution. Savor: A Revolution in Food Culture explores the details and events behind this transformation. Centuries before our time, light, flavorful cuisine was promoted by intellectuals and prepared by cooks and connoisseurs. The changing food culture inspired the invention of ceramic and silver ware vessels designed to serve the latest dishes. Replete with rare objects, from tureens in the forms of cauliflowers and chickens, to early cookbooks and gardening manuals, Savor reveals fascinating histories and stories about advances in horticulture, surprisingly modern philosophies on healthy eating, and a shift to more informal dining. Savor will be on view at the Wadsworth Atheneum Museum of Art from February 29 through May 25, 2020.
"We have become obsessed with food and dining—modern foodies reflect the passion for gastronomy that consumed gourmets 350 years ago when even princes and members of the nobility tried their hands as amateur cooks," said exhibition curator Meredith Chilton, Curator Emerita, at the Gardiner Museum, Toronto. "Savor is a delectable exploration of the eighteenth-century's fascination with food. It brings the profound transformations of the time to life through fascinating objects, delicious recipes, and amusing stories."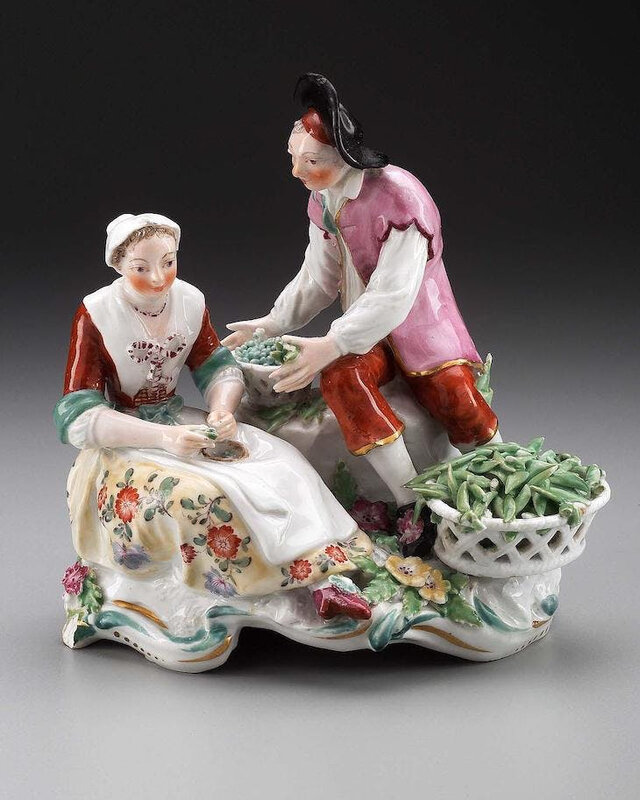 Boy and girl shelling peas, England, Chelsea, c. 1759–1770. Soft-paste porcelain, enamels, and gilding. Museum of Fine Arts, Boston, MA. Gift of Richard C. Paine.
The exhibition begins, as did the eighteenth-century meal, in the fertile soil of the kitchen garden. There, gardeners experimented with horticulture and expanded the growing seasons of fruits and vegetables. French cooks used this bounty to introduce more refined and healthier cooking, which gained popularity throughout Europe. At the same time, French and English philosophers developed food theories that sound startlingly modern, promoting locally grown products and the appeal of vegetarianism. These developments transpired against a backdrop of social change that brought about a desire among European elites for informality and privacy, dining at later hours, and enjoying meals by candlelight.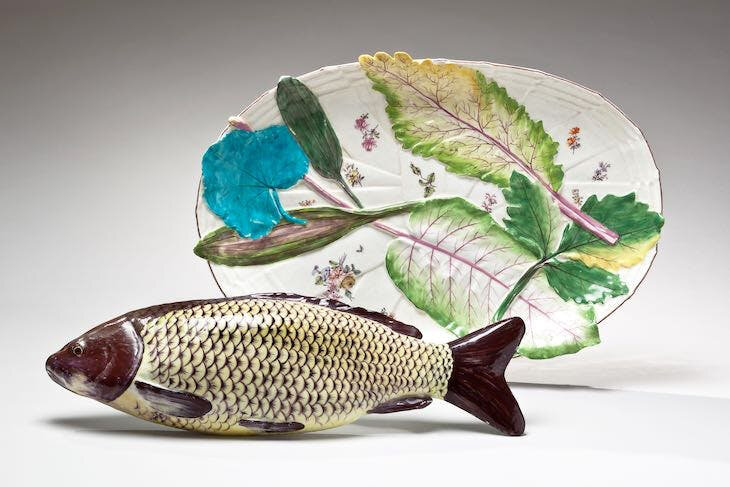 Carp Tureen and stand, England, Chelsea, c. 1755. Soft-paste porcelain, enamels. Gardiner Museum, Toronto, Canada. Courtesy of Michele Beiny. Photo by Michele Beiny/Richard Goodbody.
The exhibition is organized around different themes, including the garden, farm, hunt, and marketplace; the kitchen and cooks; and the pantry and dining table. Drawn from major museums and private collections the ceramics, silver, glass, rare books and paintings, joined by the Wadsworth's outstanding holdings, are a feast for the eyes. A rare sculpture of children shelling peas, made at the Chelsea porcelain factory in England, shows how the French learned to cultivate peas out of season to satisfy King Louis XIV's obsession with this tasty vegetable. A tureen in the form of a life-size and realistic boar's head might have come alive on the table as steam from a robust game stew escaped through its nostrils. A pink and green pierced basket made by the famous French royal porcelain manufactory at Sèvres would have held marrons glacés (roasted or candied chestnuts). Porcelain was the ideal material to present this extravagant sweet treat with the holes in the basket enabling the air to circulate keeping the candied chestnuts from oozing syrup. Mingling among the exceptional eighteenth-century works of decorative art are historical cookbooks and works of contemporary art, including ceramics by British artist Kate Malone and whimsical knitted objects by Madame Tricot (Dominique Kaehler Schweizer).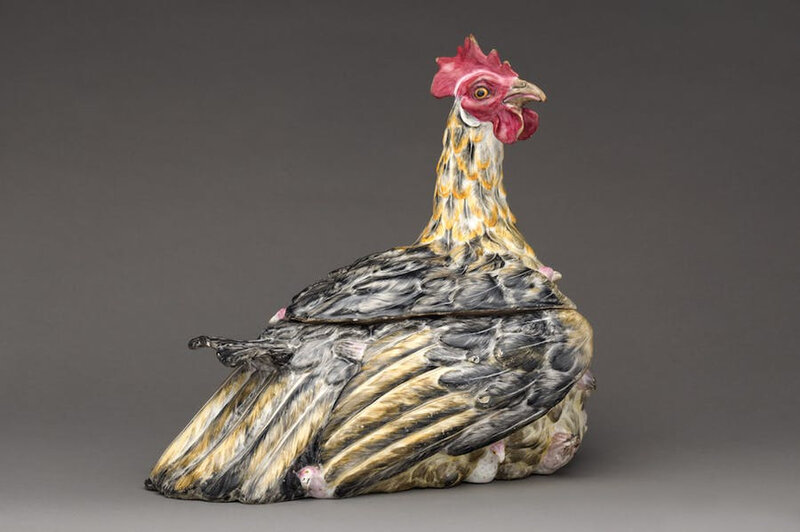 "Savor offers an exciting opportunity to explore the historical phenomenon of this revolution in food culture. It sheds new light on the remarkable works of art made for dining," said Linda Roth, Senior Curator and Charles C. and Eleanor Lamont Cunningham Curator of European Decorative Arts at the Wadsworth. Through a partnership with Auerfarm in Bloomfield, CT the fountain in Avery Court will be transformed into a period inspired culinary and sensory herb garden, while the center courtyard outside will be planted with spring edibles, available to our museum café, Untitled Bistro. "Through collaborations with local chefs, farmers, gardeners, and designers, we are bringing the excitement around the universal topic of food into the museum," said Roth.
Savor: A Revolution in Food Culture is organized by the Gardiner Museum, Toronto, and curated by Meredith Chilton, C. M., Curator Emerita at the Gardiner Museum. This presentation of the exhibition is a collaboration between the Wadsworth Atheneum Museum of Art and the Gardiner Museum. It is accompanied by the fully illustrated cookbook, The King's Peas: Delectable Recipes and Their Stories from the Age of Enlightenment.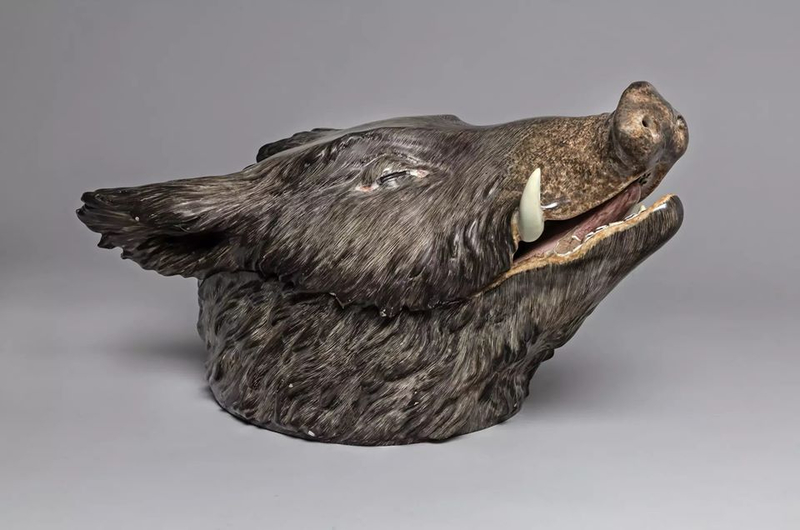 Boar's head tureen, France, Strasbourg, 1748–1754. Model possibly by Johann Wilhelm Lanz (active 1748–1761). Tin-glazed earthenware (faïence). Private collection. Photo by Toni Hafkenscheid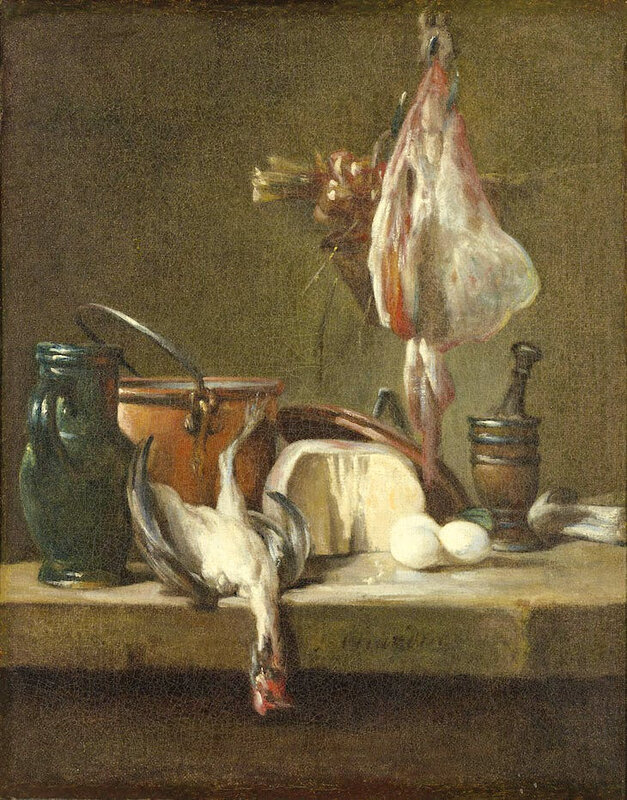 Jean-Siméon Chardin, Still Life with Ray, Chicken, and Basket of Onions, c. 1732. Wadsworth Atheneum Museum of Art, Hartford, CT.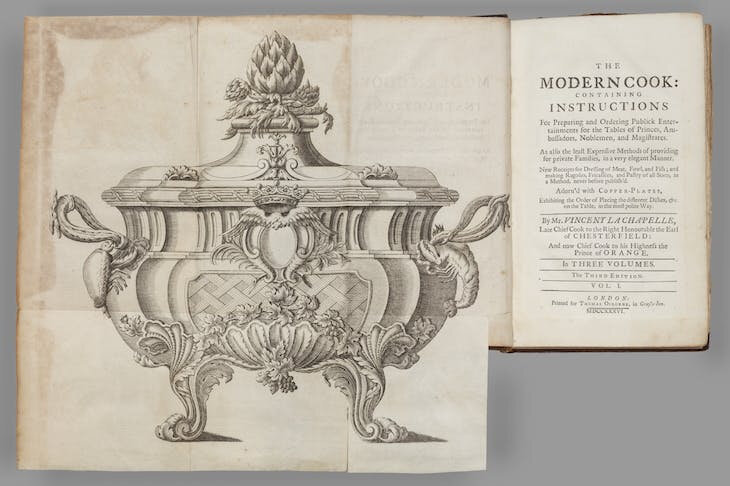 Frontispiece of The Modern Cook by Vincent La Chapelle, printed in London in 1744. Photo: Toni Hafkenscheid