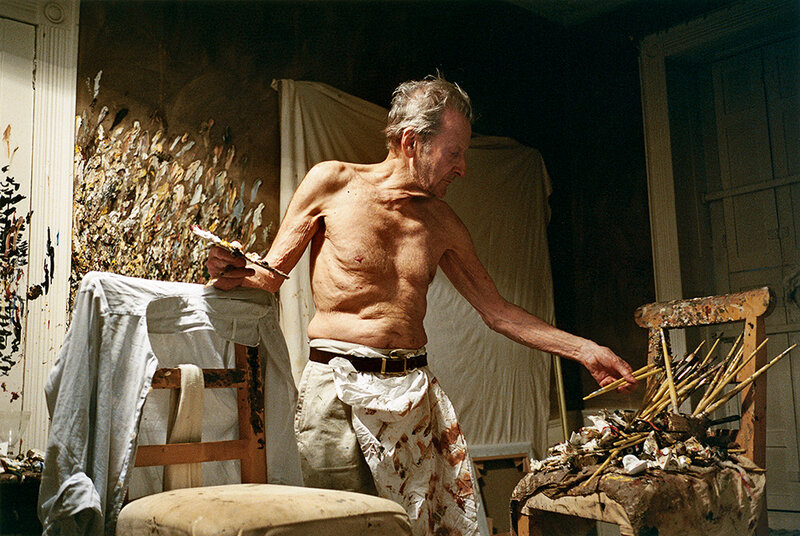 David Dawson (British, born 1960), Working at Night, 2005. Photo: Bridgeman Images. Courtesy, Museum of Fine Arts, Boston.
BOSTON, MASS.- Over the course of almost seven decades, Lucian Freud (1922–2011) returned repeatedly to self-portraiture, creating a body of work that stands as one of the most sustained achievements of his career. Lucian Freud: The Self-Portraits, presented at the Museum of Fine Arts, Boston, in partnership with the Royal Academy of Arts, London, is the first exhibition dedicated to the celebrated British painter in Boston and the first anywhere to focus on his visceral and unflinching depictions of himself. Freud's self-portraits trace the evolution of his artistic development: from his linear and graphic early works to the fleshier, painterly style that became the hallmark of his later output. They also chart a life's journey, from young boy to old man, in what was effectively an ongoing study of the aging process and the changes it inflicted on Freud's physical form. Lucian Freud: The Self-Portraits, on view in the Lois B. and Michael K. Torf Gallery from March 1 through May 25, 2020, assembles more than 40 works on canvas, paper and etching plate that span the 1940s to the early 21st century—including many works from private collections on public display for the first time in decades and four self-portraits shown only at the Boston venue. The MFA's presentation of Lucian Freud: The Self-Portraits is curated by Akili Tommasino, Associate Curator, Modern and Contemporary Art. It is further enriched within the context of the Museum's collection, which contains works by artists throughout history—including Rembrandt Harmensz. van Rijn and Paul Cézanne—whose self-portraiture took the genre to new heights and provided inspiration for Freud.
"In this unprecedented exhibition, visitors can trace Lucian Freud's career through his shifting visage. We are thrilled to bring the self-portraits of this virtuosic painter, who relentlessly mined the human condition, to the MFA, a Museum whose treasures include works by artists deeply important to his development," said Tommasino.

Best known for unconventional portraits of his acquaintances, Freud painted his subjects with compositional ingenuity, technical virtuosity and a critical eye. He was no less vigorous when depicting himself, and his self-portraits provide a unique lens through which to view his artistic development and his restless exploration of paint. Organized roughly chronologically, Lucian Freud: The Self-Portraits highlights essential characteristics of the artist's practice and his innovative approaches to the age-old tradition of self-portraiture. The MFA's presentation includes an evocation of Freud's nocturnal studio—complete with hanging lamps, angled mirrors and a palette used by the artist—that invites visitors to learn more about the renowned British painter. Visitors can also portray their own likenesses with drawing supplies in the gallery and share them on social media using #FreudSelfPortraits.

Exhibition Highlights:
• Four self-portraits are shown only at the Boston venue: a 1944 drawing, two oil-on-canvas sketches from about 1985 and about 1993, and the 2002 painting Self-Portrait (Abelló Collection), which is among the most recent of Freud's works in the exhibition.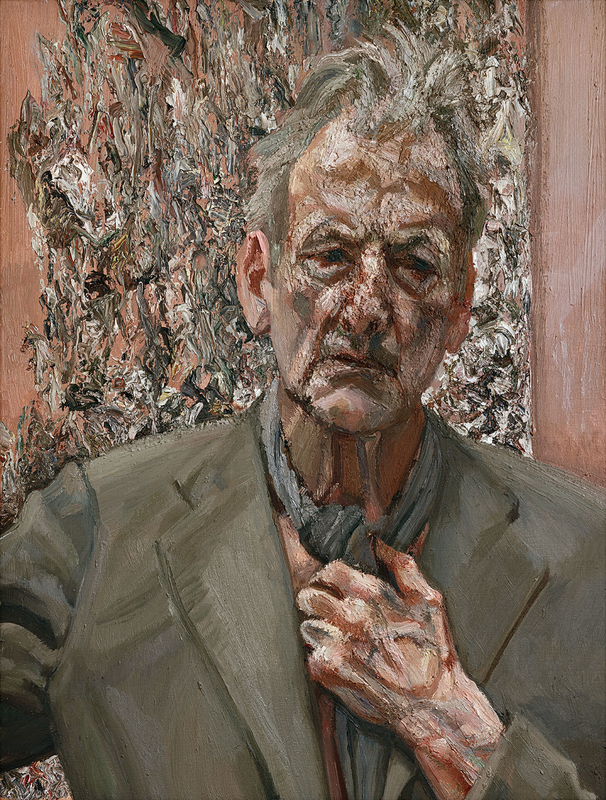 Lucian Freud, Self-portrait, Reflection, 2002. Oil on canvas. 66 x 50.8 cm. Private collection. © The Lucian Freud Archive / Bridgeman Images.
• Man with a Feather (1943, Private Collection), Freud's first major self-portrait, was included in his first solo exhibition in 1944, at the Lefevre Gallery in London, and represents a defining moment in his early artistic maturity.
Lucian Freud, Man with a Feather, 1943. Oil on canvas. 76.2 x 50.8 cm. Private collection. © The Lucian Freud Archive / Bridgeman Images.