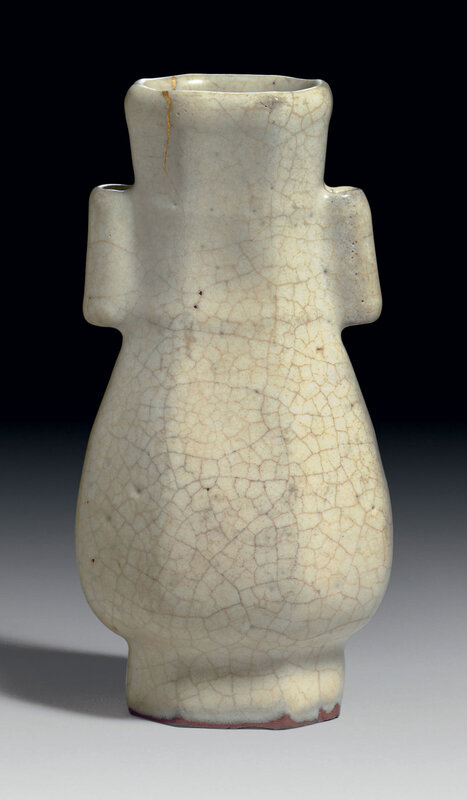 Lot 1311. A very rare Geyao octagonal archaistic hu-form vase, Southern Song-Yuan dynasty, 13th century; 5¾ in. (14.7 cm.) high. Estimate USD 50,000 - USD 70,000. Price realised USD 104,500. © Christie's Image Ltd 2010.
Made in imitation of a Shang dynasty bronze and of octagonal form raised on a tall foot of conforming shape, the tapered neck flanked by a pair of lug handles, covered all over and on the base in a pale creamy glaze suffused with a network of black crackle ('iron wire') interspersed with golden-brown crackle ('golden threads'), stopping above the foot to expose the dark grey ware burnt pale brown in the firing, box.
Provenance: A Private Japanese Collection.
J.J. Lally & Co., New York.
Note: Ge ware, along with Guan, Ru, Ding and Jun, comprise the 'five famous wares of the Song dynasty'. The problems of distinguishing the two crackled southern wares, Guan and Ge ware, were discussed at length during a three-day conference held at the Shangahi Museum in October 1992, and while no unanimity of opinion was reached, it was generally thought that those wares with a double jinsi tiexian ('gold thread and iron wire') crackle should be designated 'Ge'. See R. Scott, "Guan or Ge Ware?", Oriental Art, Summer 1993, pp. 12-23. The source of this name has been the subject of much research. Professor Wang Qingzheng noted, in his paper, "Some questions concerning Ge ware", presented to the London Oriental Ceramic Society in 1990, that the term Ge ware seems to first appear as 'Gegedong ware' and 'Gege ware' in Kong Qi's fourteenth century text Zhi zheng zhi ji. Both Lu Shen, in his early 16th century text, Qun feng tang sui bi, and the late Ming writer Gao Lian, recount the story of two Zhang family brothers who produced different types of ceramic wares. The elder brother is supposed to have produced fine crackled ware, hence the name Ge (elder brother).

The interest in archaism was popular during the Song and Yuan dynasties, and the shape of the present vase, known as a fanghu, is based on a ritual bronze prototype of the Zhou period. Compare a similar Geyao vase of nearly the same size (14.3 cm.), in the collection of the National Palace Museum, Taipei, illustrated in Ko Ware of the Sung Dynasty, Book I, Hong Kong, 1962, pp. 32-3, pls. 4, 4a and 4b. Two further Geyao fanghu-form vases in the National Palace Museum, of similar size and date, are illustrated by Liu Liang-yu in A Survey of Chinese Ceramics - 2 - Sung Wares, Taipei, 1991, pp. 200-1.
Christie's. Fine Chinese Ceramics and Works of Art, New York, 16 - 17 September 2010