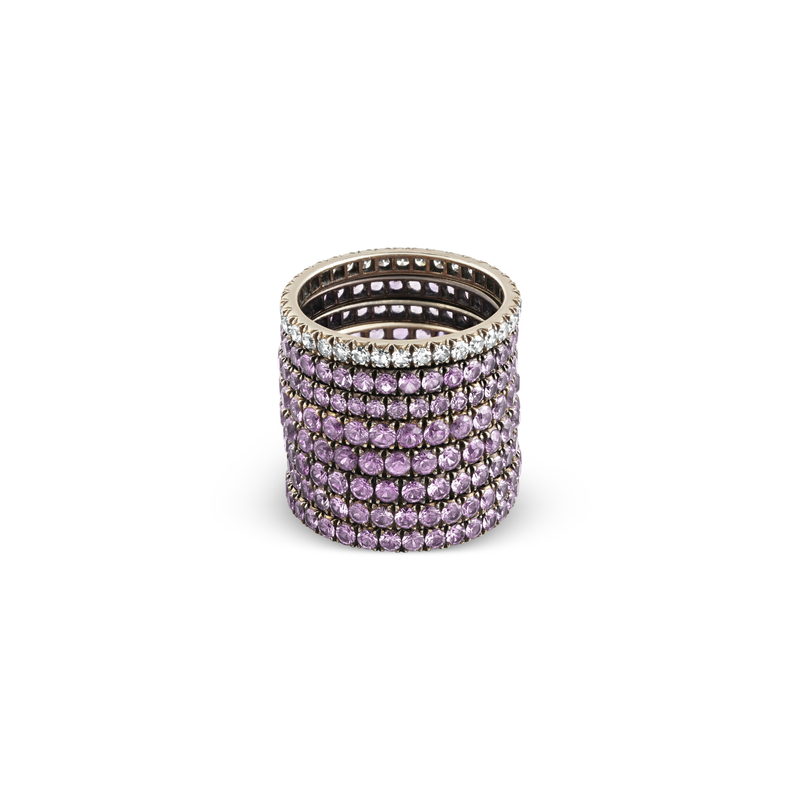 JAR. A set of eight stacking eternity rings, 2015. © Symbolic & Chase
Each band set with circular-cut stones, seven purple sapphires and one with diamonds, circa 2015, signed JAR Paris, together with original fitted case. UK Size M. US Size 6 1/2. $ 65,000.00.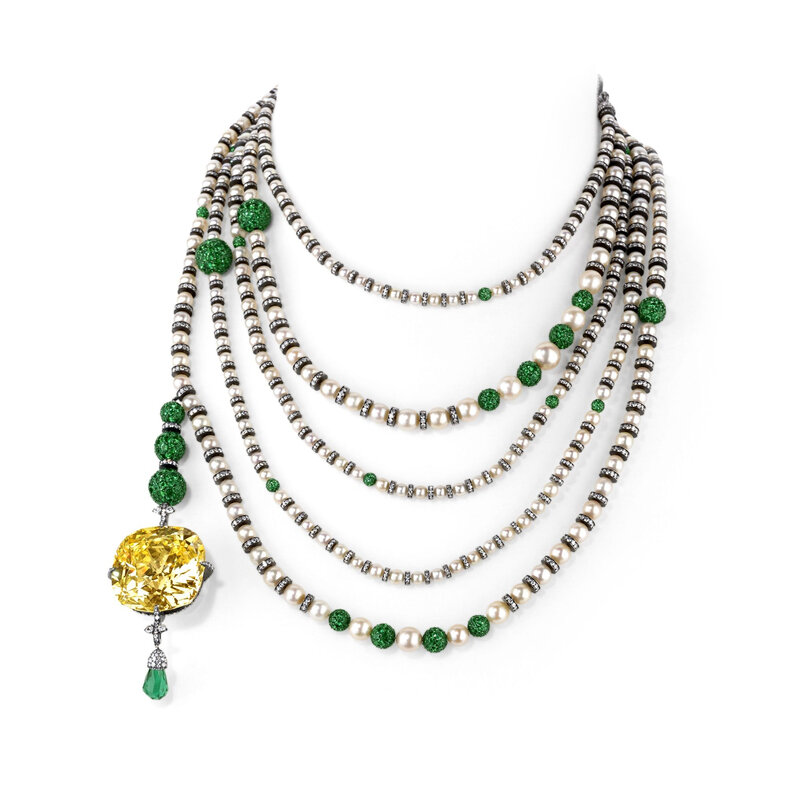 JAR. A natural pearl, Colombian emerald and fancy vivid yellow diamond necklace, 2017. © Symbolic & Chase
Designed as one long strand of natural pearls, between rondelles accented with single-cut diamonds, embellished at various intervals with circular-cut emerald-set spheres, suspending a tassel incorporating a 19th Century-cut 114.63 carat vivid yellow diamond, and a Colombian emerald drop, signed JAR Paris, 2017, together with JAR Paris presentation box.
Accompanied by a GIA monograph detailing the characteristics and importance of the main diamond and an SSEF certificate stating that the drop-shaped briolette emerald weighing 4.61 carats is of Colombian origin and has minor amount of oil in fissures.
Diamond Provenance: Formerly in the collection of Countess Rosario Zouboff Aquired at Christies's London in 1962 on the occasion of the auction 'The Property of the Countess Rosario Zouboff' Private Collection. The Countess (1892-1984) was born in Argentina to a very wealthy Prussian father and Argentinian mother. She travelled frequently to Europe, spending a lot of time in Geneva. She first married the Count Arrivabene (Italian Ambassador in Iran) in 1914, then remarried in 1922 (in Geneva) with the Count Serge Platonovitch Zoubov (1881-1964)
Literature: Cf: Ian Balfour, Famous Diamonds, Antique Collectors' Club 2009, page 321 'The World's Largest Cut Diamonds' table where the diamond is mentioned (both under 114.63cts and 114.03cts as it was miscataloged in 1962)
JAR. A pair of blue sapphire, emerald and diamond ear clips, 2019. © Symbolic & Chase
Each of stylised fan design, the arc set with circular-cut blue sapphires embellished with a diamond contour, centring on a single cushion-shaped emerald, emeralds weighing 3.43 carat and 3.3 carat respectively.
Accompanied by GRS certificate stating that the emeralds are of Columbian origin, with minor enhancement, signed JAR Paris, 2019, together with original fitted case.