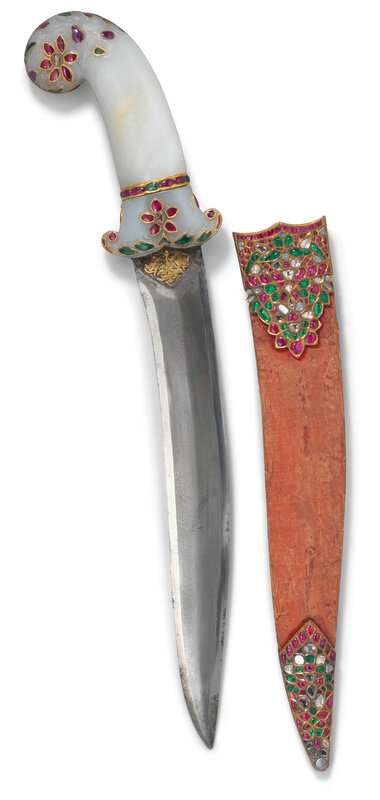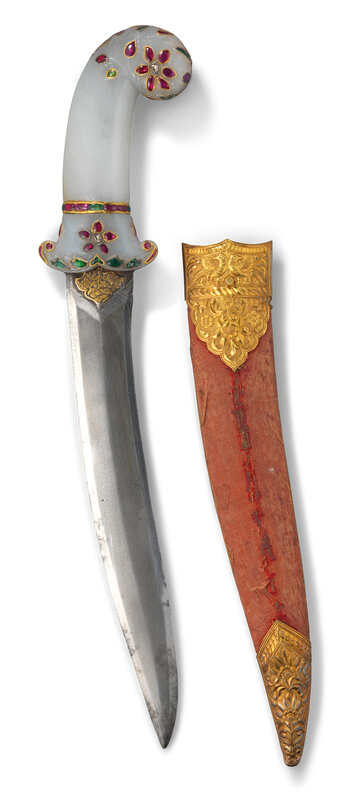 Lot 85. A gem-set jade-hilted dagger (khanjar), India, 19th century; 14 ¾in. (37.5cm.) long. Estimate GBP 15,000 - GBP 25,000 (USD 18,840 - USD 31,400). © Christie's Images Ltd 2020.
The pistol grip handle of pale green jade, set with foiled emeralds and rubies in floral designs, the slightly recurved double-edged tapering blade of watered-steel, the forte overlaid with trefoil section bearing gold floral damascened decoration, the cloth-covered wooden sheath with with gilt-metal mounts gem-set on one side and with repoussé decoration on the other side comprising a pair of addorsed birds and floral motifs.
Note: Mughal sources make frequent references to the presentation of daggers with jade hilts to favoured individuals at court. Paintings of Mughal Emperors in the first half of the eighteenth century often depict them with jewelled jade hilts tucked into their cummerbunds. A Mughal painting dating from circa 1713-19 in the David Collection in Copenhagen depicts the Emperor Farrukhsiyar with a pistol-grip gem-set dagger tucked into his sash, bestowing a jewel to a nobleman (acc.no. 26/1982, illus. Stronge, 2015, fig.3, p.12).

The precious stones finely inlaid into the hard-jade hilt of this dagger are a testament to the artistic expression and technical excellence of craftsmen in Mughal India. The delicate pale green of the jade is highlighted in contrast to the bright colours of the inlay. The hilt with its curved pommel, known as a pistol-grip, is a form which Bashir Mohamed suggests appeared in India in the second half of the 17th century (Mohamed, 2007, p.201).
Christie's. Art of the Islamic and Indian Worlds Including Oriental Rugs and Carpets, London, 2 April 2020