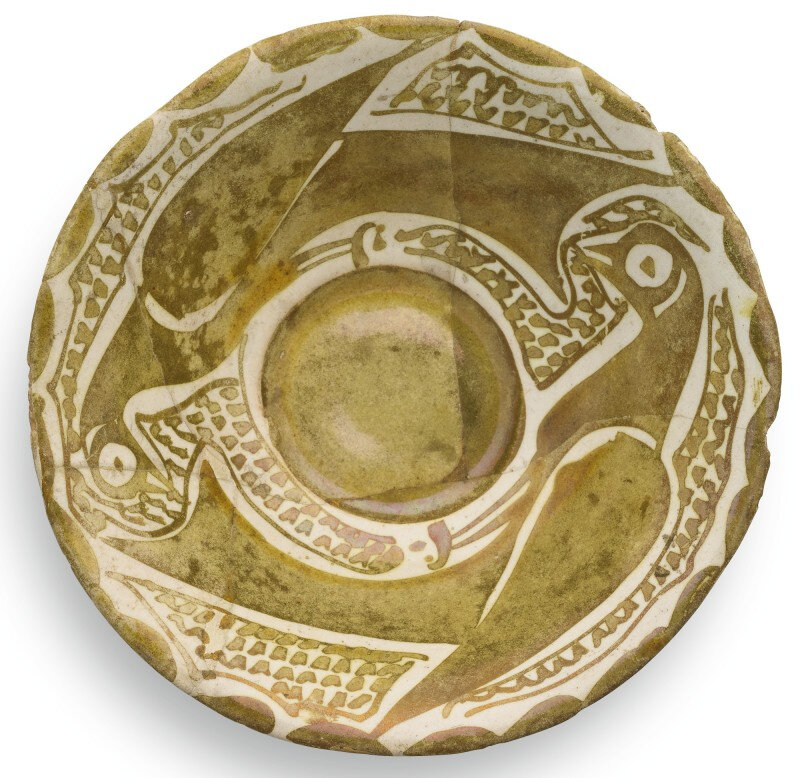 Lot 94. A small Abbasid lustre pottery bowl depicting two birds, Iraq, 9th century; 12.8cm. diam. Estimate: 20,000 - 30,000 GBP. Courtesy Sotheby's.
the earthenware body of open form with slightly everted rim on a low foot, decorated in a dark golden monochrome lustre over an opacified tin glaze, the cavetto painted with a pair of birds around a central roundel, exterior with three medallions against a background of peacock eye motifs, old Sotheby's label.
Provenance

:

Sotheby's Geneva, 25 June 1985, lot 138.
Ex-collection Johannes Hellner (1866-1947).
Note: Johannes Hellner was one of a group of collectors of Islamic art in Sweden during the 1920s and '30s, the most well-known of whom was King Gustav Adolf VI. A pioneer in organising museums of Eastern antiquities in Stockholm, Dr Hellner was a lawyer first specialising in early Chinese ceramics whose approach to collecting was always scholarly. Much of his collection was acquired during the closing years of the First World War and into the 1920s, when he served as Sweden's Foreign Minister.
Regarded as one of the most sophisticated and difficult techniques of its period, lustreware was invented during the ninth century by Abbasid potters who sought to imitate the shine of gold. The process, which potters believed to be a form of true 'alchemy', used a lead-based glaze and silver and copper paint to create a golden shine on opaque white-glazed ware. Potters in Iraq appear to have had a monopoly on the technique, creating expensive and elegant objects which they treated with awareness of abstract forms and a certain horror vacui, covering the surface with particular and precise designs (Watson 2004, p.183).*Comparable ceramic examples can be found in the collections of the Metropolitan Museum of Art, New York (inv. no.64.134), and the Louvre, Paris (inv. no.MAO 23). A gentle-flared lustreware bowl of related form was sold in these rooms, 3 October 2012, lot 128.
Sotheby's. ARTS OF THE ISLAMIC WORLD AND INDIA INCLUDING FINE RUGS AND CARPETS, 01 Apr 2020