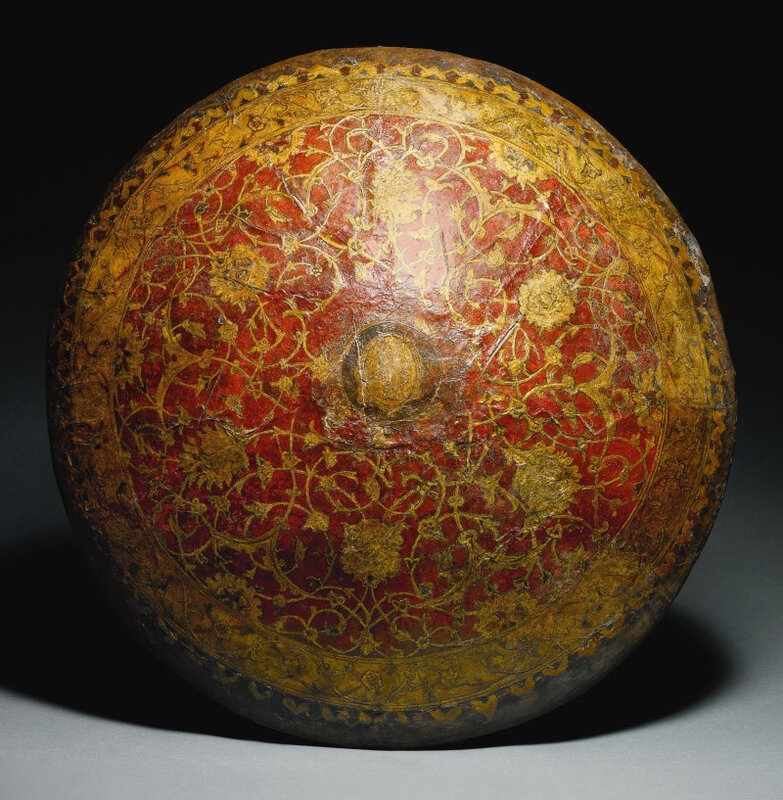 Lot 120. A rare and important Venetian parade shield, Italy, 16th century; 58cm. diam. Estimate: 30,000 - 50,000 GBP. Courtesy Sotheby's.
constructed of wood with leather covering, lacquered with a deep red ground featuring tooled and gilt design of scrolling vines terminating in split palmettes, leaves and flowerheads.
Provenance: Ex-private collection, Switzerland, pre-1991.
Note: Locked in an enduring bittersweet relationship driven by commerce and trade as much as looting and war, Venice and the Christian kingdoms of Europe regarded sixteenth-century Ottoman Turkish culture with a mercurial blend of enmity and covetous respect. In this regard, Venetian leatherworker's guilds reflected a wider European fascination with Turkish aesthetics, producing helmets, shields and quivers lavishly decorated with Ottoman motifs as exemplified by the present shield. Distinguished by its refined design and bold sense of colour which has its origin in Turkish book-bindings of the period, this shield is coated using a technique known by the Italian name cuoridoro where lacquer is applied on silver-coated leather to create a gold effect. For a discussion comparing Venetian lacquer-work to Ottoman leather bindings, see Ernst J. Grube; 'Venetian Lacquer and Bookbindings of the 16th Century' (Grube 2007, pp.231-243).
Whereas comparable shields may be found in a number of museum collections, including the Metropolitan Museum of Art, New York (acc. no.29.158.586), the Museum Carolino-Augusteum in Salzburg and the Doge's Palace in Venice, it is most similar to a shield in the Staatlische Kunstammlungen, Dresden, inv. no.1, which forms part of a series of shields that belonged to the bodyguard of Prince Archbishop Wolf Dietrich von Reitenau of Salzburg. Although in practice a priest and civil administrator, the Machiavellian Dietrich saw himself as a genuine Renaissance principe, cultivating the arts and military ambitions alike. In the first year of his reign he established a magnificent bodyguard which he deemed appropriate to the dignity and importance of a Prince of the Holy Roman Empire, equipped with weaponry of exceptional quality including a number of shields imitating Ottoman designs. This ambition, however, proved the Archbishop's downfall when he became embroiled in a violent territorial dispute with the powerful Duchy of Bavaria.
The present shield survives as an ornate witness both to such volatile counter-Reformation conflicts and a complex history of cross-cultural craftsmanship. A similar shield was sold in these rooms, 25 April 2012, lot 548
Sotheby's. ARTS OF THE ISLAMIC WORLD AND INDIA INCLUDING FINE RUGS AND CARPETS, 01 Apr 2020