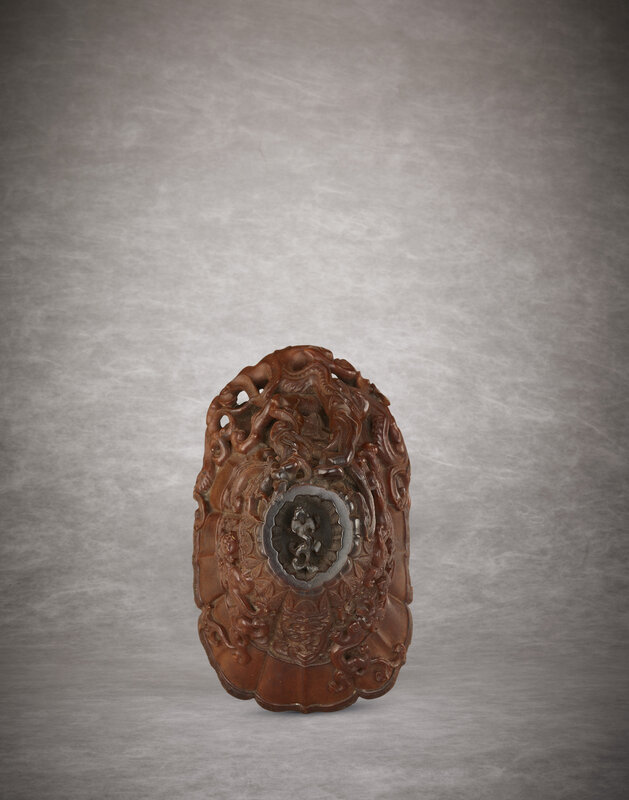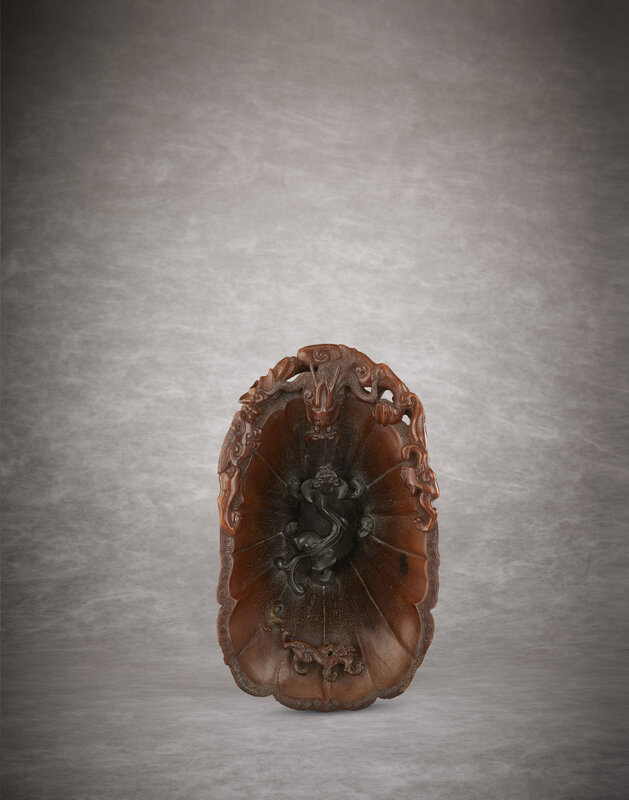 Lot 2912. A rare and superbly carved rhinoceros horn libation cup, Late Ming-Early Qing dynasty, 17th century; 6 1/8 in. (15.5 cm.) wide. Estimate HKD 3,500,000 - HKD 4,500,000. Price Realized HKD 4,220,000. © Christie's Images Ltd 2011
Formed in the shape of a radiating chrysanthemum petals raised on a high foot of conforming shape detailed with a keyfret band repeated on and below the rim, finely carved around the lobed mid-section in medium relief with a band of archaistic phoenix scroll above a skirt of triangular pendant lappets, further detailed in high relief with seven chilong clambering playfully over the sides, over the rim to the interior, the handle formed by two powerful large dragons spanning the length of the cup along the side, one of which extends over the edge of the rim peering over the side facing a chilong carved in the round to the interior of the cup, the deeply inset base carved in high relief with an additional coiled chilong, the material of an attractive golden amber tone.
Note: The carver has gone to great lengths to depict each of the dragons and chilong in individual detail and with great vigour, even carrying the theme to the bottom of the cup with an unusual chilong roundel.
A bowl from the Edward and Franklin Chow Collections illustrated by J. Chapman, The Art of Rhinoceros Horn Carving in China, London, 1999, p. 155, pl. 189, shares the same intricate design of dragons continuing on the base with a dragon roundel. Compare also an archaistic cup of similar design with various mythical creatures around the sides and a coiled dragon in the recessed base from the Songzhutang Collection, sold at Christie's Hong Kong, 27 May 2008, lot 1725.
Christie's. Exceptional Chinese Works of Art from an Important European Collection, Hong Kong, 30 November 2011