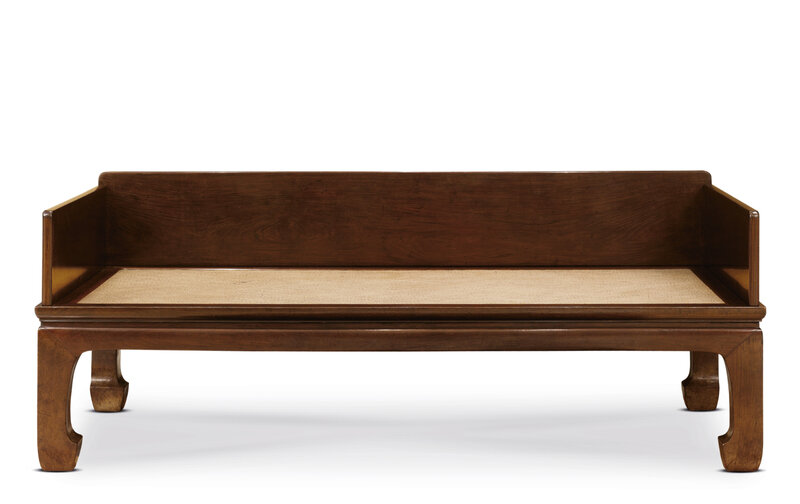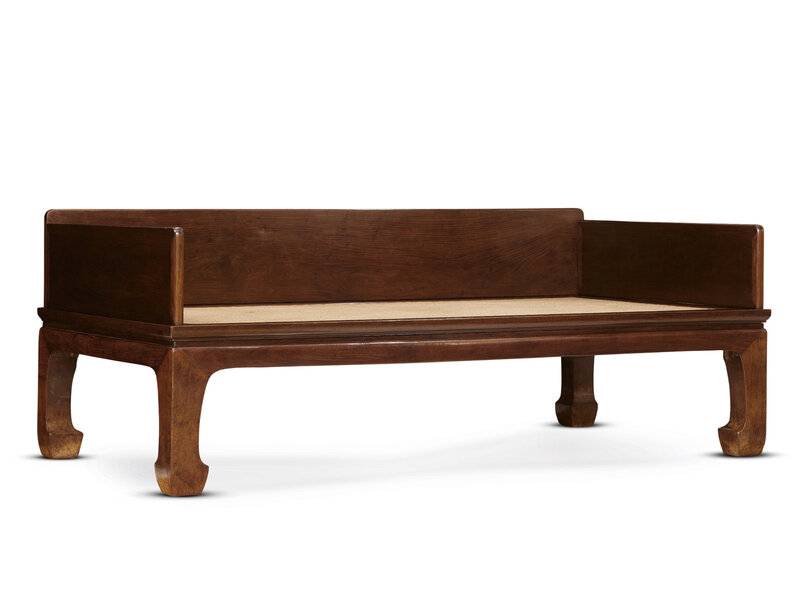 Lot 3612. An extremely rare huanghuali luohan bed with three-panel railing, luohanchuang, Ming dynasty, 17th century; 31 in. (78.7 cm.) high x 82 1/4 in. (209 cm.) wide x 44 in. (111.5) cm deep. Estimate HKD 6,000,000 - HKD 8,000,000. Price Realized HKD 17,460,000. © Christie's Images Ltd. 2011
Well and elegantly constructed with three large single huanghuali planks forming the back and side rails, above the wide rectangular frame enclosing the soft mat seat and a narrow waist and plain aprons, all supported on thick legs of square section terminating in hoof feet, the wood of attractive grain and figure.
Note: This elegantly proportioned luohan bed belongs to a rare group of lowback day beds with solid plank backs and arms. The few published extant examples are in important museum or private collections and while their basic form is the same, there are a number of variations
which allows them to be grouped into different categories.

The current bed, characterised by its straight legs ending in horseshoe feet and with straight solid plank back and sides, is one of the rarest variations of this form. The only other published example that displays the same characteristics is a three-panel-railing luohan bed in the Ming Room, the Astor Court at the Metropolitan Museum of Art, New York, and illustrated by R. H. Ellsworth in Chinese Furniture, New York, 1971, no. 34, 34a and by Sarah Handler, "The Revolution in Chinese Furniture: Moving from Mat to Chair", Journal of the Classical Chinese Furniture Society, Winter 1990, pp. 38, 39.

A closely related example but with dipped corners and beaded edges in the Museum of Fine Arts, Boston is illustrated by Nancy Berliner in Beyond the Screen, Chinese Furniture of the 16th and 17th Centuries, Museum of Fine Arts, Boston, 1996, pp. 118-119, no. 14 where the form
and uses of the luohan beds or couch beds is discussed at length. The author notes that the back panel, raised slightly higher than the side panels, is a feature which Ming connoisseurs proclaimed to be more elegant.

Two further examples, both with beaded mouldings and dipped corners similar to the Boston example but also with heavily pronounced inward-curving legs, include one in the Nelson-Atkins Museum of Art, Kansas City, illustrated by Wang Shixiang, Connoisseurship of Chinese Furniture, Vol II: Plates., Hong Kong, 1990, p. 128, pl. C6; and another in the Minneapolis Institute of Art, illustrated in Classical Chinese Furniture in the Minneapolis Institute of Arts, Minneapolis, 1990, pp. 82-83, no. 22 where it is noted that couch beds retaining their original back and arms are extremely rare with only around twelve published examples known.

In all known solid-plank back examples what is particularly striking is the superb quality of the timber used. The simple unadorned form allows the elegant natural beauty of the grain to be admired without the distraction of carving or elaborate forms.

This type of bed would not only have been used as an alternative bed to sleep on, but also as a seat to receive guests and a daybed to rest on. For a discussion of the varied uses of this style of bed, see Sarah Handler, "Comfort and Joy: A Couch Bed for Day and Night," Journal of the Classical Chinese Furniture Society, Winter 1991, pp. 4-19, and the corresponding chapter in Austere Luminosity of Chinese Classical Furniture, Berkeley, 2001, ch. 9, pp. 122-138.
Christie's. The Imperial Sale, Hong Kong, 1 June 2011