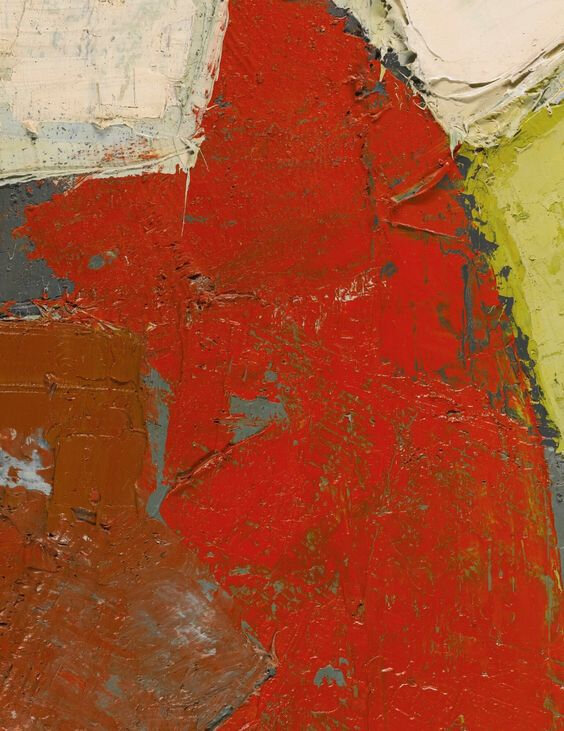 Lot 45. Nicolas de Staël (1914 - 1955), Composition, signed; signed and dated Octobre 1949 on the reverse, oil on canvas, 73 by 100cm.; 28 3/4 by 39 3/8 in. Estimate 350,000 — 450,000 GBP. Lot sold 434,500 GBP. Photo Sotheby's.
Provenance: Alexandre Farra, Paris
Sale: Paris, Vente Crédit Municipal, 13 June 1963
Theodore Schempp, New York
The Grace and Philip Sandblom Collection, Lund
Thence by descent to the present owner.
Exhibited: Göteborg, Göteborgs Konstmuseum, Grace, Philip Sandbloms Samling-Frau Delacroix till de Staël, 1964
Lund, Lunds Konsthall, Samling S., 1969, no. 85
Martigny, Fondation Pierre Gianadda, Nicolas de Staël, 1995, p. 49, no. 8, illustrated in colour.
Literature: Roger van Gindertael, 'Nicolas de Stael', Art d'Aujourd'hui, no. 10-11, 1950, p. 11, no. XXVI, illustrated
Jacques Dubourg and Françoise de Staël, Nicolas de Staël, Paris 1968, p. 119, no. 183, illustrated
Françoise de Staël, Nicolas de Staël: Catalogue Raisonné de l'Oeuvre Peint, Neuchâtel 1997, p. 268, no. 205, illustrated in colour.
Note
: Executed in 1949, the richly impastoed
Composition
exemplifies Nicolas de Staël's unique form of abstraction. According to the artist, "one simply cannot think of any object whatsoever, because there are simultaneously so many objects that the ability to take them in falters and fades" (Nicolas de Staël quoted in: Denys Sutton,
Nicolas de Staël
, Paris 1960, p. 61). Proceeding from this prismatic concept of material reality, de Staël pursued an evocatively abstract style that ultimately developed to incorporate representational elements. In many ways, the present work anticipates the mimetic content of de Staël's later corpus; only a short distance separates it, for example, from
Agrigente
(1953) at the Kunsthaus, Zurich.
Composition
equally boasts an impressive provenance, hailing from a superlative private collection of nineteenth and twentieth-century art, assembled by eminent Swedish surgeon Philip Sandblom and his wife Grace over a period of seventy years. Including the finest works by modern masters such as Delacroix, Cézanne, Seurat, Picasso, and Mondrian, over time the Sandblom Collection has donated several masterpieces to the National Museum and Moderna Museet in Stockholm.
Composition epitomises the transformation that de Staël's painting underwent in 1949, whereby dramatic, stormy, and more clearly cubist-influenced compositions achieved a new tranquillity and simplification. This distinction marks the arrival of de Staël's mature idiom, first based upon the organisation of irregular geometric shapes into contrasting, often architecturally delineated, fields of colour. In March of 1950, the Musée National d'Art Moderne in Paris acquired a similarly transitional painting, Composition (Les Pinceaux) of 1949. In keeping with his staunch independence from artistic groups and movements, de Staël requested this work be exhibited outside of the galleries devoted to abstract art, and instead above the main staircase. He did nevertheless seek out mentors, foremost among them Georges Braque, his neighbour in Paris during the 1940s. Following de Staël's death, Braque expressed deep admiration for his friend: "De Staël was a painter; he had the true sense of painting… he was always seeking freedom. He succeeded in evolving. Basically, painting is like love. It is direct, it is power. And it was that way for de Staël" (Georges Braque quoted in: ibid., p. 20).
In January of 1949, de Staël travelled back to Brussels, the city of his orphaned youth, and visited Amsterdam and The Hague where he particularly admired the heavy admixtures of black pigment in paintings by Rembrandt van Rijn and Frans Hals. The palette of black, red, and golden yellows that composes so many of Rembrandt's self-portraits, and other classic paintings like The Jewish Bride (circa 1667) or Syndics of the Drapers' Guild (1662) in Amsterdam's Rijksmuseum, is immediately evident in Composition. Like The Jewish Bride, the present work's brighter passages contrast directly with a mass of deep green-black pigment occupying nearly half the canvas, a formal arrangement strikingly like that of Rembrandt's newly wedded pair. De Staël's emulation of earlier Dutch chiaroscuro is equally matched by heavy modelling, achieved through liberal use of a palette knife. Much like Rembrandt, de Staël chose high-quality materials and only employed oil paint, in contrast to contemporaries like Jean Dubuffet who experimented by incorporating unorthodox materials like sand or sawdust.
Following the artist's death, British art historian Douglas Cooper wrote: "de Staël was unique among the painters of his generation in that he stood out against an easy-going acceptance of the non-figurative aesthetic and insisted on the responsibility of any serious painter to try and reconcile the pattern of abstract forms and arbitrary colours, which are the constituent elements of every picture, with the facts of a visual experience" (Douglas Cooper, 'Nicolas de Staël: In Memoriam', The Burlington Magazine, Vol. 98, No. 638, May 1956, p. 140). Composition testifies to this drive, evincing de Staël's place among the foremost modern painters of the Twentieth Century.
Sotheby's. Contempory Art Evening Auction, London, 12 february 2014