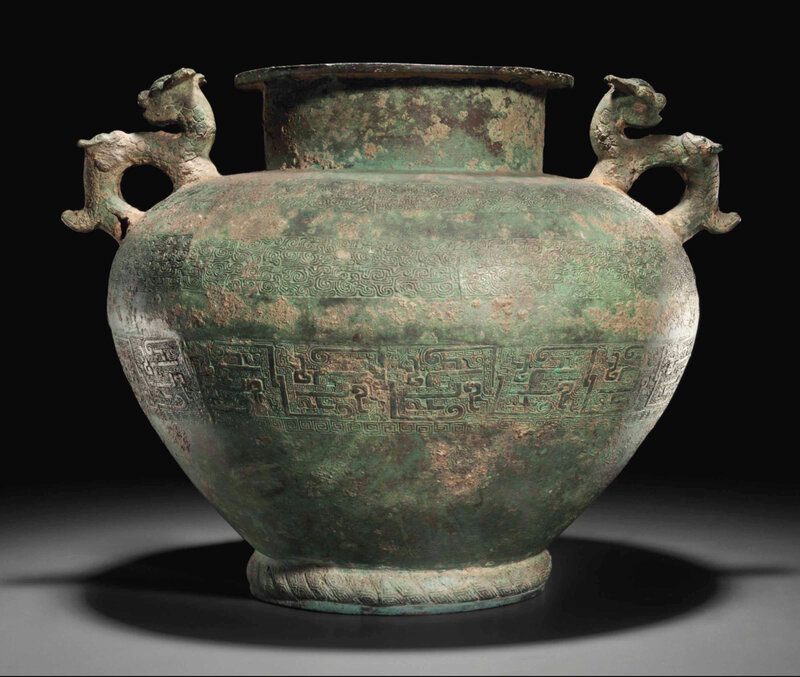 Lot 2114. An unusual bronze ritual wine jar, fou, Late Spring and Autumn period, 6th century BC; 11 3/8 in. (29 cm.) high. Estimate USD 40,000 - USD 60,000. Price Realized USD 47,500. © Christie's Images Ltd 2014.
The broad, tapering body is raised on a rounded foot cast with a rope-twist-like band of diagonal segments of leiwen, and the lower body is flat cast with a band of angular interlaced scroll incorporating bands of leiwen above a narrow leiwen border. Above are two registers of dense interlinked dragon scroll, the one on the high shoulder is interrupted by the pair of loop handles cast as dragons with backward-turned heads facing a taotie mask cast on the arched body. The cylindrical neck is surmounted by a flat, everted rim. The mottled, dark grey and green surface has areas of earth encrustation, wood stand, Japanese zitan wood box.
Provenance: M. Shiohara (1877-1955) Collection, Tokyo.
Literature: Umehara Sueji, Nihon Shucho Shinka Koda Seika (Selected Relics of Ancient Bronzes from Collections in Japan), vol. V, Osaka, Yamanaka and Co., 1959-1964, pl. 374.
Hayashi Minao, Shunju sengoku jidai seidoki no kenkyu, Tokyo, 1989, p. 125, no. 16.
Note: Jenny So in Eastern Zhou Ritual Bronzes from the Arthur M. Sackler Collections, The Arthur M. Sackler Foundation, 1995, p. 135, fig. 13.4, illustrates a fragment of a ceramic casting mold from Shanxi Houma Nincun, that appears to be very similar in design to the lower band of decoration cast on the present vessel. The fragment is dated to the 6th century BC. Also illustrated, p. 134, fig. 13.3, is a ding and cover, from the Chester Dale and Dolly Carter Collection, Princeton University Art Museum, which shows a similar band cast on the upper body of the ding, which is also dated 6th century BC.
Christie's. Fine Chinese Ceramics and Works of Art, New York, 20 - 21 March 2014