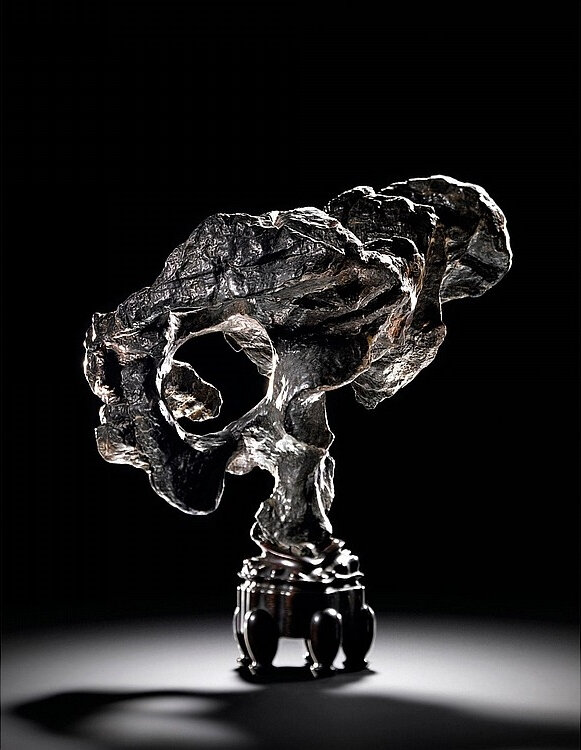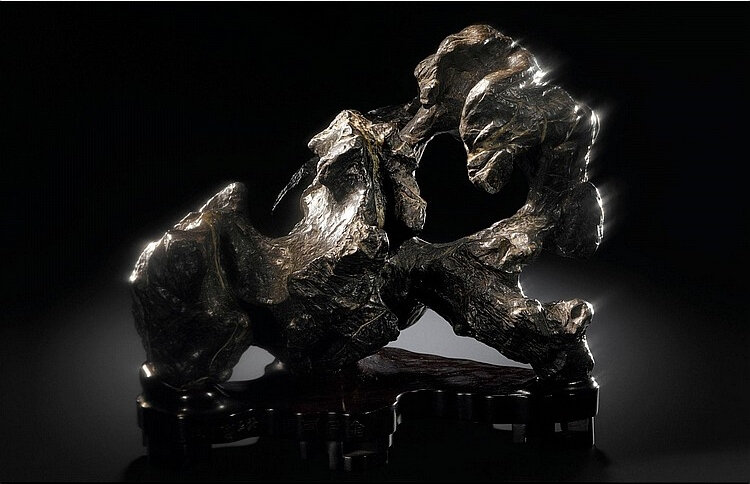 Lot 3302. A black 'Lingbi' scholar's rock, Qing dynasty, 18th century; 28.5 cm., 11/4 in. Estimate 500,000 — 700,000 HKD. Lot Sold 2,660,000 HKD. Courtesy Sotheby's.
a 'Lingbi' limestone of black tone with white veining, oriented three different ways on three separate zitan stands.
Note: Lingbi stones are found at Mt. Panshi, Lingbi county, Anwei province. The black stones are the most prized. In Dongtian qinglu (Pure Record of a Daoist Cave), Zhao Xigu of the Song dynasty wrote, 'Lingbi stones are located not on the mountains or valleys but deep within the earth. They can be found only by excavating. Their colour is like black lacquer, and they may be laced with thin, white veins like jade.'1
Traditionally scholars collected two types of scholar's rocks for their studies: vertical peaks and horizontal mountain ranges. The present piece, has both these features. Hence, one can appreciate from different perspectives this stone so exquisitely wrought on all sides that it outdoes nature. It twists in all directions, its ruts and paths connect through the holes and hook up around the corners, and its peaks, ridges and tunnels are a convoluted maze. In texture and colour, the stone is like black lacquer, and is lustrous like grease.
Connoisseurs of scholar's rocks throughout the ages have boiled down their criteria for evaluating stones into twelve terms: thin, wrinkled, porous, permeable, clear, ugly, obtuse, clumsy, teal, powerful, beautiful, deep. Stones that have half of these features are considered rare and superior.
Compare a similar black 'lingbi' rock with an inscription dated to 1783, from the collection of Susan and Ian Wilson, illustrated in The Spirit of Gongshi: Chinese Scholar's Rocks, Chicago, 1999, cover.
1 Yingyin Wenyuange Sikuquanshu (Photographic Reproduction of the Complete Texts of the Four Divisions Held in the Wenyuan Pavilion of the Forbidden City), Taipei, 1983, vol. 8712
Sotheby's. Fine Chinese Ceramics and Works of Art, Hong Kong, 08 april 2011