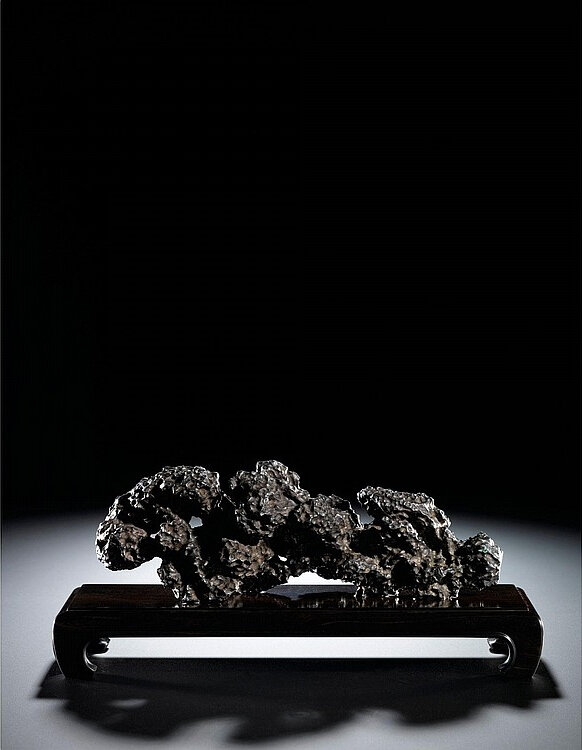 Lot 3303. An extremely rare 'Tang Ying' stone imitation 'Lingbi' scholar's rock, Qing Dynasty, 18th Century; 27.5 cm., 10 1/2 in. Estimate 1,800,000 — 2,500,000 HKD. Lot Sold 2,180,000 HKD. Courtesy Sotheby's.
the metallic black-glazed porcelain imitating a horizontal 'Lingbi' scholar's rock with pitted surface, protrusions, perforations, and metallic resonance, impressed with a Tang Ying seal mark reading zhen tao ya wan ('Making elegant playthings out of pottery'), wooden stand.
Note: The seemingly endless creative ingenuity of Tang Ying, Superintendent at the Imperial Kilns in Jingdezhen, is evident in this amazing tour de force of porcelain production in its remarkably naturalistic form and glaze. With the development of potting techniques and the Qianlong emperor's increasing taste for the novel, the simulation of wood, lacquer, metal and stone in porcelain became popular. In a stunning display of acute observation, both of the organic scholar's rocks and of the characteristics of porcelain clay and enamels, Tang Ying has recreated the timelessness and organic nature treasured in scholar's rocks in this piece. A comparable example imitating a sand-coloured scholar's rock is held in the Palace Museum, Beijing.
A simulation scholar's rock covered with a Guan-type glaze, impressed with the hallmark Shen de tang zhi (Made for the Hall for the Cultivation of Virtue), was sold in our London rooms, 10th November 2010, lot 299; another unmarked example was sold in our Los Angeles rooms, 8th June 1981, lot 359; and two robin's-egg glazed examples of similar naturalistic craggy form were sold, one in our London rooms, 7th June 1988, lot 329, and the other, from the Warren Cox collection, at Christie's New York, 2nd December 1989, lot 336. Compare also a model of a lingzhi fungus cluster covered with a Guan-type glaze, with a Yongzheng sealmark in underglaze blue and of the period, from the collection of W.W. Winkworth, sold in our London rooms, 12th December 1972, lot 169, and again at Christie's New York, 29th November 1990, lot 211.
The appreciation of scholar's rocks is deeply imbedded in Daoism and Zen Buddhism, and was an essential component of the literati's study or garden as a means of transporting themselves out of the restrictions and rituals of daily life into the calm and wisdom of nature.
Sotheby's. Fine Chinese Ceramics and Works of Art, Hong Kong, 08 april 2011