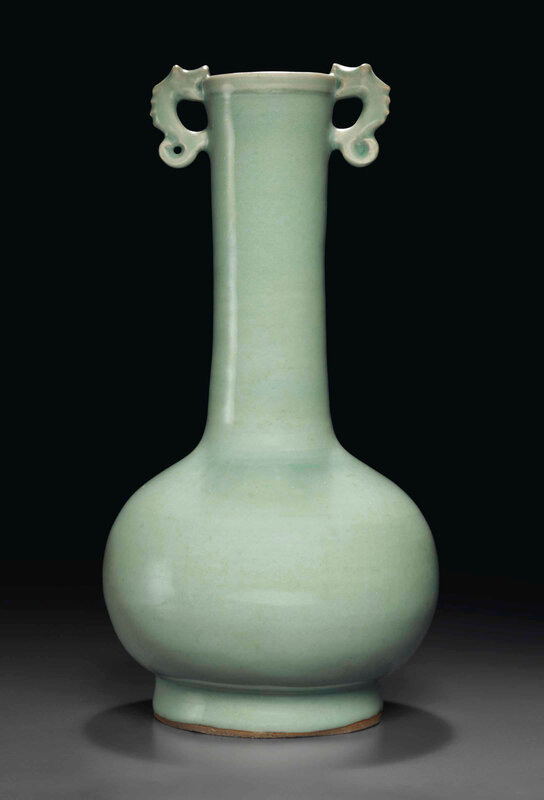 Lot 2103. A rare Longquan celadon bottle vase with dragon handles, Song dynasty (960-1279); 12¾ in. (32.5 cm.) high. Estimate USD 200,000 - USD 300,000. Price Realized USD 245,000. © Christie's Images Ltd 2014.
The vase has a somewhat compressed body and a tall cylindrical neck that rises to a molded rim grasped in the jaws of the two small dragons that form the loop handles, and is covered with a glaze of slightly greyish sea-green color that continues over the mouth rim, falls short of the edge of the foot to expose the grey ware burnt brown in the firing, and also covers the base..
Provenance: A.W. Bahr, 1916.
Horace D. Chapin Collection, and thence by descent to Mrs. Robert B. Osgood (d. 1957) and Ellen Osgood Jennings (d. 2005).
Exhibited: On loan: Museum of Fine Arts, Boston, 29 May - 10 October 1917.
On loan: Museum of Fine Arts, Boston, 26 May - 6 October 1941.
On loan: Harvard University Art Museums, May 1955 - March 2006.
Note: The potters at the Longquan kilns in the Southern Song dynasty began to embellish vases by adding decorative handles on either side of the columnar neck. On mallet vases produced in the Longquan kilns these handles were most frequently in the shape of birds, which are usually identified as phoenixes. Much rarer are Longquan vases with the type of handles seen on the current vessel. These are in the shape of yulong (dragon-fish) with fish-like bodies and dragon-like heads. Dragon-fish are mentioned in Chinese literature as early as the Bronze Age, and appear in legends related in the Shanhaijing (Classic of Mountains and Seas). They were included in painted and incised decoration on ceramics of the Tang dynasty, from kilns such as Changsha and Yue, but do not seem to occur in three-dimensional ceramic form until the Song and Liao dynasties. By the Song dynasty, handles such as these depicted a carp in the process of turning into a dragon. This evokes a legend, which dates from at least as early as the Eastern Han dynasty, that tells of the carp swimming up river to the Dragon Gate. If it is successful in leaping over the gate it turns into a dragon. This legend soon came to represent the success of the Chinese scholars, who studied hard to pass the civil service examinations, and if they achieved the highest grade would attain an official post.
Although Longquan celadon mallet-form vases with dragon-fish handles are known, such as the example sold at Christie's New York, 19 March 2008, lot 561, no other vase of this particular form embellished with dragon-handles appears to be published. Vases of this form are occasionally seen with handles but the handles are invariably of tubular form. A slightly smaller vase of the same form, but with tubular handles, is illustrated in Celadons from Longquan kilns, Taipei, 1998, pp. 144-145, no. 111. Another example with tubular handles, now in the Sichuan Museum Collection, was uncovered from underground sites in Jinyu Village in Sichuan and was published in Ceramicas Celadon de Longquan - Colleccao do Museu de Sichuan, Macao, 1998, pp. 108-109, no. 22.
Christie's. Fine Chinese Ceramics and Works of Art, New York, 20 - 21 March 2014