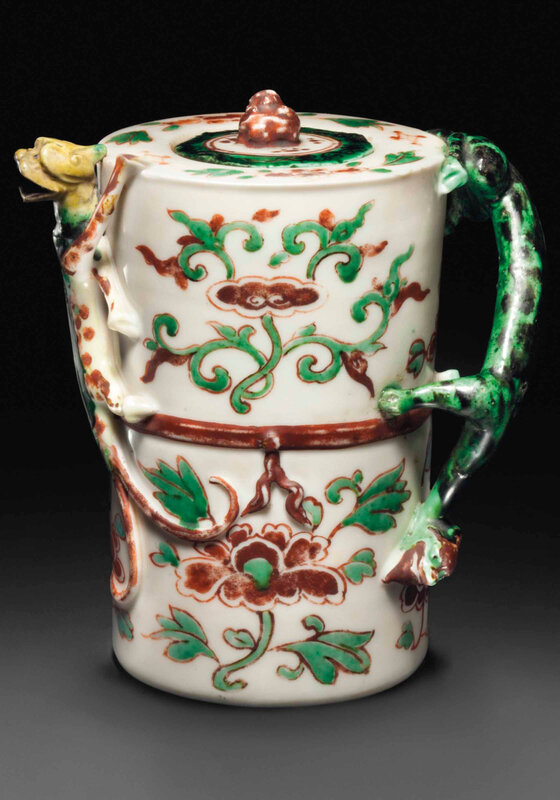 Lot 2125. An unusual wucai-enameled Dehua wine pot and cover, 17th century; 6¼ in. (15.9 cm.) high. Estimate USD 7,000 - USD 10,000. Price Realized USD 9,375. © Christie's Images Ltd 2014.
The cylindrical body is made in imitation of a cord-tied scroll and is decorated above and below the applied 'cord' with peony and lingzhi sprays in green and iron red. One side is applied with a green and black descending dragon that forms the handle, while the open mouth of an ascending chilong, with yellow head, applied to the other side forms the spout. The flat, inset cover has a small coiled dragon finial.
Property from the Shouya Studio Collection.
Provenance: Acquired in New York, prior to 1990.
Note: Compare the very similar wine pot illustrated by B. Gyllensvärd in the exhibition catalogue, Chinese Gold, Silver and Porcelain: The Kempe Collection, Asia Society, New York, 1971, no. 137. Another was found in the cargo of a shipwreck in the South China Seas in which two pieces were dated by inscription to 1643, illustrated by J. Ayers in 'Blanc-de-Chine, Some Reflections', T.O.C.S., 1986-87, vol. 51, pl. 7 (bottom right). Also illustrated, p. 22, pl. 9, is a very similar wine pot and cover in the Victoria and Albert Museum, which is dated ca. 1630-1660.
The present wine pot appears to be a particularly rare example of Dehua ware decorated in wucai enamels. The group is discussed by R. Kerr and J. Ayres in Blanc-de-Chine, Porcelain from Dehua, Chicago, 2002, no. 70, where the authors note that, "evidence of enameling undertaken by Dehua potters is so far limited to Chinese records of the potters Zeng Maodu and Zeng Dachu who specialized in this technique during the Jiajing period." They go on to speculate, however, that pieces from Dehua may have been sent to the Zhangzhou kilns to be decorated there.
Christie's. Fine Chinese Ceramics and Works of Art, New York, 20 - 21 March 2014