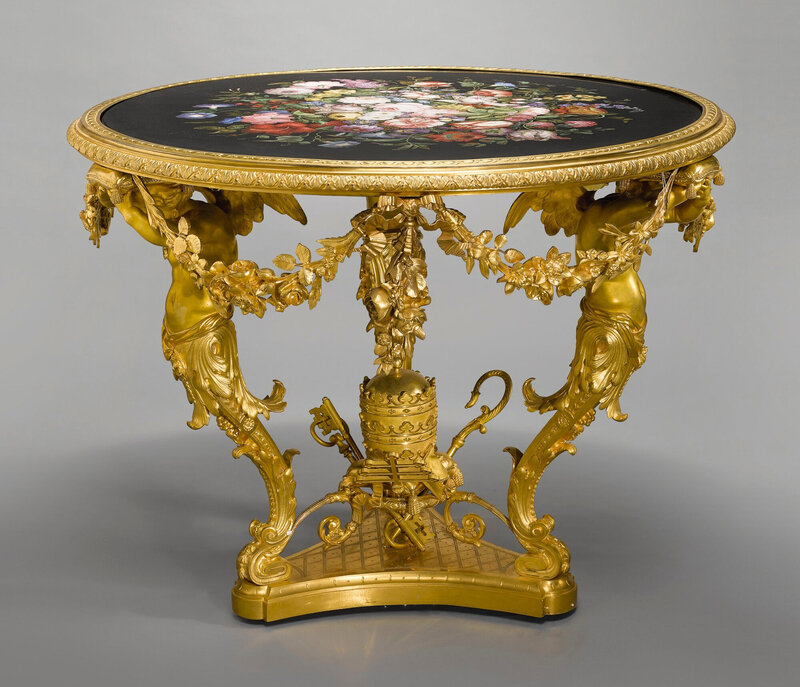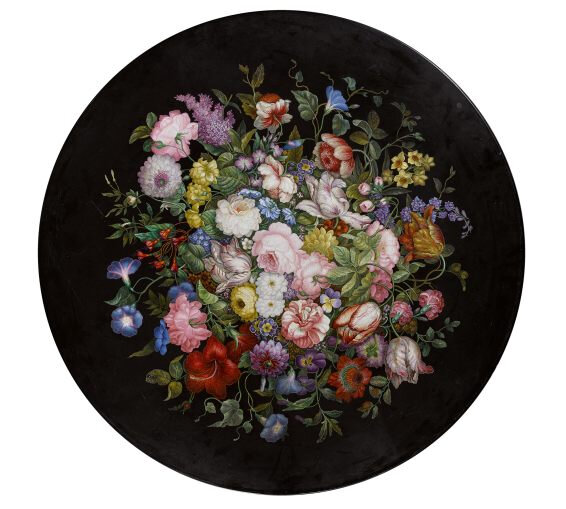 A Vatican workshops micromosaic and gilt bronze centre table presented by Pope Pius IX to King George V and Queen Marie of Hanover, Rome, mid-19th century. H. 32 in., W. 42 in., D. 42 in.; 81.3 cm., 106.7 cm., 106.7 cm. Price on Request. Courtesy Sotheby's.
the circular slate top finely inlaid with sprays of early summer flowers, supported by three winged term figures festooned with floral swags on a platform centred by a trophy of the Papal attributes.
Provenance: The Royal House of Hanover;
Munich, Sotheby's, 5-15 October 2005, lot 3069;
Where acquired by the present owner.
Note: This magnificent work inlaid with sumptuous floral sprays made up of thousands of brilliantly coloured tesserae is a masterpiece of the Vatican Mosaic Workshops. The Papal court ordered such impressive pieces as diplomatic gifts, and its monumental gilt bronze base incorporates a beautifully cast trophy of the Papal attributes with the tiara, crozier, ferula and keys of St Peter. The table was formerly in the House of Hanover collections and would have been offered to King George V of Hanover sometime during the 1850s by Pope Pius IX (1792-1878). Pius was keen to maintain alliances to protect his realm in the tumultuous political atmosphere of the mid-19th century: he was elected pope in 1846, and only two years later was forced to flee Rome during the popular uprisings that swept throughout Europe in 1848, which included the declaration of a Roman Republic. The Pope only returned in 1850 after French troops under Napoleon III had invaded the Eternal City and re-established the Holy See's temporal power.

George V (1819-1878), was the only son of the Duke of Cumberland, King George III of England's fifth son, making him a cousin to Queen Victoria. The Kingdom of Hanover (formerly an Electorate) was established by the Congress of Vienna in 1814, and was jointly ruled by the House of Hanover that had also been on the English throne since 1714. Under Salic law women could not inherit the throne of Hanover, however, so when Victoria became Queen of England in 1837 the Kingdom of Hanover passed to her uncle the Duke of Cumberland. On his father's death in 1851 George acceded to the throne as the last King of Hanover with his wife Princess Marie of Saxe-Altenburg. Like the Pope, George V also found the integrity of his territory under threat, in his case from aggressive Prussian expansionism in the German states, and he was keen to forge alliances with sympathetic foreign powers like the Papal States. Ironically, both sovereigns would see the independence of their domains eradicated with the unifications of Italy and Germany by the end of 1870.

Mosaic production was revived at the Vatican in the late 16th century, when mosaic workers from Venice were sent to Rome to decorate the recently completed Basilica of St Peter's. In the eighteenth-century, technical advances had allowed the Vatican workshops both to reduce dramatically the size of individual tesserae and expand the chromatic range to over 28,000 colours, so by 1770 all the Basilica's painted altarpieces had been successfully copied in mosaic. Parallel to religious work, a thriving trade in secular mosaics of naturalistic and architectural subjects developed, both at the Vatican and in independent Roman workshops founded by mosaicists formerly in papal employ, among them Giacomo Raffaelli (1753-1836) and Michelangelo Barberi (1787-1867). Mosaics depicting birds, dogs, antique subjects, landscapes and views of celebrated Roman ruins and religious architecture were produced as tabletops, jewellery, and small boxes that became enormously popular with Grand Tourists from northern Europe and especially England, who visited the Eternal City to enrich their collections back home, among them successive Dukes of Devonshire..