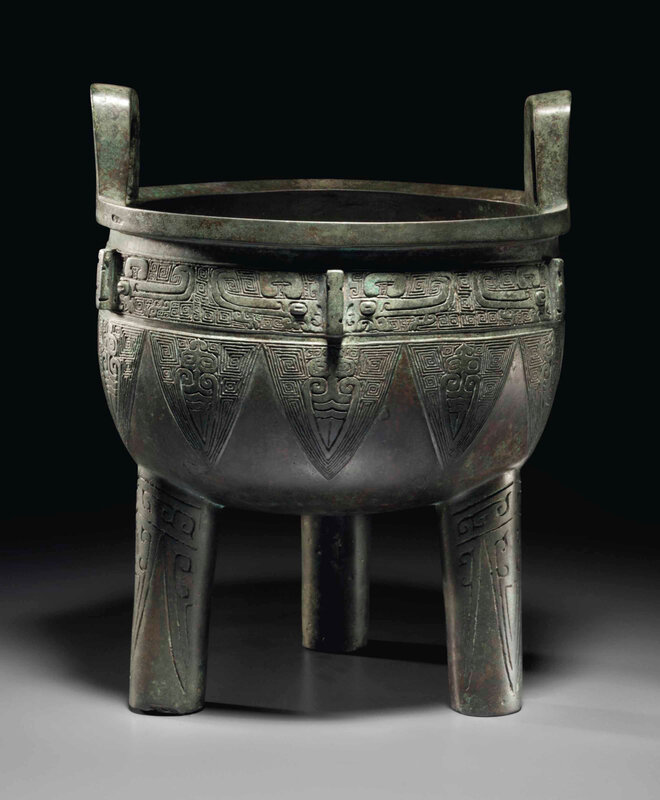 Lot 2036. A bronze ritual tripod food vessel, ding, Late Shang-Early Western Zhou dynasty, 12th-11th century BC; 9 5/8 in. (24.5 cm.) high. Estimate USD 80,000 - USD 120,000. Price Realized USD 845,000. © Christie's Images Ltd 2014.
The deep, rounded body is raised on three columnar supports cast with blades, and is cast around the sides with a band of blades centered by cicadas on a leiwen ground pendent from a band of pairs of dragons confronted on notched flanges and also on a leiwen ground. A pair of bail handles rises from the rim. A single graph, zhu, is cast below the rim on the interior. The patina is of mottled brownish-grey and milky green color, Japanese wood box.
Provenance: Sotheby's London, 30 March 1978, lot 42.
Ikeda Kobijitsu, Tokyo, Japan, June 1998.
Literature: Luo Zhenyu, Zhensongtang jigu yiwen, 1930, II, no. 2.2
Huang Jun, Zunguzhai suo jian jijin tu, Beijing, 1936, I, no. 14.
Luo Zhenyu, Sandai jijin wencun, Beijing, 1937, II, no. 6.1.
B. Karlgren, 'New Studies on Chinese Bronzes', B.M.F.E.A., Stockholm, no. 9, 1937, pl. IV, no. 91.
Liu Yu and Wang Tao, A Selection of Early Chinese Bronzes with Inscriptions from Sotheby's and Christie's, Shanghai, 2007, no. 26.
Note: Compare two ding decorated with similar cicada-centered blades around the body, but with differing taotie designs in the upper frieze, illustrated by R.W. Bagley in Shang Ritual Bronzes in the Arthur M. Sackler Collections, The Arthur M. Sackler Foundation, 1987, pp. 452-59, nos. 82 and 83. In addition to the differing upper friezes, the columnar legs of the present vessel are cast with pendent blades below diagonal scroll bands, while the legs of the two Sackler ding are undecorated. See, also, the pair of ding of smaller size (16.3 cm.) with similar decoration, but with more simply rendered cicada, illustrated in Royal Ontario Museum, The T.T. Tsui Galleries of Chinese Art, Toronto, 1996, no. 12.
Christie's. Fine Chinese Ceramics and Works of Art, New York, 20 - 21 March 2014