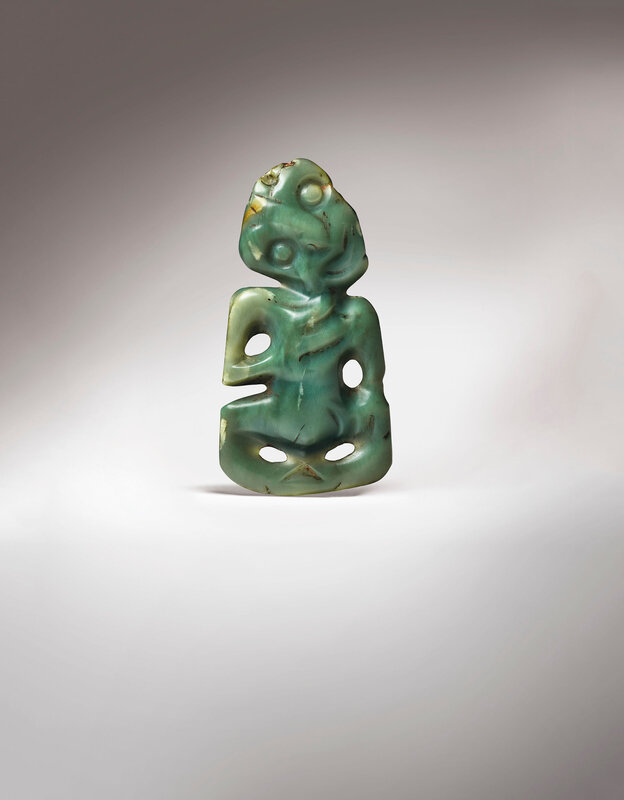 Lot 33. Pendentif Maori, Hei-Tiki, Nouvelle-Zélande; Hauteur : 7.5 cm. (3 in.). Estimate EUR 6,000 - EUR 9,000 (USD 6,584 - USD 9,875). © Christie's Images Ltd 2020.
Provenance: Sotheby's, Londres, 18 mars 1968, lot 95
Collection James et Marilynn Alsdorf, Chicago, acquis lors de cette vente.
Literature: Welsch, R.L. et al., Coaxing the Spirits to Dance: Art and Society in the Papuan Gulf of New Guinea, Washington, 2006, p. 70, n° 116.
Exhibited: New York, The Metropolitan Museum of Art, Coaxing the Spirits to Dance: Art of the Papuan Gulf, 24 octobre - 2 décembre 2007.
Note: Il existe deux types de figures agiba ou bioma, ces termes étant parfaitement interchangeables dans les aires Wapo, Era et l'île d'Uruma : un premier type illustrant la simple silhouette d'une figure, le second évoquant la superposition de deux personnages aux bras simultanément levés et tendus vers le bas. Notre exemplaire appartient à cette seconde catégorie. La figure, possédant deux paires de bras et de jambes, est une référence au mythe d'Irivake, esprit du ciel qui contrôle la foudre (pour une discussion à ce sujet, voir Lewis-Harris, J., Art of the Papuan Gulf, Bulletin (St. Louis Art Museum), 1996, vol. 22, n° 1, p. 22). La superposition de plusieurs figures est ici suggérée par la présence de trois « nombrils » alignés sur l'axe médian de la sculpture.

Cf. pour une figure quasi-identique, voir celle de la collection du Museum der Kulturen de Bâle, inv. n° V. 7868, reproduite dans Wirz, P., Beiträge zur Ethnographie des Papua-Golfes, Britisch-Neuguinea, Abhandlungen und Berichte der Museen für Tierkunde und Völkerkunde zu Dresden, vol. XIX, Dresde, 1934, pl. XX, fig. 8. Cette figure est attribuée à l'aire de la rivière Wapo par P. Wirz.