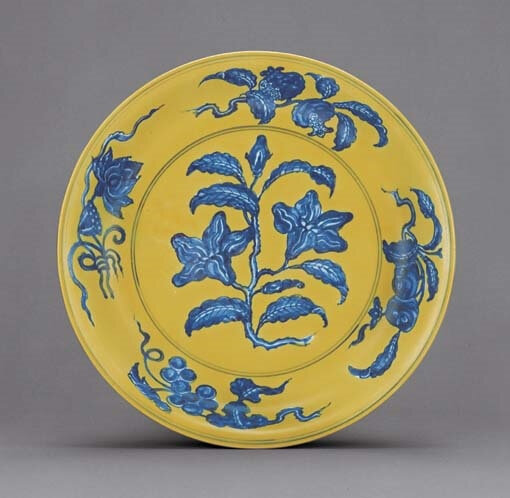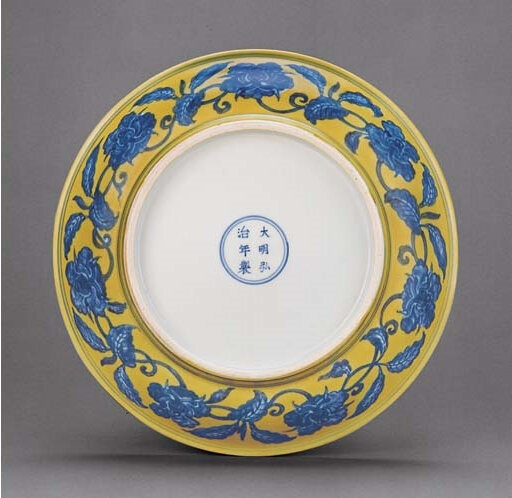 Lot 1314. A fine Ming underglaze-blue and yellow-enamelled dish, Hongzhi six-character mark within double-circles and of the period (1488-1505); 10 1/4 in. (26.2 cm.) diam. Estimate HKD 4,800,000 - HKD 5,800,000. Price Realized HKD 6,952,000. © Christie's Images Ltd 2006.
Well potted with low rounded sides rising to a flaring rim, finely painted in underglaze-blue with a central gardenia spray bearing two flowers and one bud, the cavetto with separate sprays of nine grapes on a leafy vine, a beribboned lotus flower and pod, a gnarled branch laden with two pomegranates and a persimmon branch with two fruits, the exterior with seven rose blossoms on a continuous meander, all on a rich Imperial yellow ground within double-line borders, box.
Provenance: The Christina Loke Balsara Collection, sold in these Rooms, 19 January 1988, lot 260.
Literature: Laszlo Legeza, 'Taoist Colour Symbolism in Ming and Ch'ing Ceramics', Arts of Asia, September-October 1979, pp. 84-90, nos. 9 and 10
Exhibited: Christie's London, An Exhibition of Important Chinese Ceramics from the Robert Chang Collection, 2-14 June 1993, Catalogue no. 25.
Note: This striking style was achieved by painting in underglaze-blue, applying a colourless porcelain glaze and firing the piece. After firing, the yellow enamel was applied to the ground area, carefully avoiding all the areas with blue underglaze painting. The piece was then refired.

Although rare, the prototype for this boldly executed design dates from the Xuande period, such as the example of almost the same size (25.6 cm. diam.) included in the exhibition, Xuande Imperial Porcelain Excavated at Jingdezhen, Chang Foundation, Taiwan, 1998, illustrated in the Catalogue, no. 88.

A number of Hongzhi-marked dishes of this pattern can be found in important museums. One is in the Palace Museum, Beijing, illustrated in Blue and White Porcelain with Underglazed Red (II), The Complete Collection of Treasures of the Palace Museum, Hong Kong, 2000, pl. 231, together with a Chenghua example, pl. 230, and a Zhengde example, pl. 233; one is in the National Palace Museum, Taiwan, illustrated in Blue-and-White Ware of the Ming Dynasty, Hong Kong, 1963, pls. 11-11b; an example formerly in the Carl Kempe collection, and now in the Museum of Far Eastern Antiquities, Stockholm, is illustrated in Oriental Ceramics, Kodansha series, vol. 9, fig. 226; one from the Rogers Fund in the Metropolitan Museum of Art, is illustrated by Suzanne G. Valenstein, A Handbook of Chinese Ceramics, New York, 1989, fig. 152; the dish in the Baur Collection, illustrated by John Ayers, Chinese Ceramics in the Baur Collection, vol. I, Geneva, 1999, pl. 65, together with a dish of identical design but in a brown and white colour palette, pl. 66; one is in the Victoria and Albert Museum, illustrated by John Ayers, Far Eastern Ceramics in the Victoria and Albert Museum, London, 1980, pl. 153; one in the Percival David Foundation, London, is included in the Illustrated Catalogue of Ming Polychrome Wares, London, 1966, no. A740; examples are illustrated in Mayuyama, Seventy Years, Tokyo, 1976, vol. 1, nos. 797 and 804; and another was included in the Idemitsu Museum's 15th Anniversary Catalogue, Tokyo, 1981, no. 796.

Several dishes can also be found in private collections: one was included in the exhibition Beauty and Tranquility: The Eli Lilly Collection of Chinese Art, Indianapolis Museum of Art, 1983, illustrated in the Catalogue, no. 97; a dish from the collection of Sir Harry Garner is illustrated by Soame Jenyns, Ming Pottery and Porcelain, London, 1953, pl. 57A(i), together with a Xuande and a Chenghua example from the British Museum, pls. 56A and B respectively, and a smaller Zhengde dish from the collection of H.R.H. Palmer, pl. 57A(ii); one from the Edward T. Chow Collection, Part III, was sold at Sotheby's Hong Kong, 19 May 1981, lot 443; and another from the Toguri Collection, sold at Sotheby's London, 9 June 2004, lot 22.
Christie's. Imperial Chinese Ceramics from the Robert Chang Collection - Jade Shears and Shimmering Feathers, Hong Kong, 28 November 2006