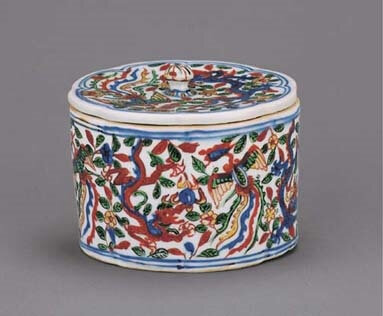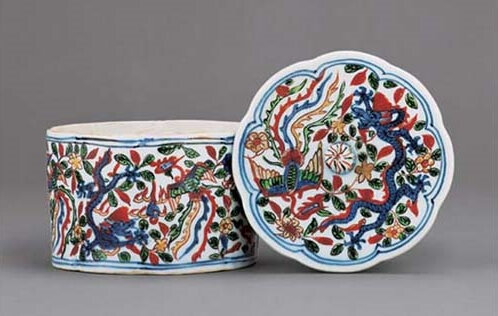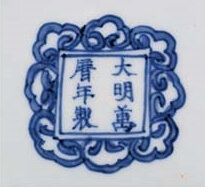 Lot 1315. A fine and very rare wucai 'dragon and phoenix' octafoil box and cover, Wanli six-character mark within double squares and of the period (1573-1619); 4 1/4 in. (10.8 cm.) wide. Estimate HKD 4,000,000 - HKD 6,000,000. Price Realized HKD 4,376,000. © Christie's Images Ltd 2006.
The box finely potted with slightly tapered sides fluted into eight lobes, vividly painted in underglaze-blue and vibrant enamels around the exterior with four descending dragons alternating with another four ascending phoenix contesting a 'flaming pearl', all amidst scattered floral sprays and within double-line borders, the flattened floral-shaped cover decorated with a further dragon and phoenix pair encircling the bud-shaped finial enamelled with vertical stripes, the reign mark on the base inscribed in underglaze-blue within a rare design of eight linked ruyi-heads, covered in a glaze with a soft blue tinge stopping in a neat line at the foot to reveal the smooth white body, box.
Literature: Christie's 20 Years in Hong Kong, 1986-2006, Hong Kong, 2006, p. 115.
Exhibited: Christie's London, An Exhibition of Important Chinese Ceramics from the Robert Chang Collection, 2-14 June 1993, Catalogue no. 29.
Note: Previously sold in these Rooms, 13 January 1987, lot 544.

Covered boxes of this type with almost straight sides are sometimes known as cricket jars, which are believed to have been used during the summer months to contain fighting or singing crickets, as the porcelain was good at keeping the insects cool during the hot weather. Other floral-form boxes of this type decorated in wucai enamel and in underglaze-blue are known, but no exact box and cover of this shape and size with dragon and phoenix motifs appear to have been published.

Compare with boxes of similar shape and size painted with human figures: two in the Idemitsu Museum, one in blue and white, and the other in wucai enamel are illustrated together in Chinese Ceramics in the Idemitsu Collection, Japan, 1987, pl. 201; one is illustrated in the Malcolm MacDonald Collection of Chinese Ceramics, Oxford, 1972, no. 312; and two similar examples, but with the covers missing, have been sold at auction, at Sotheby's Hong Kong, 16 May 1989, lot 136, and at Sotheby's London, 12 June 1990, lot 238. A box with bracket-lobes and figural painting from the Hatakayama Memorial Museum was included in the Asia Society Exhibition of Chinese Ceramics from Japanese Collections, New York, 1977, Catalogue no. 58, where it is noted that although such boxes were probably originally intended for use on a scholar's desk, they have been used in Japan as water jars for the tea ceremony. Cf. also another bracket-lobed box and cover enamelled with cats and dogs illustrated by Jessica Harrison-Hall, Ming Ceramics in the British Museum, London, 2001, pl. 11:153.

Lobed boxes with dragons include a hexagonal example in Beijing, illustrated in Porcelains in Polychrome and Contrasting Colours, The Complete Collection of Treasures of the Palace Museum, Hong Kong, 1999, pl. 32; a pentagonal box from the Idemitsu Museum of Arts, exhibited at the Museum of Oriental Ceramics, Osaka, Imperial Overglaze-Enamelled Wares in the Late Ming Dynasty, 1995, and illustrated in the Catalogue, no. 29; while a blue and white version is illustrated in Chinese Ceramics in the Toguri Collection, no. 116.

The decoration on the present box is remarkably vibrant, and the combination of the dragon and phoenix on a floral background is more often found on larger pieces to accommodate the complex design. Compare with two large circular wucai boxes with similar motifs, one in the Umezawa Kinenkan Museum, Tokyo, which has been officially designated an Important Art Object by Japanese authorities, illustrated in Sekai Toji Zenshu, Japan, 1976, pl. 107; and the other exhibited at the Art Institute of Chicago, 1974-2000, and subsequently sold in these Rooms, 29 April 2002, lot 561. Of particular interest are the reign marks on these boxes, which are identical in style to that on the present small box and to those enamelled with figures. These marks are elaborately conceived with ruyi-heads surrounding the inscription, but it is not clear how these marks are distributed among the many Wanli-marked pieces made for the palace.
Christie's. Imperial Chinese Ceramics from the Robert Chang Collection - Jade Shears and Shimmering Feathers, Hong Kong, 28 November 2006