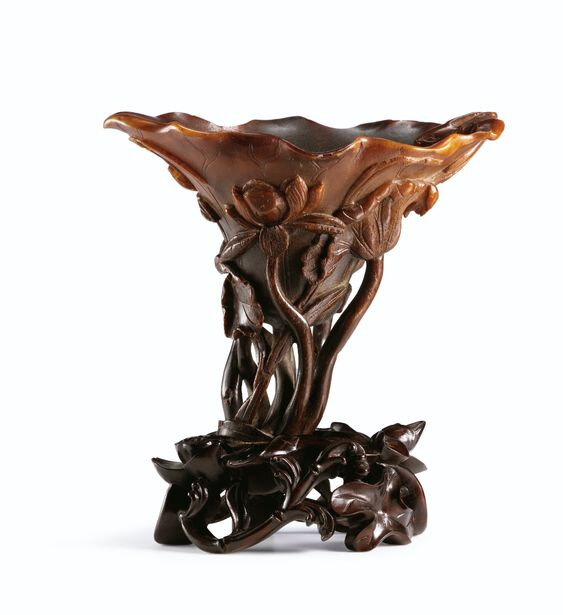 Lot 3787. A rhinoceros horn 'Lotus' libation cup, Qing Dynasty, 17th-18th century; 15 by 16 cm., 5 7/8 by 6 1/4 in. Estimate 500,000 — 700,000 HKD. Lot Sold 625,000 HKD. Photo: Sotheby's.
the conically shaped long-tipped horn carved in the form of a cup-shaped furled lotus leaf naturalistically detailed with veins, the exterior enveloped with large furled lotus leaves and four lotus blooms, all issuing from leaf-tied thin stalks forming the base, a chilong depicted clambering sinuously on the exterior with its head resting on the interior rim, the horn of rich chocolate brown colour lightening to an amber tone towards the rim, wood stand.
Note: The craftsman of the present piece has skilfully made use of the entire length of the horn by transforming the solid tip into the plant stems. A sense of liveliness is added to this piece with the carving of a chilong on the exterior of the vessel that forms the handle. The inspiration for cups of this type may have come from one of the earliest carvings known in the Qing Court collection, which also uses the entire horn, fashioned in the form of a mallow-flower, attributed to the early Ming dynasty, illustrated in The Complete Collection of Treasures of the Palace Museum. Bamboo, Wood, Ivory and Rhinoceros Horn Carvings, Shanghai, 2001, pl. 109.
A cup similarly modelled as a lotus leaf and carved on the exterior with chilong, in the Arthur M. Sackler collection, is illustrated in Thomas Fok, Connoisseurship of Rhinoceros Horn Carving in China, Hong Kong, 1999, pl. 92. For related lotus leaf cups, where the original form of the horn has been skilfully preserved, but lacking the chilong, see one in the collection of Mr. Michel de Selys Longchamps, published in Fok, ibid., pl. 95; another from the collections of Edward T. Chow and Franklin Chow, sold in these rooms, 8th April 2011, lot 2703; and two sold in our London rooms, 31st October 1986, lot 175, and, 27th October 1989, lot 186.