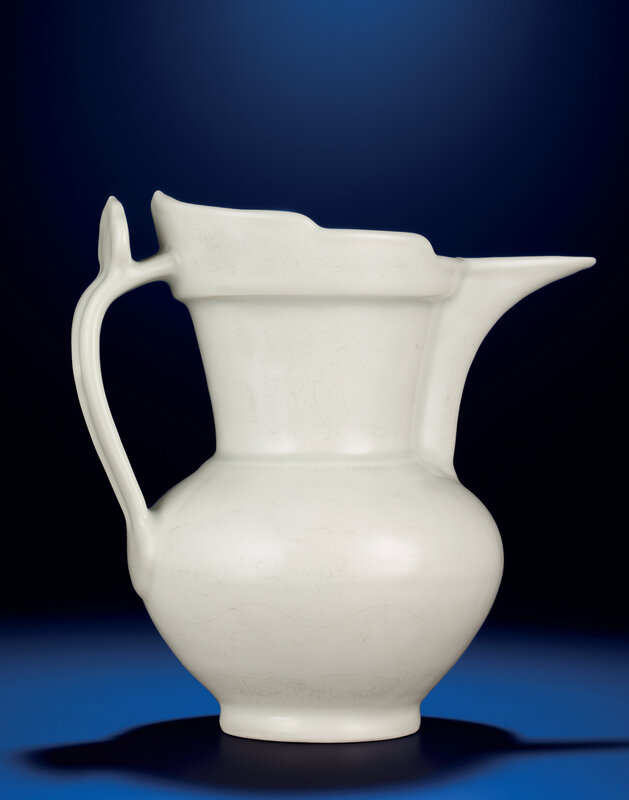 Lot 3980. A very rare early Ming tianbai-glazed anhua-decorated monk's cap ewer, sengmaohu, Yongle incised four-character mark and of the period (1403-1424); 7 3/4 in. (19.7 cm.) high. Estimate 4,000,000 - HKD 5,000,000. Price realised HKD 4,220,000. © Christie's Images Ltd 2012.
The globular body tapers towards the splayed foot, with a pronounced ridge at the base of the slightly flared neck and the elongated, curved spout which projects from the galleried rim of 'monk's cap' outline. The peak of the rim rises above a small lug on the interior and beside the incised ruyi-head tab surmounting the curved strap-handle moulded with a median ridge and terminating on the high shoulder with another ruyi-head. The neck is decorated in anhua with four floral blooms, each enclosing a character of the reign mark. The wide body designed with a floral scroll borne on an undulating vine and above a band of lappets above the foot ring, box.
Note: This particular ewer form is a Lamaist Buddhist ritual vessel, which derived its name, sengmaohu, monk's cap ewer, from the shape of its upper section, which resembles a Tibetan monk's hat. The Tibetan shape has its origins in the Yuan dynasty. Ewers of this form were made for the visit of the fifth Tibetan hierarch, Halima, to Nanjing in 1407, where he was invited by the Yongle Emperor to officiate at religious services.

Among these and the gifts presented to high Tibetan Lamas would have been 'sweet white' monk's cap ewers similar to the current example. A number are still preserved in Tibet, and an example from the Tibet Museum was exhibited at the Shanghai Museum in 2001. See Treasures from Snow Mountains - Gems of Tibetan Cultural Relics, Shanghai Museum, 2001, p. 177, no. 88. A similar ewer from the collection of Palace Museum, Beijing is illustrated in Monochrome Porcelain, The Complete Collection of Treasures of the Palace Museum, Hong Kong, 1999, p.109, pl. 100.

The present ewer appears to be one of only four or five extant examples bearing Yongle marks enclosed by lotus blooms. One from the T.T. Tsui Collection is illustrated in Splendour of Ancient Chinese Art, Selections from the Collections of T. T. Tsui Galleries of Chinese Art Worldwide, Hong Kong, 1996, colour pl. 42; the other is in the Idemitsu Museum of Arts, exhibited at The Idemitsu Museum of Arts, Masterpiece of Ming and Qing Ceramics, Tokyo, 2011, illustrated in the Catalogue, no. 11. A similar ewer, bearing a Yongle seal mark is illustrated by B. Gyllensvard, Chinese Ceramics in the Carl Kempe Collection, 1964, no.663, p.198. A fourth example was sold at Christie's London, 1 December 1997, lot 90.
Christie's. The Imperial Sale, Hong Kong, 30 May 2012