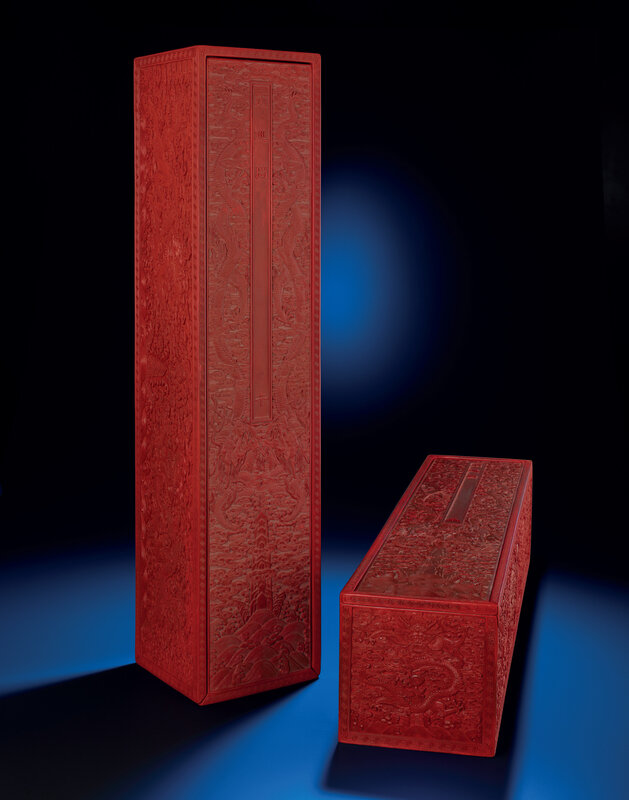 Lot 4012. An important pair of imperial carved cinnabar lacquer 'Southern inspection tour' scroll boxes, Qianlong period (1736-1795); 29 3/4 in. (75.7 cm.) long. Estimate 5,000,000 - HKD 8,000,000. Price realised HKD 10,740,000. © Christie's Images Ltd 2012.
Each box is of rectangular form and constructed with an upper sliding lid which is carved in relief with a pair of striding five-clawed dragons amidst clouds. The dragons are divided by a central rectangular cartouche bearing the characters, Nanxuntu Wu, 'Southern Inspection Painting, (series no.) seven', and the other inscribed with Nanxuntu Wei, 'Southern Inspection Painting, (series no.) eight'. The vertical sides similarly carved with dragons amidst clouds above breaking waves.
Provenance: Spink & Son Ltd., London.
Literature: The Minor Arts of China III, Spink & Son, London, 1987, no. 11
D. Clifford, Chinese Carved Lacquer, Bamboo Press, London, 1992, pl. 98.
Note: Emperor Qianlong made six inspection visits to the South of China during his long reign, the same number of tours were made by his much revered grandfather, Emperor Kangxi. As with Kangxi's pictorial record of his grand tour to the south in 1689, which was executed over a series of twelve handscrolls, Emperor Qianlong also commissioned his first visit to the south (1751) to be captured in pictorial form. In 1764, Qianlong commissioned the court artist Xu Yang to document his inspection tour in the same fashion. Xu Yang's twelve volume rendition was finally completed just before Qianlong's sixtieth birthday in 1770.

Qianlong's twelve handscrolls were executed on silk and according to Palace archives, in Qianlong's thirty-fourth year (1769), meticulous instructions were sent to have boxes made for each of these large scrolls. These boxes were to be based on an earlier set of twelve zitan boxes that were made to fit the handscrolls entitled, Shao Lu Fu. However, the Southern Inspection Tour boxes were to have in addition cloud and dragon motifs. Furthermore, the Maoqin Hall, one of the studios within the Forbidden Palace, was to provide the calligraphy for which the title to be inscribed onto the legend. These specifications were then sent to the Suzhou workshops where the designs were applied on cinnabar lacquer boxes. Each of these boxes was numbered, under its title of Nanxuntu, with a numeral that followed the twelve Earthly branches: zi, chou, yin, mao, chen, si, wu, wei, shen, you, xu, and hai. The present boxes inscribed with the characters wu and wei, would have accommodated handscrolls numbered 7 and 8 respectively. The only other published example of a Nanxuntu box is inscribed mao, numbered 4, in the Metropolitan Museum Collection, illustrated by James C.Y. Watt. 'The Antique-Elegant', Possessing the Past, Treasures from the National Museum, Taipei, 1996, p. 533, fig. 177.

These silk massive paintings have since been dispersed and handscrolls numbered 1, 7, 8 and 11 are now missing. Two examples remain in the Palace Museum; these are handscroll number 9 and the last in the series. The former handscroll was included in the exhibition, The Life of Emperor Qianlong, the Macao Museum of Art, 2002, and illustrated in the Catalogue, no. 110; and number 12 handscroll was included in the exhibition, China - The Three Emperors 1662-1795, Royal Academy of Arts, London, 2005-2006, illustrated in the Catalogue, pp. 90-91, no. 14. It has been estimated that the entire twelve handscrolls if measured together should been over 150 metres in length, ibid., 2005, p. 389. The other remaining handscrolls have been identified by Maxwell K. Hearn in various collections: number 2 in the Mactaggart Art Collection, University of Alberta, Canada; number 3, in Musee des Beaux Arts, Nice; numbers 4 and 6 are in the Metropolitan Museum, New York at least one of which retains its original carved lacquer box (see Wen C. Fong and James C.Y. Watt, 1996, p. 533, fig. 177); number 5, in the Collection of Keitaro Tanaka, Tokyo; and number 10, Musee Guimet, Paris, [see M.K. Hearn, "Document and Portait: The Southern Tour Paintings of Kangxi and Qianlong", Pheobus 6 (Chinese Painting under the Qianlong Emperor), Number 1, Tempe, Arizona State University, 1991]. Shortly after the silk paintings were finished, a duplicate set was made and completed in 1776; these paintings were executed on paper and the entire set is now in the collection of the Historical Museum, Beijing.
Christie's. The Imperial Sale, Hong Kong, 30 May 2012