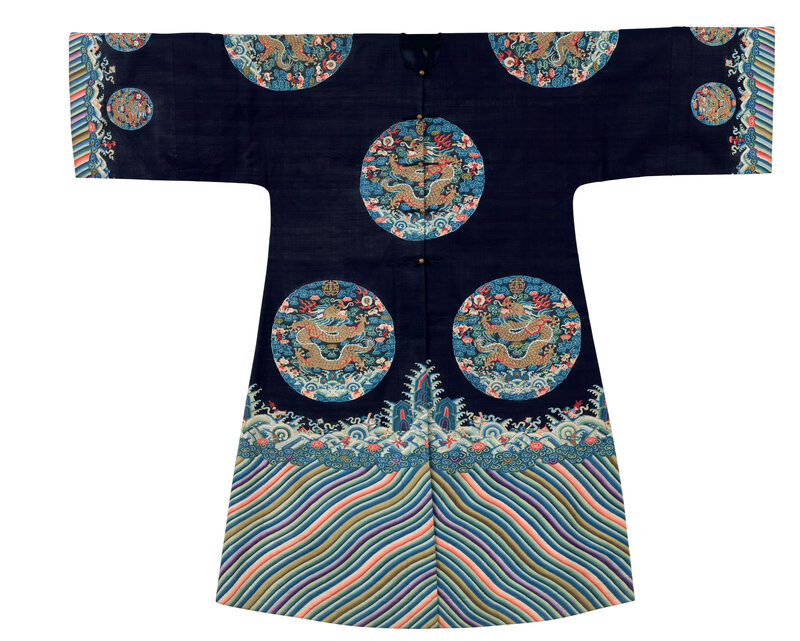 Lot 4027. An imperial noblewoman's kesi surcoat, longgua, Qing dynasty, late 19th century; 54 3/4 in. (139.1 cm.) long. Estimate 400,000 - HKD 500,000. Price realised HKD 375,000. © Christie's Images Ltd 2012.
Made entirely of double-sided kesi finished with original banding. The front-opening coat, decorated with eight symmetrically arranged dragon roundels placed above a striped hem laden with rolling waves and a terrestrial diagram from which issue various beribboned auspicious symbols. Each roundel containing a gold dragons and Shou characters superimposed on cloud clusters interspersed with bats suspending peaches or Wan emblems. The sleeves are similarly decorated with dragon medallions and wave borders, all picked-out in multi-coloured threads against a deep midnight-blue ground. The inside of the proper right front hem with gilt buttons and an illegible three-character inscription.
Provenance: Phillips London, early 1980s
Linda Wrigglesworth, London.
Exhibited: Fitchburg, Massachusetts, Fitchburg Museum of Art, Costumes from the Forbidden City, May 1989.
Note: Imperial noblewomen wore surcoats called longgua or 'dragon coats' with semi-formal court dress. Eighteenth century sumptuary laws, based on the Huangchao liqi tushi ('Illustrated Precedents for the Ritual Paraphernalia of the Imperial Court') promulgated by the Qianlong emperor in 1759, specified two distinct styles. The first was decorated on the body with eight roundels and a rainbow-striped hem. The second style was decorated with up to eight roundels but had no striped hem. The primary means of identifying the wearer's rank was the number and portrayal of the dragons; front-facing being superior to profile dragons. The first style was restricted to the empress and imperial consorts of the highest ranks. Imperial consorts of the fourth and lowest degree wore front-facing dragons on the upper body but highly conventionalized gui long dragons in the lower four roundels and were not permitted to have the striped hem.

Other imperial noblewomen were only allowed the second type of surcoat, without striped hem, and had to display their husband's insignia. These rules appear to have been properly adhered to during the eighteenth century. But, by the late nineteenth century, almost all Manchu noblewomen were wearing surcoats decorated with eight roundels and a rainbow striped hem. This example combines various elements of earlier designs including the eight roundels, as well as profile dragons on the chest and back.

Compare the kesi surcoat of similar date illustrated by J.E. Vollmer, Decoding Dragons: Status Garments in the Ch'ing Dynasty China, University of Oregon Museum of Art, 1983, pl. 49, as well as the earlier example (late 18th century) also illustrated by J.E. Vollmer, Silks for Thrones and Altars, Chinese Costume and Textiles, Paris, 2003, pp. 42-3, no. 16. Both of these examples have bands of dragons instead of dragon roundels above the lishui stripe at the cuffs. However, another noblewoman's surcoat sold at Christie's New York, 22 March 2007, lot 465, also of late nineteenth century date, is embroidered with the eight dragon roundels and has the same configuration of roundels at the cuffs as the present lot.
Christie's. The Imperial Sale, Hong Kong, 30 May 2012