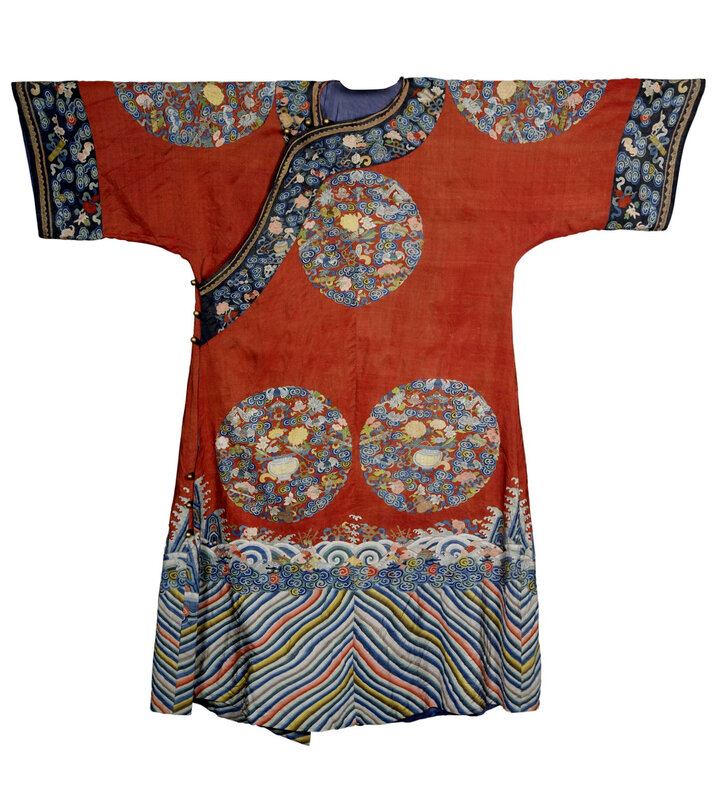 Lot 245. A lady's informal kesi red-ground robe, changfu, 19th century; 140cm (55 1/8in) long. Estimate £ 3,000-5,000. Sold for £ 4,000 (€ 4,598). Photo Bonhams.
The coral-red robe woven with three roundels on the front, three on the back and one on each sleeve, each roundel formed of and painted with twisting leafy vines issuing blossoming flowers, double gourds, bats and the Eight Auspicious Emblems surrounding a central flower vase, the collar and wide cuffs similarly decorated and formed of kesi black silk, the hem with stylised mountains and rolling waves issuing further auspicious symbols.
Provenance: a European private collection.
Note: The robe may have been intended to be worn worn during a festive occasion, such as a wedding banquet. Butterflies are symbolic of marital union, and vines and gourds underscore auspicious symbolism relating to health and fertility.

Compare the two red-ground robes illustrated in R.D.Jacobsen, Imperial Silks: Ch'ing Dynasty Textiles in The Minneapolis Institute of Arts, Minneapolis, 2000, vol. 1, pp. 256-6 and 264-5. A related robe, is included in the collection of the Metropolitan Museum of Art, New York, no.1978.159.
Bonhams. FINE CHINESE ART, London, 12 November 2015