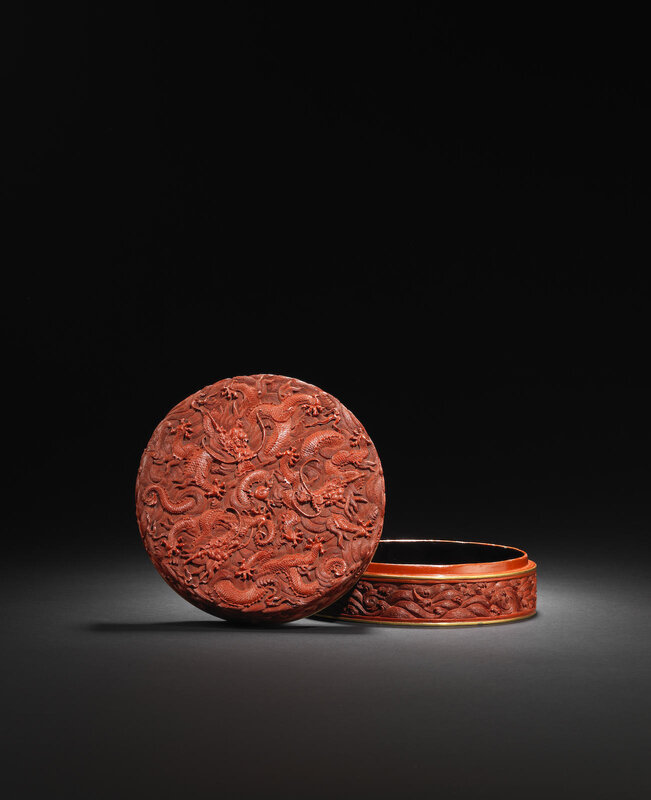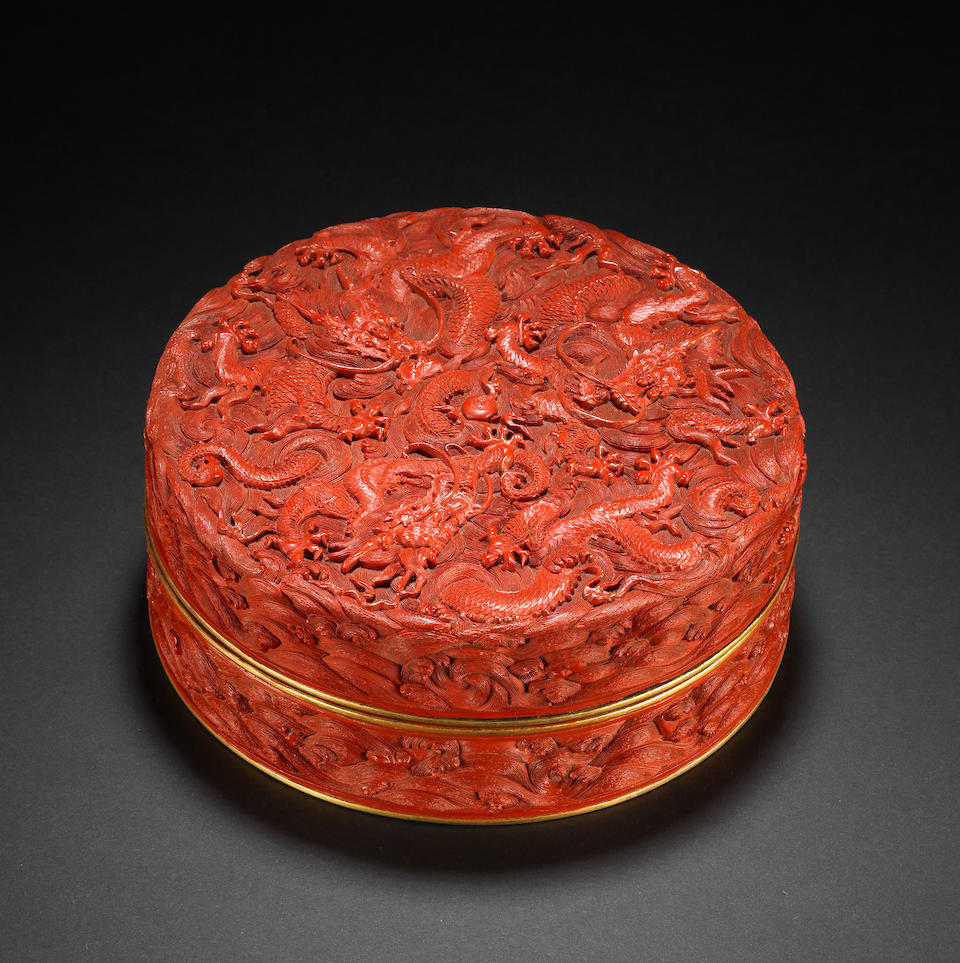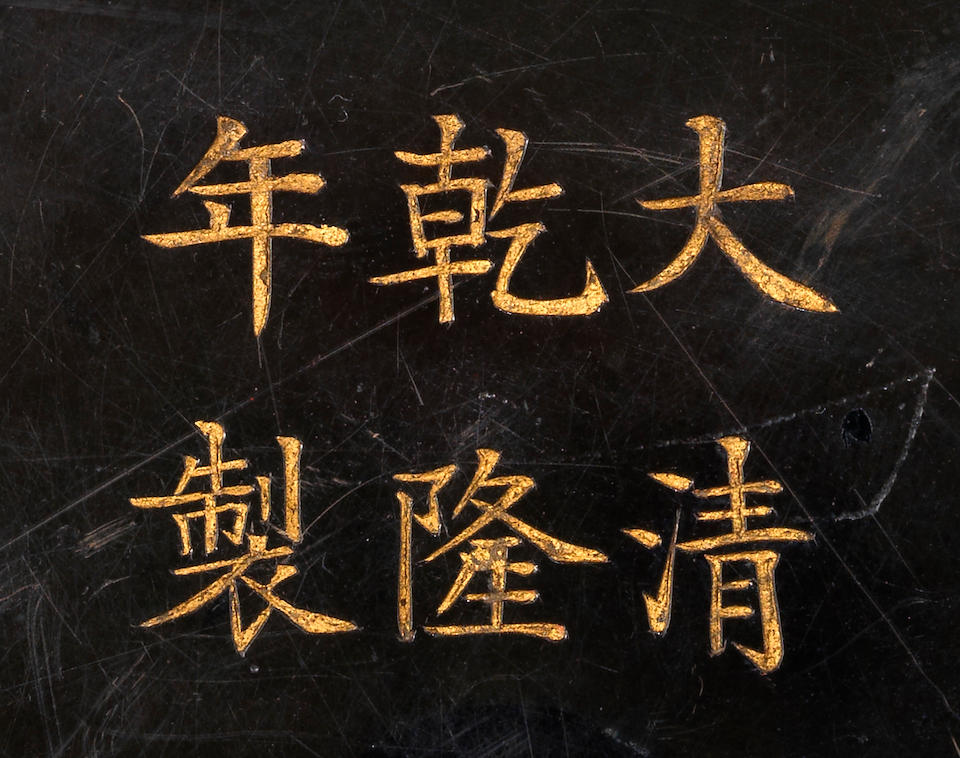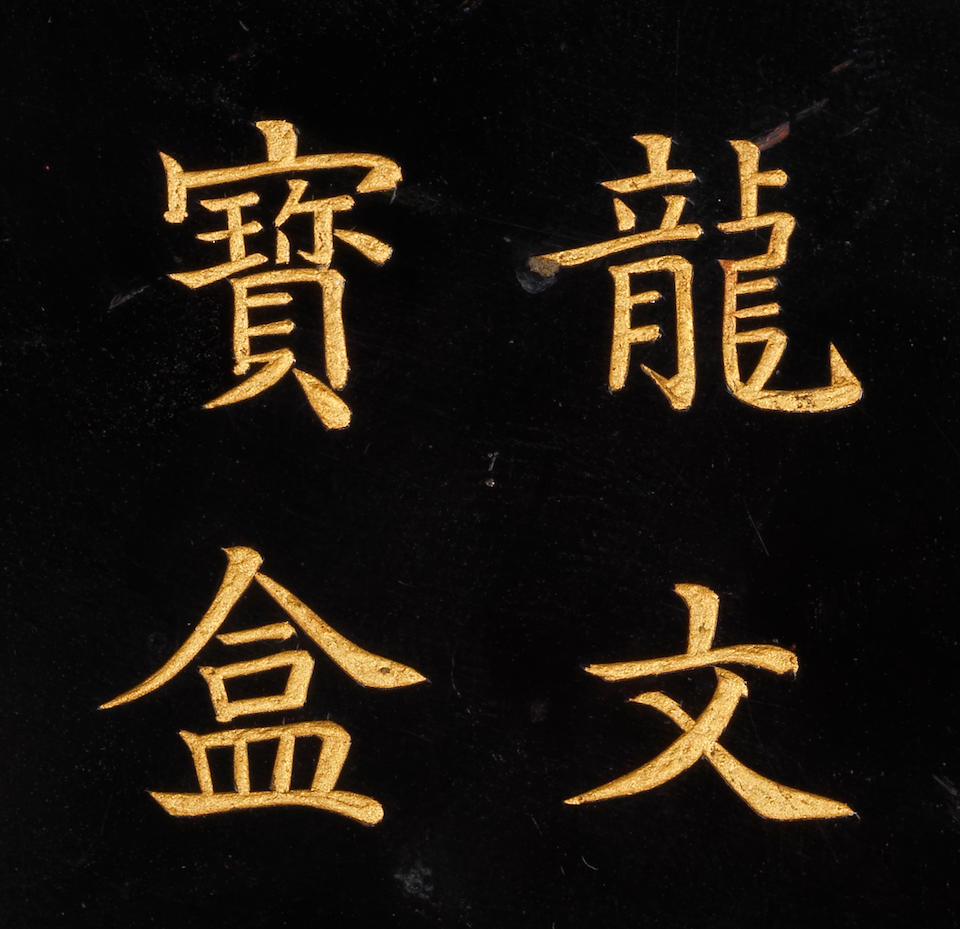 Lot 32. A cinnabar lacquer 'dragon' circular box and cover, Qianlong six-character mark and of the period (1736-1795); 18.5cm (7 1/4in) diam. Estimate HK$ 600,000-800,000. Sold for HK$ 900,000 (€ 106,925). Courtesy Bonhams.
Of cylindrical form with straight sides, the cover carved with three ferocious five-clawed dragons emerging from raging waves in mutual pursuit of the flaming pearl, the base and interior lacquered black with the rims gilt, the interior engraved with a four-character longwen baohe mark, the base further engraved with another six-character mark, fitted box.
Provenance: Spink & Son Ltd., London (label)
Littleton and Hennessy Asian Art Ltd., London, no.98 (label)
Lempertz, 9 June 2006, lot 243.
Note: The four-character kaishu mark towards the interior of the cover reads longwen baohe, which literally translates as 'treasure box with dragon design'.

The Qianlong emperor oversaw the production of court lacquer wares, in particular the cinnabar lacquer boxes and covers with dual marks, as exemplified by the present lot.

According to the archives of the Imperial Lacquer Workshop, belonging to the Imperial Palace Workshop, Zaobanchu, located in the Forbidden City, it is recorded that on the fourth month of 1738, the Qianlong emperor ordered the workshop to produce carved lacquer wares with engraved Qianlong reign marks. It is also recorded that between 1771 to 1775, a number of specific carved lacquer 'treasure' boxes were produced by order of the emperor, with inscribed names and imperial reign marks; see Lin Mun-lee, Carving the Subtle Radiance of Colors: Treasured Lacquerware in the National Palace Museum, Taipei, 2008, p.117.

The present lot belongs to a group of deeply carved cinnabar lacquer boxes and covers which project a three-dimensional effect and a sense of movement through precise knifework and expert execution; see a related circular box carved on both cover and underside with three mythical beasts amidst waves, Qianlong, and compare also the dragon amidst waves on a square box and cover, Qianlong, both from the Qing Court collection, illustrated in Lacquer Wares of the Qing Dynasty. The Complete Collection of Treasures of the Palace Museum, Hong Kong, 2006, pls.9 and 15; see also a rectangular 'three dragon' box and cover, Qianlong mark and period, illustrated by Lin Mun-lee, ibid., pl.132.

A very similar cinnabar lacquer box and cover, Qianlong mark and period, with identical 'longwen baohe' mark, possibly the pair to the present lot, sold at Sotheby's London, 16 May 2007, lot 75; another very similar lacquer box and cover, but with a Qianlong and yunlong baohe mark and period, sold at Christie's Paris, 15 June 2004, lot 123.
Bonhams. Fine Chinese Ceramics and Works of Art, Hong Kong, 3 December 2015