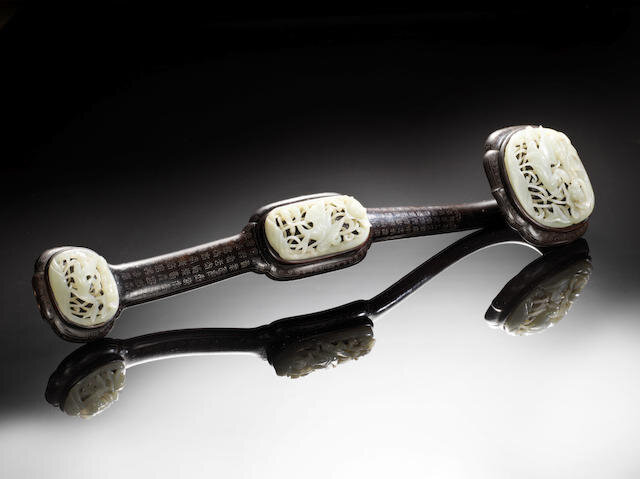 Lot 323. A rare zitan jade-inlaid 'Shou' ruyi, The sceptre 18th-19th century, the jade Ming Dynasty; 46.7cm long. Sold for Sold for £ 25,000 (€ 28,669). © Bonhams.
The zitan undulating shaft with white-metal inlay of numerous shou characters on the front, framed by archaistic C-scrolls and a key-fret border on the sides, inlaid at the top, centre and terminal with three pale green jade openwork plaques, each similarly carved with a goose in a lotus pond amidst meandering long leaves and blossoms, the reverse wire-inlaid on the head with a lotus scroll and the characters ji xiang ru yi.
Provenance: an English private collection.
Note: The present lot combines two prized materials, namely jade and zitan, to form this highly auspicious ruyi sceptre. The presentation of this sceptre would have symbolised the bestowing of good fortune, through the meaning of ruyi, 'as you wish'. This is further emphasized in the present lot by the wire-inlaid inscription, ji xiang ru yi.

As jade would have been highly valued it is not unusual that earlier plaques would have been re-fitted on later artworks. Compare a zitan ruyi sceptre fitted with earlier jade pieces, Yongzheng/ Qianlong, and a lacquer ruyi sceptre also fitted with earlier jade, Yongzheng/ Qianlong, both from the Palace Museum, Beijing, illustrated by E.S.Rawski and J.Rawson, eds., China: The Three Emperors 1662 - 1795, London, 2005, Catalogue, nos.276 and 278.

Compare a related white jade openwork plaque carved with geese amidst reeds, Ming Dynasty, from the Qing Court Collection, illustrated in The Complete Collection of Treasures of the Palace Museum: Jadeware (I), Beijing, 2008, pl.259.
Bonhams. Fine Chinese Art, 10 Nov 2011, London, New Bond Street