Lot 1. Property from a Distinguished American Collection. A magnificent gem-set, diamond and enamel 'Tutti Frutti' Bracelet by Cartier, circa 1930. Estimate: 600,000 - 800,000 USD. Photo: Sotheby's.
NEW YORK, NY.- Sotheby's unveiled today a new season of jewellery auctions, including dates for the company's flagship spring jewellery sales. Postponed as a result of the coronavirus outbreak, these highly-anticipated sales - often considered as a bellwether for the market – follow a series of successful online sales and digital breakthroughs. The strong results achieved in the past five weeks were facilitated by Sotheby's long-term omnichannel strategy and digital innovations which enabled the business to quickly adapt to the new market parameters. These successes are also testament to the resilience of the jewellery market and confirm jewellery as one of the most popular and sought-after collectibles online.

David Bennett, Worldwide Chairman of Sotheby's Jewellery Division, said: "Unprecedented times are often a catalyst for change, crystallising pre-existing trends and accelerating innovations. In the past few weeks, we have seen the jewellery market further completing its digital revolution: our online sales realised some of their best performances ever, with many new and young collectors from around the world joining. It is also very clear that people are now confident in buying and selling important jewels online. As we look forward to welcoming jewellery lovers back to our salesrooms and exhibitions, we are excited to push ahead with innovative formats in the coming months, starting with the single-lot online sale of a sensational 'Tutti Frutti' bracelet by Cartier at the end of this month".

NEW DATES – NEW HIGHLIGHTS

Single-Lot Online Auction, Open for bidding 24-28 April
The new season will be launched next week, with an unprecedented single-lot online auction, featuring a sensational gem-set, diamond and enamel 'Tutti Frutti' Bracelet made by Cartier in the 1930s. Estimated at US$ 600,000- 800,000, this masterpiece of Art Deco jewellery comes from a distinguished American collection.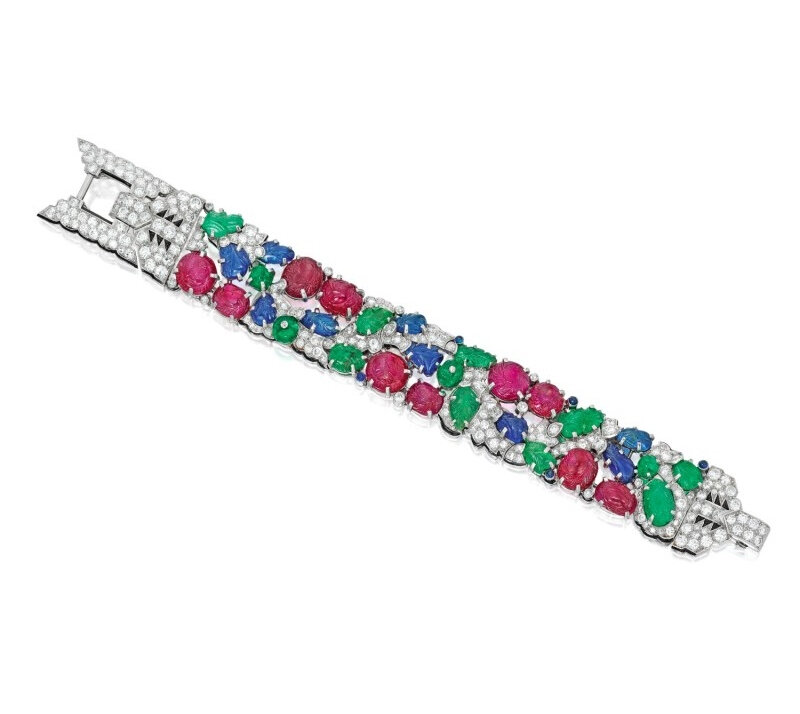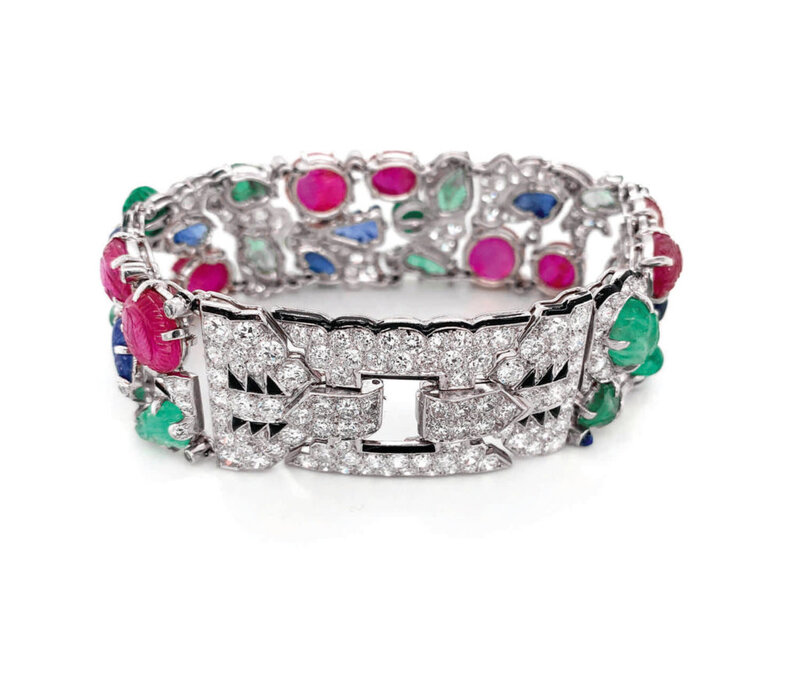 Lot 1. Property from a Distinguished American Collection. A magnificent gem-set, diamond and enamel 'Tutti Frutti' Bracelet by Cartier, circa 1930. Estimate: 600,000 - 800,000 USD. Courtesy Sotheby's.
Designed as meandering vines, set with old European and single-cut diamonds, featuring carved emeralds, rubies and sapphires, accented by emerald beads, cabochon sapphires and emeralds, highlighted with calibré-cut onyx and black enamel, length 7 inches, signed Cartier, numbered 1604; circa 1930.
Literature: For a bracelet of similar design, see Cartier: Jewelers Extraordinary (1984 edition), Hans Nadelhoffer, color plate 44.
Note: "Never copy, only create." This mission statement, embraced by brothers Louis, Pierre and Jacques, yielded jewels of extraordinary originality and beauty, propelling Cartier to never-before-seen levels of global success in the early twentieth century. During this period, the firm was well-known for taking inspiration from the "exotic," but nowhere was this more masterfully expressed than in their tutti frutti jewels.
Cartier's first foray into the style was a necklace for Queen Alexandra who, as the wife of King Edward VII and by extension Empress Consort of India, commissioned a piece to complement three Indian-style dresses. Ten years later, in 1911, Jacques ventured to India where he amassed a vast collection of carved colored stones which he employed in a further refinement of the style, taking advantage of recent advancements in the manipulation of platinum. After being exhibited at the 1925 Exposition Internationale des Arts Décoratifs et Industriels Modernes in Paris, tutti frutti jewels rapidly gained popularity among the most fashionable and discerning collectors of the day, including Mrs. Cole Porter and Daisy Fellowes.
Cartier produced a variety of tutti frutti jewels and objects, both for stock and special-order, with bracelets being the most sought-after form. All pieces share the hallmark of Mughal-cut colored stones, but each piece is unique, a variation on a captivating theme. The present lot is distinguished by the vibrancy of its gemstones-with rubies predominating-and by the lines of black enamel, placed intermittently along the trim of various elements. The enamelwork is applied to just one side-a particularly clever flourish-echoing the organic asymmetry of the foliate elements. The bracelet returns to a more traditional Art Deco aesthetic with its pavé-set diamond clasp, highlighted by onyx triangles and chevron-shaped closures. The overall design, and execution, is unmistakably Cartier.
Magnificent Jewels – New York, 9 June
Rescheduled from its April sale date, the auction will present an array of important colored and white diamonds, significant gemstones, and vintage and contemporary jewels by the most covetable houses. Highlights include an exquisite 3.67 carat Fancy Intense Blue Diamond Ring (est. US$ 2.5-3.5m), a stunning Kashmir sapphire and diamond bracelet by Cartier from the 1960s (est. US$ 750,000 – 1 million), and a rare 1930s Cartier coral bracelet from the collection of Ganna Walska (est. US$ 80,000 – 120,000).
Paris Joaillerie - 10 June
Paris will celebrate return to live auctions, with a 278-lot sale led by treasures of the French avant-garde, including a sumptuous 1930s gold and diamond "Barbare" necklace by Suzanne Belperron (lot 253, est. €80,000-140,000). Sotheby's Paris will also pay tribute to 407-year-old Parisian Jeweler Mellerio – the world's oldest jewellery house - with the sale of 25 pieces created during the last 30 years of the 20th century. Highlights include this emerald and diamond necklace, featuring a 19.76-carat drop-shaped cabochon emerald (lot 169, est. €20,000-40,000).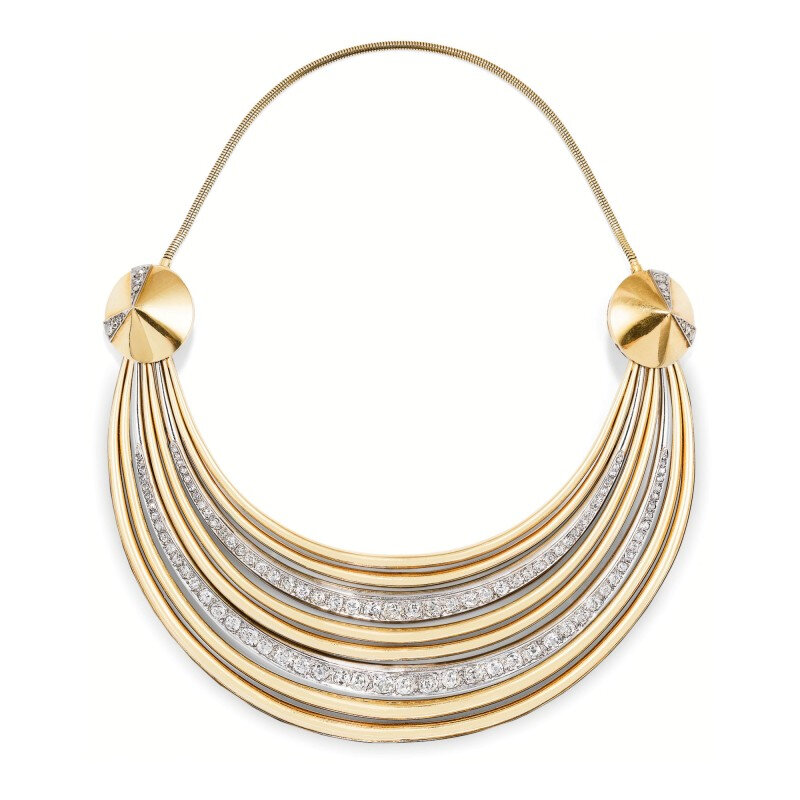 Lot 253. From a Private Collection. Collier diamants, "Barbare", Suzanne Belperron, vers 1930 - Diamond necklace, "Barbare", Suzanne Belperron, 1930s. Estimate: 80,000 - 140,000 EUR. Courtesy Sotheby's.
Orné de deux motifs coniques retenant des demi-cercles pavés en alternance de diamants taille ancienne, circonférence intérieure 370 mm environ, poinçons français pour l'or 18K (750/00), poids brut 132.30 g, restaurations.
Accompagné d'une attestation de Monsieur Olivier Baroin.
Composed of half-circles set with circular-cut diamonds, inner circumference approximately 370mm, French assay marks for 18 carat gold, gross weight 132.30 grams, composite.
Accompanied by a certificate from Olivier Baroin.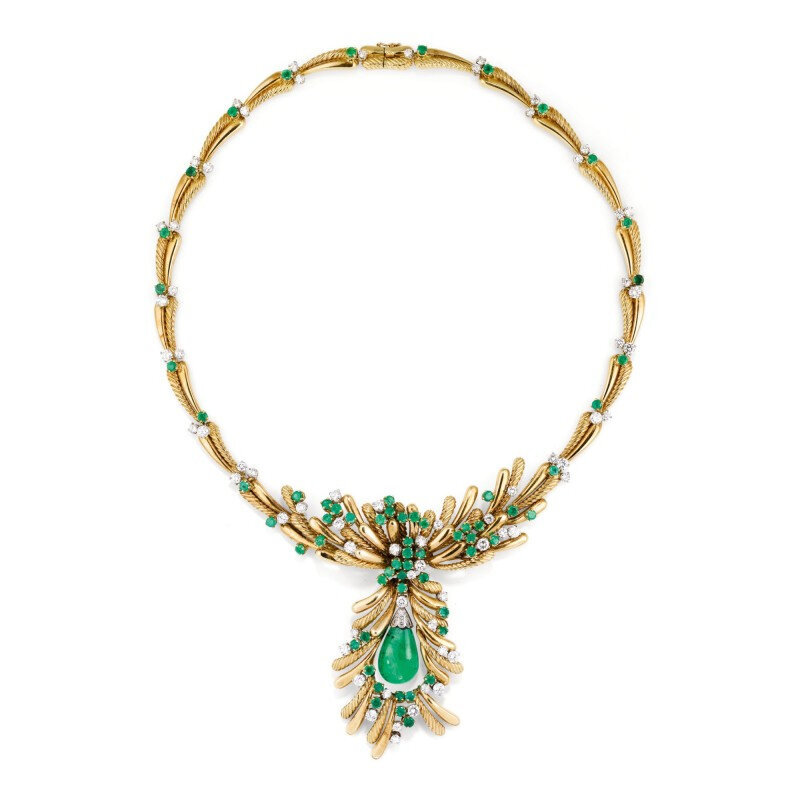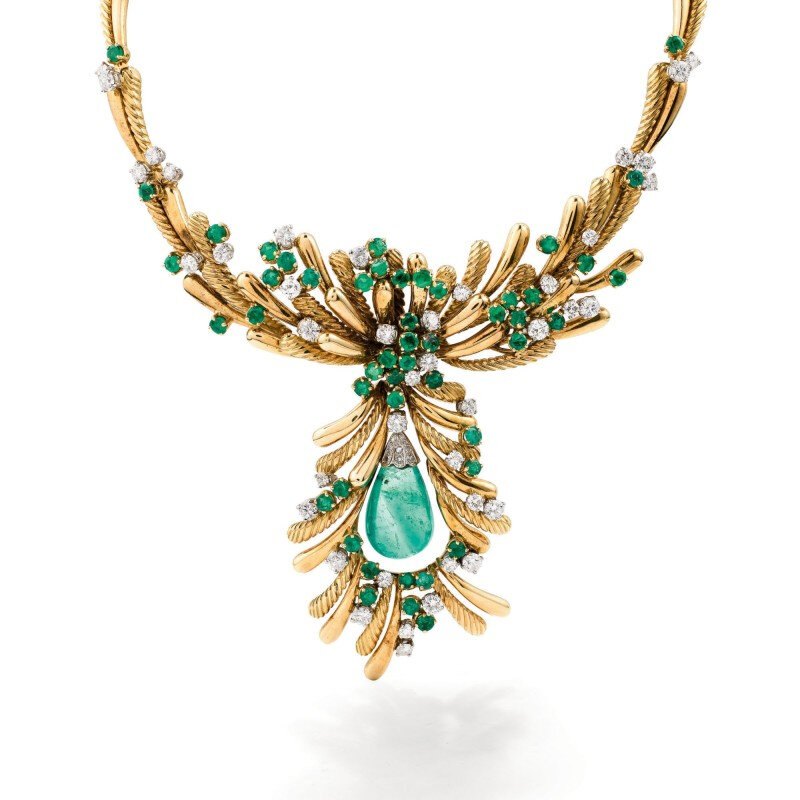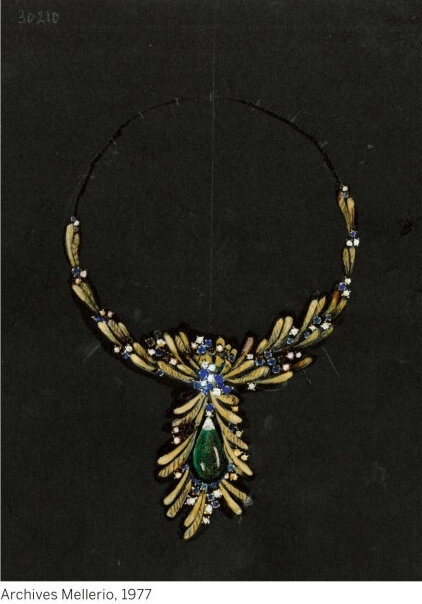 Lot 169. From the Mellerio Collection. Collier émeraudes et diamants, Mellerio, 1977 - Emerald and diamond necklace, Mellerio, 1977. Estimate: 20,000 - 40,000 EUR. Courtesy Sotheby's.
Le motif central orné d'une émeraude cabochon de forme goutte pesant 19.76 carats dans un entourage de brins rehaussés de diamants taille brillant et d'émeraudes taille ronde, longueur 480 mm environ, signé Mellerio, numéroté, poinçons français pour l'or 18K (750°/00), poinçon de maître pour Mellerio dits Meller, poids brut 171.53 g, écrin signé Mellerio.
Accompagné d'un certificat gemmologique.
The central motif set with a drop-shaped cabochon emerald weighing 19.76 carats within a surround of brilliant-cut diamonds and circular-cut emeralds, length approximately 480mm, signed Mellerio, numbered, French assay marks for 18 carat gold, maker's mark for Mellerio dits Meller, gross weight 171.53 grams, case stamped Mellerio.
Accompanied by a gemmological report.
Magnificent Jewels and Noble Jewels – Geneva, 30 June
Rescheduled from the original date of 12 May, the flagship auction will light up Geneva's lakeside with an array of important diamonds and gemstones selected for their rarity and quality, including the 'The Sunrise Diamond', an exceptional Fancy Intense Yellow diamond weighing 100.52 carats (est. US$ 3-5m / CHF 2.9-4.8m). Among the signed treasures to be offered on 30 June, lovers of Cartier are sure to delight in a beautiful coral and diamond brooch (est. CHF 50,000 - 80,000) and a stunning pair of 1930s diamond clips (est. CHF 60,000 - 100,000) and diamond bracelet (est. CHF 100,000 - 150,000).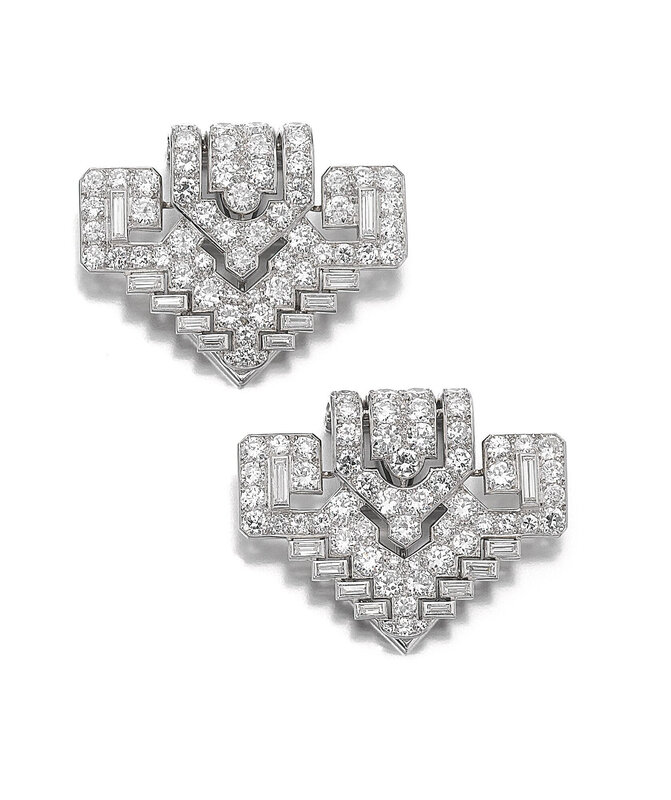 Property of The Late Baroness Bachofen Von Echt. Pair of diamond clips, Cartier, circa 1930. Estimate 60,000 - 100,000 USD. Courtesy Sotheby's.
Each of geometric design, set with circular-cut and baguette diamonds, one signed Cartier, numbered, case stamped Cartier.
Property of The Late Baroness Bachofen Von Echt. Diamond bracelet, Cartier, circa 1930. Estimate 100,000 - 150,000 USD. Courtesy Sotheby's.
Set with square, circular-cut and baguette diamonds, signed Cartier, French import mark for platinum and maker's mark, case stamped Cartier.
Magnificent Jewels – Hong Kong, 10 July
Originally planned in April, the sale will feature exquisite jadeite and coveted coloured diamonds, alongside iconic signed pieces, such this diamond/ bracelet, 'Zip' by Van Cleef & Arpels (est. HK$ 2.4-3.5m).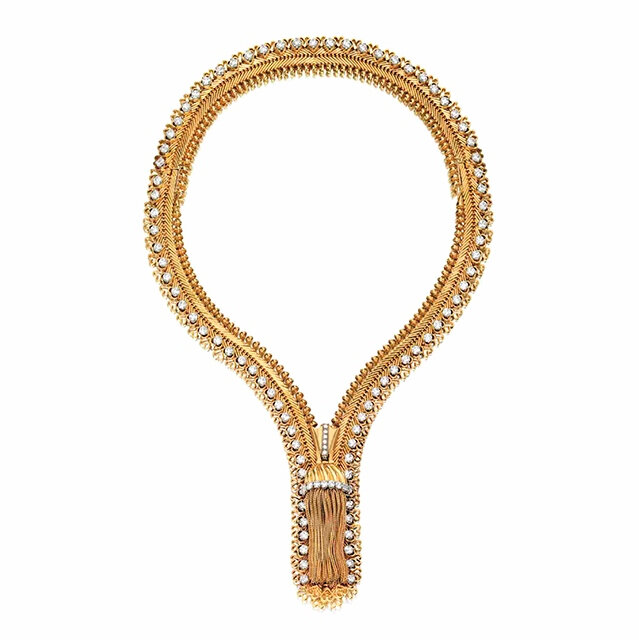 An Iconic Diamond Necklace / Bracelet, 'Zip', Van Cleef & Arpels. Estimate HKD 2,400,000 – 3,500,000. Courtesy Sotheby's.