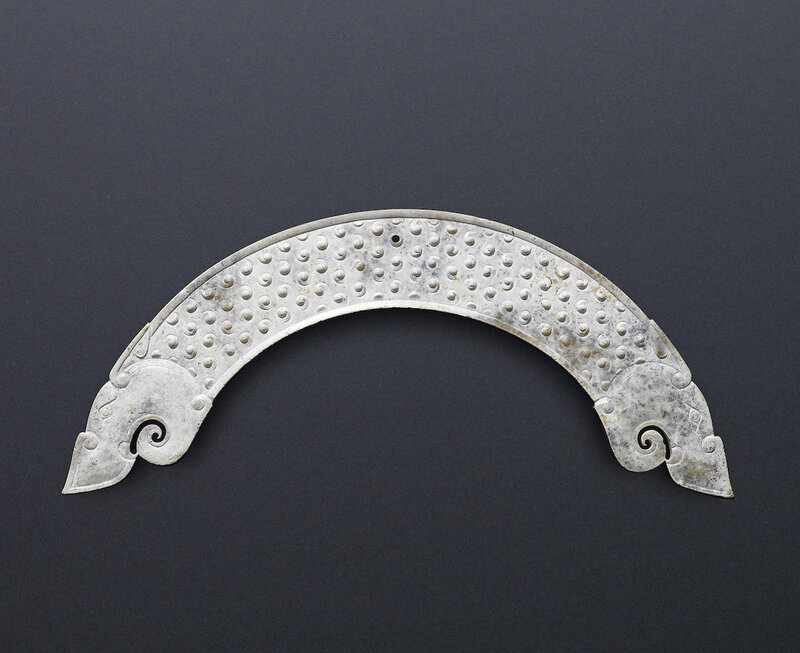 Lot 11. A calcified grey jade pendant, huang, Warring States Period-Han Dynasty (475 BC–220 AD); 17.4cm (6 7/8in) wide. Estimate HK$ 150,000-200,000. Sold for HK$ 812,500 (€ 96,380). Photo: Bonhams.
The flat arc-shaped pendant terminating at both ends with a stylised dragon head, carved with spiral bosses in low relief on both sides, with a small circular aperture drilled at the centre, the stone of varying grey tones with large areas of chalky white.
Note: Large double-headed dragon huang of the period were included in a set of jade ornaments which during the Warring States period was typically worn hanging down a belt. These double-headed huang were usually hung at the bottom of the assembled set, with the concave portion facing downward, presumably to assist in maintaining an overall structural balance to the set.

Compare a related jade huang with similar spiral bosses in low relief, in the Palace Museum, Beijing, illustrated in Compendium of Collections in the Palace Museum: Jade 3, Beijing, 2011, p.69, no.66; and another related larger pale green jade huang, late Warring States period, with pointed snouts, in the National Palace Museum, Taipei, illustrated in Art in Quest of Heaven and Truth – Chinese Jades Through the Ages, Taipei, 2012, p.101, no.5-6-17.
Bonhams. The Sze Yuan Tang Collection of Chinese Jades, Hong Kong, 5 April 2016