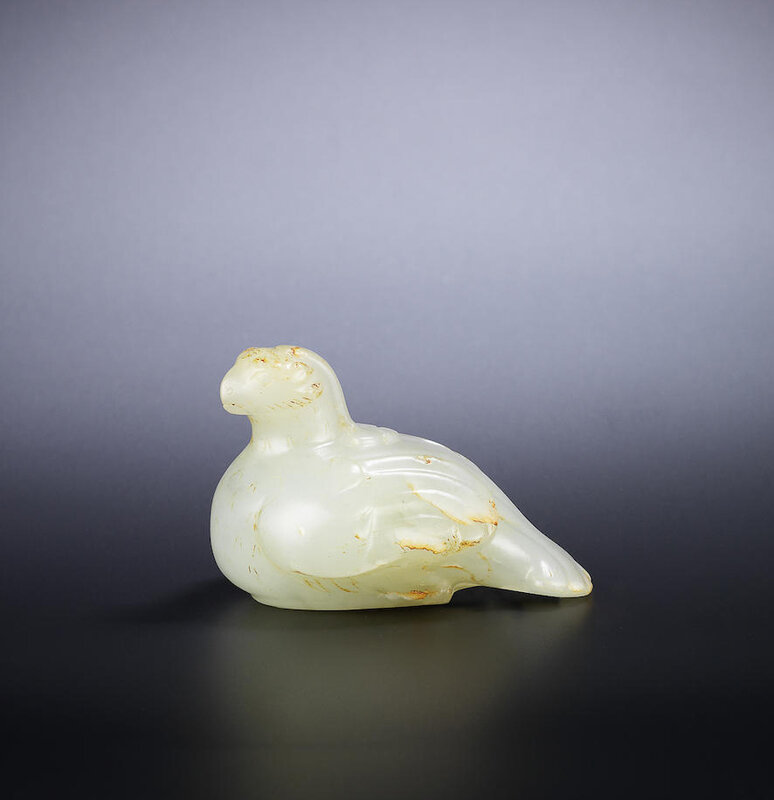 Lot 29. A pale green jade turtledove, Western Han Dynasty (206 BC–9 AD); 6cm (2 3/4in) wide. Estimate HK$ 80,000-120,000. Sold for HK$ 1,720,000 (€ 204,033). Photo: Bonhams.
The recumbent bird with legs tucked under its body and feathers carefully carved in low relief on the wings and tail, its head detailed with incised small eyes and beak issuing a single long feather, the stone of a pale tone with russet coloured stains.
Note: In Chinese legend, Liu Bang, Emperor Gaozu of the Han dynasty, was once assisted by a divine turtledove to escape from his arch rival Xiang Yu, and became a symbol of benevolent rule and heavenly protection. Compare a jade turtledove, also with a small head to body proportion, in the Palace Museum, Beijing, illustrated in Compendium of Collections in the Palace Museum: Jade 4, Beijing, 2011, p.182, no.238.

Carvings of jade turtledoves were typically used as staff pommels and were popular during the Han dynasty. Compare a jade turtledove staff pommel, the crown with a similar single long feather, in the National Palace Museum, Taipei, illustrated in Art in Quest of Heaven and Truth – Chinese Jades Through the Ages, Taipei, 2012, p.38, pl.3-3-36.
Bonhams. The Sze Yuan Tang Collection of Chinese Jades, Hong Kong, 5 April 2016