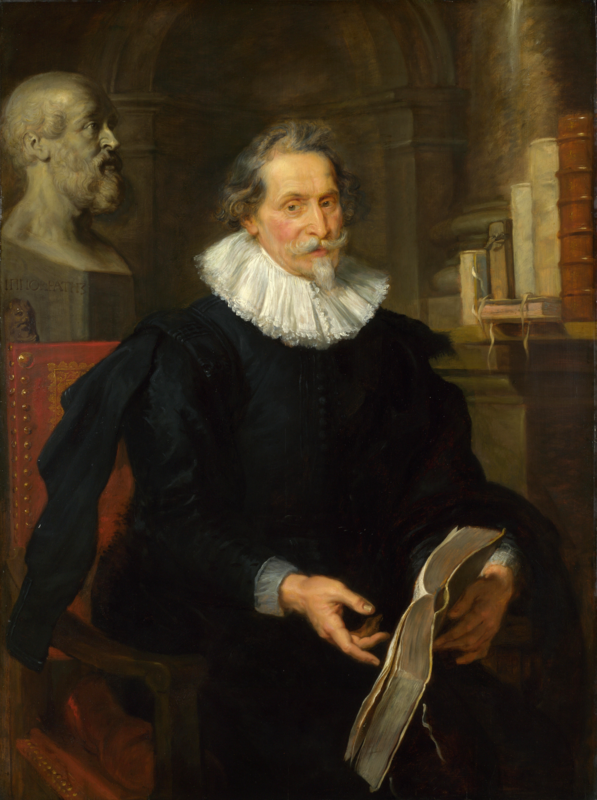 Peter Paul Rubens (1577 - 1640), Portrait of Ludovicus Nonnius, about 1627. Oil on wood, 124.4 x 92.2 cm, NG6393. © The National Gallery, London.
LONDON.- To coincide with International Nurses Day, which is traditionally held on 12 May, the anniversary of the birth of nursing pioneer Florence Nightingale, the National Gallery invites its online visitors to celebrate doctors, healers and carers through its paintings.

As the current health crisis is affecting the life of so many people all over the word and has put the highlight on the extraordinary work that doctors, healers and other carers do, the National Gallery would like to pay tribute to these professions and to reflect on the role that the arts can have on people's well-being at this unsettling time. Art has the power to transform lives and can be a great source of solace, hope, comfort and strength. The following paintings, presented in chronological order, feature portraits of doctors and other health professionals, and also highlight the interesting synergy between the wisdom and therapeutic value of the arts and the knowledge of the sciences.

Caroline Campbell, Director of Collections and Research, said: 'The National Gallery is here for everyone, in Britain and beyond. We're an international institution, with visitors and supporters all over the world. Our role now, as ever, is to provide access to some of the world's greatest art, to give people inspiration and solace. Our paintings and our programmes are helping people maintain good mental health, at a time when this has never been more important.

I think that, at a moment like this, it's key that we encourage people to find well-being and strength, repose and respite in our collection. This can be for many reasons - because of the intrinsic beauty of the works and the issues they address, or because they remind us that many people in the past have faced situations as tough as our current health crisis. We can feel reassured and strengthened by this. On a personal level, I find the timelessness of the National Gallery's collection tremendously comforting in these troubled times. Great art connects us to our past, our present and our future.

The National Gallery has weathered many national emergencies and provided solace and respite for people in Britain and all over the world for almost two centuries. Our current online activities, including our talks, and creative sessions, are partly inspired by the National Gallery's activity during the last national crisis in the UK, the Second World War.

Every day during the war, the Gallery was one of the few places in London where you could find a programme of cultural activity - concerts, organised by Dame Myra Hess, exhibitions of contemporary art, and a 'picture of the month', brought back from storage in a Welsh mine to delight the public.

At the moment we can't give people access to the pictures physically. However, with digital resources we can give people the chance to treasure great art, and make it their own, by looking at it and reflecting on it in their homes, on their phones and other devices.

As a curator, it's inspiring to see that our digital initiatives are already giving great joy to many people and helping to foster a resilient spirit in these challenging times. My colleagues at the Gallery and I are fully committed to doing all we can to help us get through the current crisis.'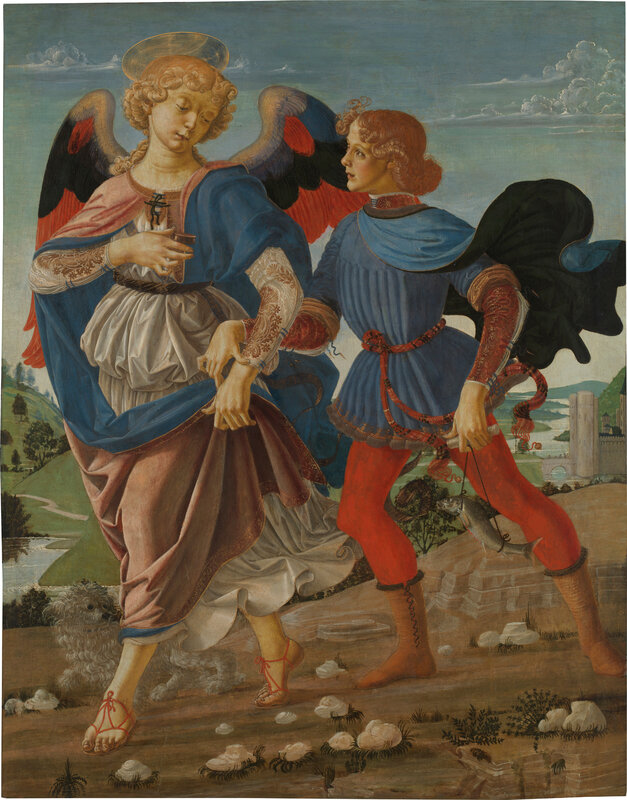 Workshop of Andrea del Verrocchio (

about 1435 - 1488)

, Tobias and the Angel, about 1470-5.
Tempera on wood,
83.6 x 66 cm,
NG781.

© The National Gallery, London.
The blind old man Tobit, a merchant and devout Jew, sent his son, Tobias, on a long journey to collect a debt. God sent the Archangel Raphael – the winged figure on the left of the scene – to accompany Tobias and his dog.

Tobias carries a fish that he has gutted; Raphael holds its organs in a little box, explaining they could be used as ointment to cure blindness. The fish is painted like a minute still life; the scales reflecting the light like shining armour. It has been suggested that Verrocchio's pupil Leonardo may have painted the fish and the dog.

Tobias and Raphael's journey to Media was very popular in the late 15th century when devotion to the Archangel, known as Saint Raphael, was promoted by a number of confraternities dedicated to him. The story culminates with Tobias's return home where he used the fish organs to cure his father.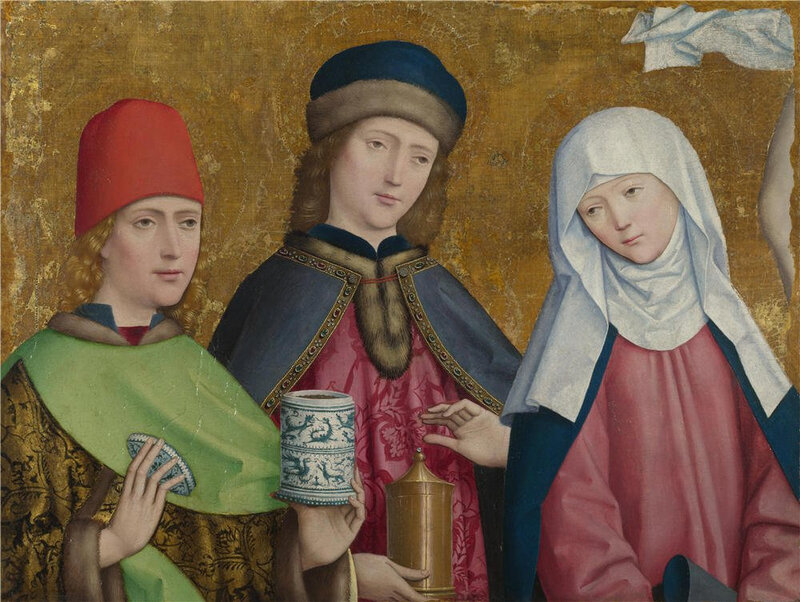 Master of Liesborn (active second half of the 15th century, Saints Cosmas and Damian and the Virgin: Fragment of the Crucifixion Scene, probably 1470-80. Oil on canvas, transferred from oak, 54.9 x 72.1 cm, NG261. © The National Gallery, London.
This is a fragment of an altarpiece made for the high altar of the Benedictine abbey at Liesborn. It comes from the central scene, which depicted the Crucifixion; a fragment showing Christ's head is also in the National Gallery's collection. The fluttering cloth in the top right corner is part of Christ's loincloth; below, we see part of Christ's right leg, details which confirm the position of the fragment in the altarpiece.

It was common for Crucifixion scenes to include the Virgin Mary mourning her son beneath the Cross. Beside her are two third-century saints, the brothers Cosmas and Damian, as the altarpiece was dedicated to them, among others. They are richly dressed in fur-trimmed clothing and they hold ointment jars, a reference to their medical expertise. According to their legend they healed many people but did not accept payment for treatment.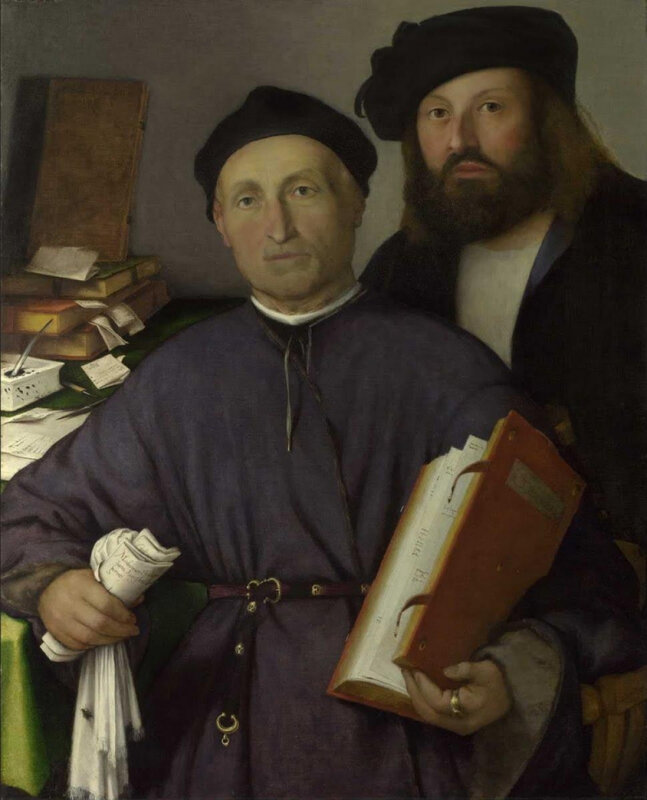 Lorenzo Lotto (about 1480 - 1556/7), The Physician Giovanni Agostino della Torre and his Son, Niccolò, about 1515-16. Oil on canvas, 85 x 68.2 cm, NG699. © The National Gallery, London.
Giovanni Agostino della Torre was a distinguished doctor and citizen of Bergamo. He had taught at the University of Padua, and the costume he wears is official or academic dress. In 1510 he was elected prior of Bergamo's College of Physicians, an office he held until his death.

The texts on the two square pieces of paper below the inkstand are prescriptions. The paper label on the back cover of the book held by Agostino reads 'Galienus', meaning Galen, who was the great medical authority of the ancient world. On one of the pieces of paper in Agostino's right hand is an inscription that refers to Aesculapius, the physician god of the ancient Greeks and Romans. The portrait is signed and includes a date, which is illegible today but recorded as 1515.

The man behind Agostino is Niccolò, who was 33 in 1516 when his father died. It seems that he was added to what was originally conceived only as a portrait of Agostino, perhaps on the occasion of his father's death.
Titian (active about 1506; died 1576), Portrait of Girolamo Fracastoro, about 1528. Oil on canvas, 84 x 73.5 cm, NG3949. © The National Gallery, London.
Girolamo Fracastoro (1476/8–1553), a celebrated medical doctor, as well as an astronomer, mathematician and poet. His most important medical book De Contagione (On Contagion), which explains how and why plague was spread, was published in 1546.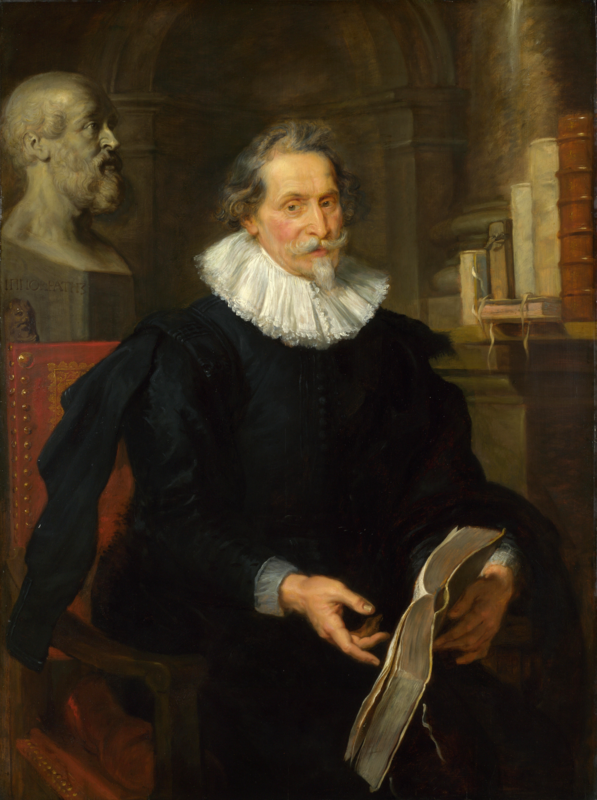 Peter Paul Rubens (1577 - 1640), Portrait of Ludovicus Nonnius, about 1627. Oil on wood, 124.4 x 92.2 cm, NG6393. © The National Gallery, London.
The aged antiquarian and doctor Ludovicus Nonnius meets our gaze with watery eyes. With his slightly parted lips, he appears to engage us in discussing a passage from the book he holds, which is most likely his recently published text, Diaeteticon sive de recibaria, Libri IV. In this he argues for the importance of diet, his research based on the eating habits of the ancient Romans.

Nonnius was a friend of Rubens in Antwerp, and the artist shows his respect for the old scholar by painting him in fine clothing, seated in a stately chair and framed by grand classical architecture. The bust is identified in Greek lettering as Hippocrates (around 460–around 370 BC), the founder of medicine and a respected forebear of Nonnius in terms of his medical and classical learning. The books on the ledge emphasise the scholarly achievements of the sitter; the cover ties of two hang undone, suggesting that he has recently consulted them.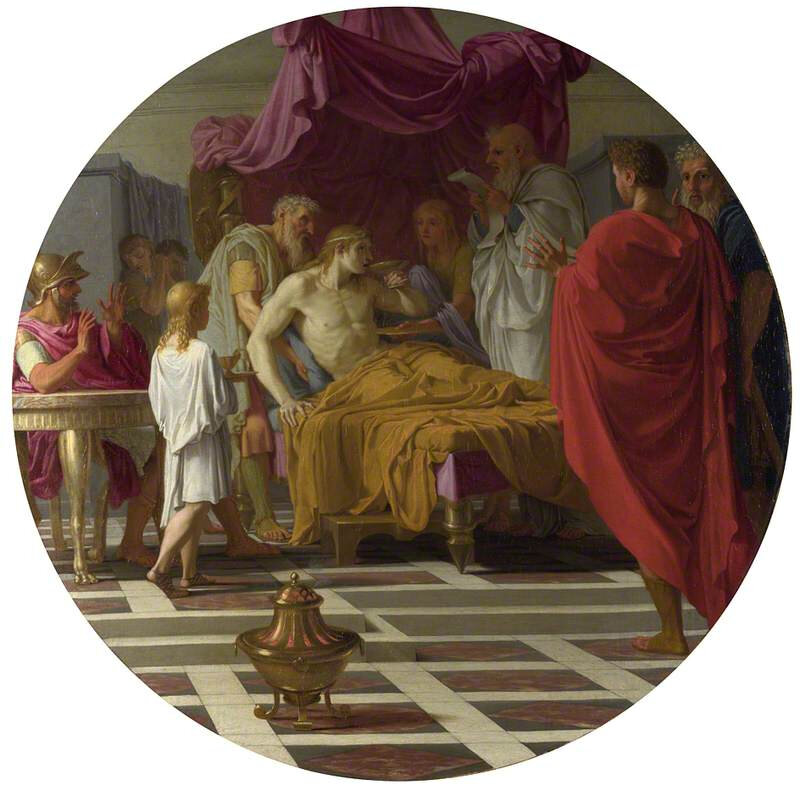 Eustache Le Sueur (1616 - 1655), Alexander and his Doctor, about 1648-9. Oil on canvas, 96 x 96 cm, NG6576. © The National Gallery, London.
Alexander the Great (356–323 BC) lies on a bed drinking medicine given to him by Philip, his doctor. Philip has been accused of treachery against his leader in a letter, which he is reading aloud to Alexander. Hands raised in horror, eyes widened, their companions wait to discover the truth. Alexander gazes towards Philip to acknowledge his innocence and loyalty, which is further proven as Alexander's health improves. A male figure glances towards us to invite our reaction.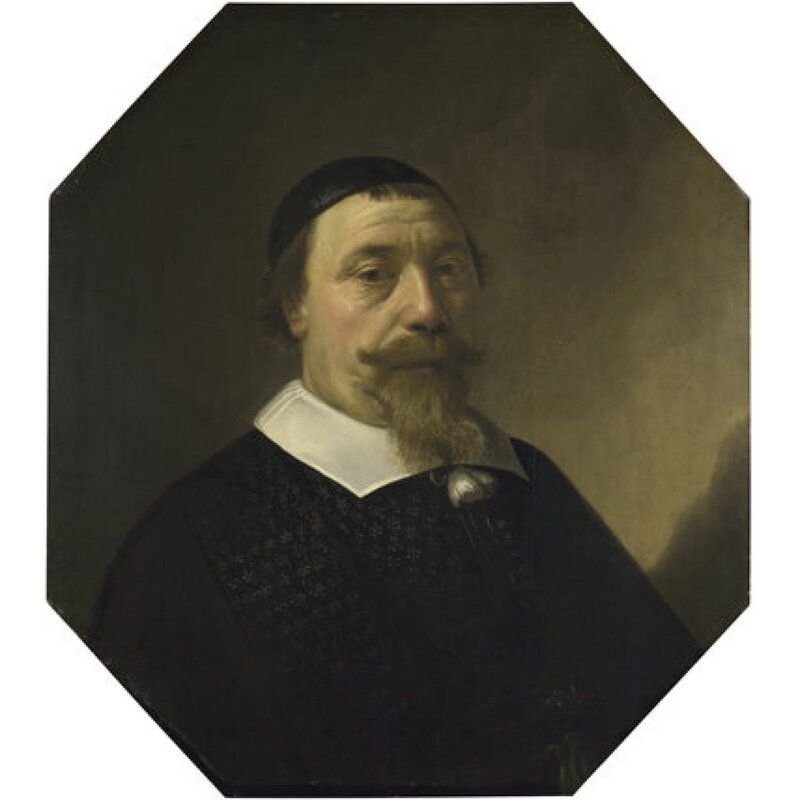 Aelbert Cuyp (1620 - 1691), Portrait of Cornelis van Someren, 1649. Oil on oak, 68.9 x 60.2 cm, NG797. © The National Gallery, London.
Aelbert Cuyp is famous for his landscapes but he also painted a small number of portraits, of which this is a rare example. For some time, it was believed that the sitter might be Cuyp's father, Jacob, a portraitist who taught his son to paint. However, it is now believed to depict Cornelis van Someren (1593–1649), a prominent Dordrecht doctor who was 56 years old in 1649, the age and date inscribed on the picture. This suggestion seems to be confirmed by a matching pendant portrait of a woman whose age is given on the picture as 49 years old, the same as that of van Someren's wife.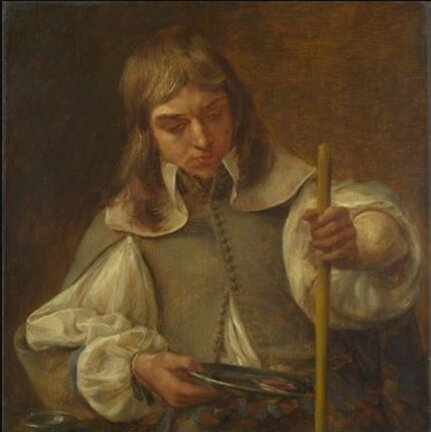 Gonzales Coques 1614/18 - 1684), Touch, before 1661. Oil on oak, 25.1 x 19.4 cm, NG1116. © The National Gallery, London.
This is one of five paintings intended to hang together, each of which denotes one of the five senses – a common theme for painting in the Low Countries in the 17th century. In each of these paintings Gonzales Coques has used a traditional activity to represent the relevant sense.

Here, Touch is depicted as a man with his sleeve rolled back letting blood from his arm, a procedure which was believed to help cure or prevent some medical conditions. Blood was probably associated with the sense of touch because, like feeling, it permeates the whole body. By contrast, the receptors for the other four senses are located only on the head.

This may also be a real portrait. We don't know who it is, but as three of the other paintings in the series are artists; he may be one too. It was probably designed as the central image of the five, since the sitter faces forwards; among the others two turn to the left, two to the right.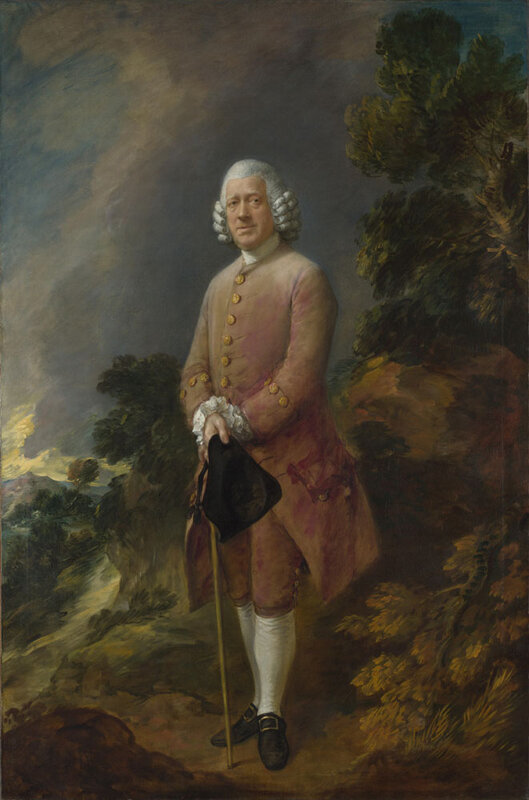 Thomas Gainsborough (1727 - 1788), Dr Ralph Schomberg, about 1770. Oil on canvas, 233 x 153.5 cm, NG684. © The National Gallery, London.
In 1759 Gainsborough moved to the fashionable spa town of Bath, where he established a very successful portrait-painting practice and remained for 15 years. He painted this portrait of Dr Ralph Schomberg, aged about 56, in Bath around 1770.

Gainsborough consulted various doctors during his years in Bath, both for his own medical problems and about the recurring mental instability of his elder daughter, Mary. This portrait may have been painted in place of medical fees.