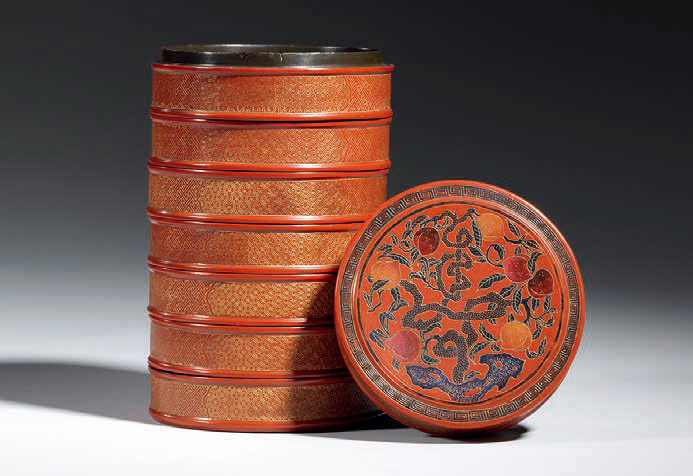 Lot 80. A cinnabar lacquer incised gilt-decorated seven-tiered circular box and cover, Jiajing six-character mark and of the period (1522-1566); 18cm high.. Estimate HK$ 200,000 - 400,000. Sold for HK$ 400,000 (€ 47,449). Photo: Bonhams.
Deeply carved through layers of cinnabar-red, dark green and brown lacquer depicting a round cartouche enclosing a tall pavilion beside gnarled pine trees growing on rocky mountains, detailed with a crane standing in the foreground by the most forward balustrade, an incense burner on the top balcony emitting smoke coiling upwards, forming the word shou flanked by a pair of cranes in flight, encircled by a band of scaly dragons amidst ruyi-shaped clouds repeated on the box above the foot, the straight sides with a diaper pattern, the interiors and base all lacquered red, the reign mark incised in a vertical line and gilt to the centre of the base, together with a Japanese wood box.
Note: The qiangjin lacquer technique, which involved incising the dry lacquer and then inserting colour inlays, was particularly popular during the 16th century. Several lacquer vessels with the same decorative techniques and bearing Jiajing six-character marks are in museum collections; see for example a box in the shape of the character shou decorated with peaches in the Palace Museum, Beijing, illustrated in The Complete Collection of Treasures of the Palace Museum, Lacquer Wares of the Yuan and Ming Dynasties, Hong Kong, 2006, p.193, pl.153. Compare also with a foliate dish decorated with similar techniques and a similarly incised Jiajing mark, in the National Palace Museum, Taipei, illustrated in Carving the Subtle Radiance of Colors, Treasured Lacquerware in the National Palace Museum, Taipei, 1997, p.104, pl.93.
Bonhams. Fine Chinese Ceramics and Works of Art, Hong Kong, 26 May 2014