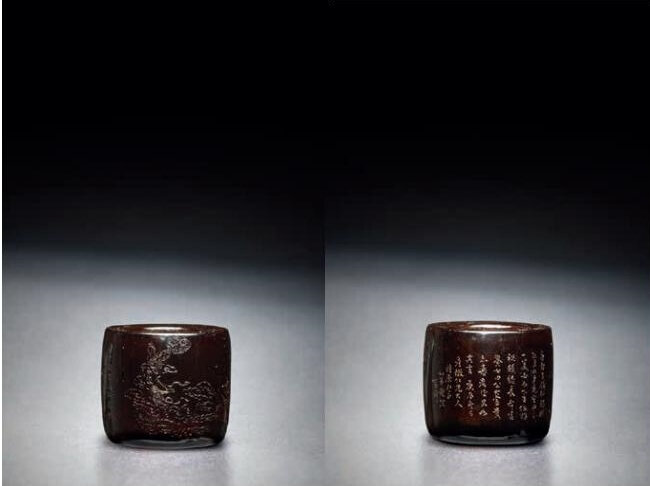 Lot 209. An inscribed wood-lacquered archer's cylindrical thumb ring, Dated gengchen year, corresponding to 1820 or 1880; 3.1cm diam. Estimate HK$ 40,000 - 60,000. Sold for HK$ 52,500 (€ 6,188). Photo: Bonhams.
The exterior decorated with a finely incised series of kaishu inscription, flanked by a figurative scene of a general and his entourage setting up camp with his steed tied to a tree, with two female deities observing from afar above cloud wisps.
Note: The inscription literately translates as 'in Tang Dynasty, Guo Ziyi engaged in warfare with the state of Yin (modern day Shaanxi province). There he met with a female deity descending from the heavenly palace on the seventh day of the seventh month. He wished for longevity and prosperity; and the female deity granted his wish. Carved by Zhongxi during the winter of the gengchen year, dedicated to Yanzheng for his appreciation'.
Bonhams. FINE CHINESE CERAMICS AND WORKS OF ART, Hong Kong, Admiralty, 26 May 2014