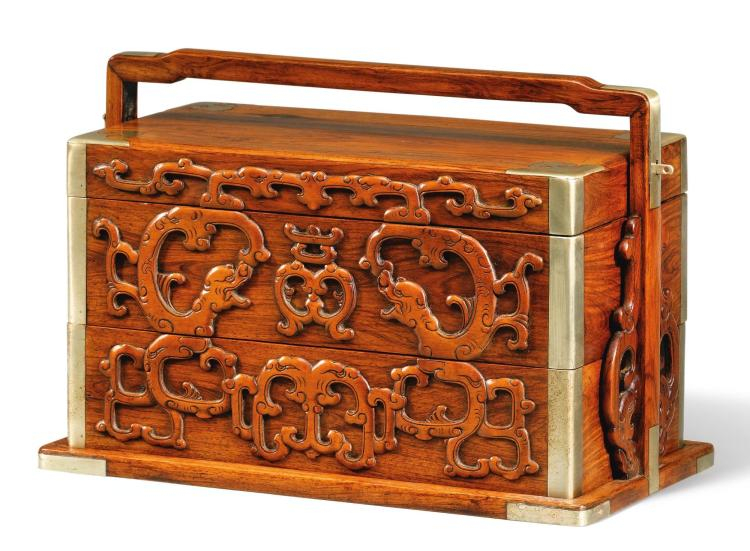 Lot 105. A huanghuali and boxwood two-tiered carry box, Late Ming-Early Qing dynasty; 94 by 61.1 by 46 cm., 37 by 24 by 18 1/8 in. Estimate 380,000 — 550,000. Lot Sold 1,500,000 HKD (172,434 EUR). Courtesy Sotheby's.
the base of the carry box comprising a rectangular frame connected by two transverse stretchers, each short side with an openwork spandrelled upright rising from the base frame to meet the arch-shaped handle, the spandrels carved with chilong motifs echoing the boxwood decoration to the front and back of the carry box, the interior of the top tier with a shallow tray resting on its lipped edge, the cover centred with an opening on each short side aligned with the opening on the upright to house a long metal rod securing the entire carry box in its base, the lower tier fitted inside the ledge of the base frame.
Exhibited: In Pursuit of Antiquities: Thirty-fifth Anniversary Exhibition of the Min Chiu Society, Hong Kong Museum of Art, Hong Kong, 1995-96, cat. no. 272, p. 301, cover and frontispiece.
Freer Gallery of Art and Arthur M. Sackler Gallery, Smithsonian Institution, Washington D.C., 1997-2001.
The Dr. S. Y. Yip Collection of Classic Chinese Furniture, Macao Museum of Art, Macau, 2003, pp. 44-45.
Grace Wu Bruce, Chan Chair and Qin Bench: The Dr. S. Y. Yip Collection of Classic Chinese Furniture II, Art Museum, Chinese University of Hong Kong, Hong Kong, 1998, cat. no. 60, pp. 176-177.
Literature: Grace Wu Bruce, 'Small Portable Treasures', Journal of the Classical Chinese Furniture Society, Autumn 1993, p. 63.
Note: "There are food carrying boxes and food carrying boxes. But where can you find one with inlaid motifs of classical dragons? This is one of a kind."
The design of these tiered carry boxes originated from food boxes, made mostly of bamboo and lightweight woods for easy carriage. Attendants carrying them on outings are depicted in numerous Ming period paintings and woodblock illustrations to Ming novels.
This fine example, made in heavy and dense huanghuali wood and exquisitely inlaid with boxwood huangyangmu chilong, derived from the common food boxes and was used to contain valuables.
As the bottom tier fits inside the ledge of the base frame and each tier as well as the cover are interlocked by their ledges, the placement of the metal rod secures the whole carry box in its base. If a lock is fitted to the opening at one end of the metal rod, the whole structure is locked, rendering the box trays inaccessible. This arrangement would attest to the usage of this two-tiered carry box for containing valuables.
A number of carry boxes have survived, but none as glamorous as this example, inlaid with boxwood chilong, which appears to be unique.
Sotheby's. Ming Furniture – The Dr S Y Yip Collection, Hong Kong, 07 October 2015