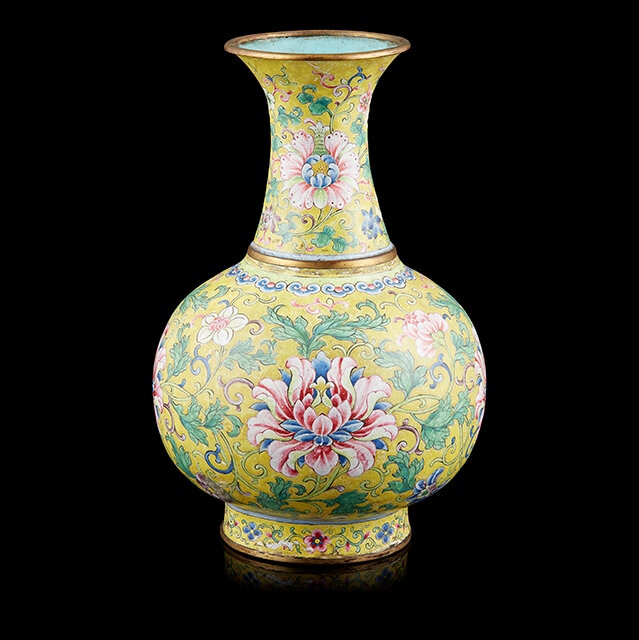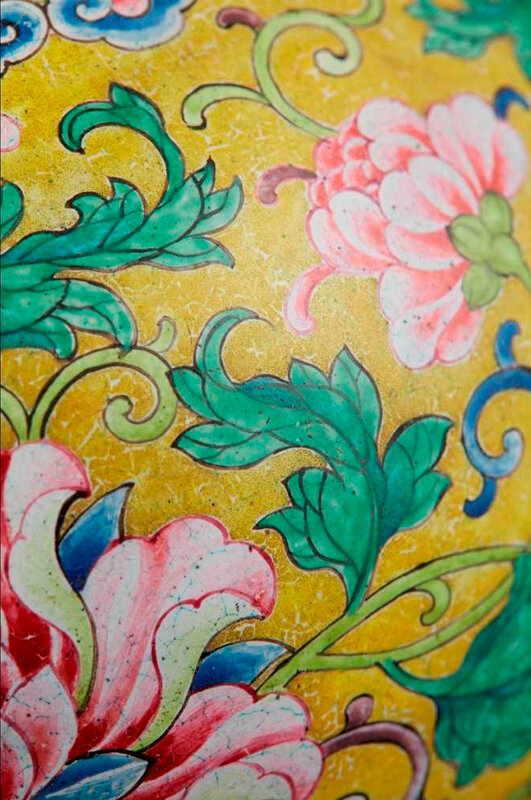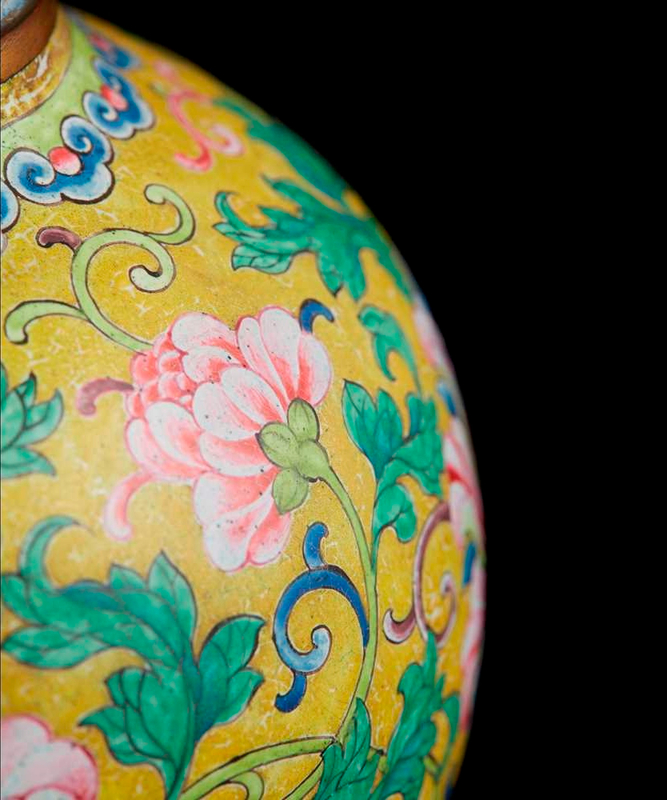 Lot 60. From The Earls of Crawford and Balcarres, Balcarres House, Fife, Scotland. Rare imperial painted enamel yellow-ground 'lotus' vase, Qianlong mark and period (1736-1795); 27cm high. Sold for £45,000. © Lyon & Turnbull.
EDINBURGH.- A rare Chinese imperial vase found in a Scottish country house topped the Asian Art sale held 'behind closed doors' by Lyon & Turnbull on May 13.

The Qianlong (1736-95) mark and period painted enamel lotus vase sold at £45,000 was one of 14 lots consigned by the Earls of Crawford and Balcarres of Balcarres House in Fife. The estate, commanding a view across the Firth of Forth, has been home to the Lindsay family since 1595.

Decorated with a delicate floral design against a vibrant yellow ground, the 27cm vase is of a type made in the 18th century at the Imperial Workshops in the Forbidden City in Beijing. At Balcarres for several generations, it was probably among the collection of Chinese literature and works of art amassed by the 25th Earl (1812-1880) and his son the 26th Earl (1847-1913) and now distributed amongst several British institutions. It was not in perfect condition. After careful research by specialists, it was revealed that holes to either side of the neck of the vase suggested it once had a pair of bronze dragon-shaped handles, similar perhaps to those that adorn two pairs of enamel vases of this type in the collection of the National Palace Museum, Taipei.

The Asian art auction calendar has been much changed by Covid-19 restrictions, with the traditional May series of sales in London postponed until later in the year. However, in the wake of a successful series of 'live online' sales during the lockdown period, Lyon & Turnbull chose to keep the date in the diary. Despite the absence of Far Eastern buyers in the room, auctioneer and managing director Gavin Strang took bids across four different international platforms and bi-lingual telephones via video-conferencing software. More than 500 bidders registered their interest.

Grace Tu, Head of Asian Art at Lyon & Turnbull commented: "The sale attracted a great level of interest from a wide range of international markets, especially Mainland China, Hong Kong, Taiwan, Vietnam, Japan, India, USA, Canada and UK. Our internet bidding system, great teamwork and good reputation in the art world over the years were key to the success of this sale, regardless the lockdown restriction."

Scotland's country houses remain the repository of important Far Eastern works of art, often the product of the nation's key role in the 18th and 19th century China trade. Also from the Earls of Crawford and Balcarres was a textbook Kangxi (1661-1722) blue and white cylindrical form brush pot or bitong painted with a narrative scene. The composition of two kneeling figures paying tribute to a seated officer in a garden probably relates to one of the Ming epics – the literary inspiration for many 'scholars' objects of the period.
Estimated at £500-700, it took £13,750. More antiques and works of art from Balcarres House will be offered by Lyon & Turnbull later this year.
Lot 63. From The Earls of Crawford and Balcarres, Balcarres House, Fife, Scotland. Blue and white brush pot, Kangxi period (1662-1722); 18.5cm high. Estimate £500-700. Sold for £13,750. © Lyon & Turnbull.
It was during the long reign of Kangxi that the imperial porcelain factories at Jingdezhen, inactive during the upheavals of the late Ming period, were reopened and a new era of high-quality production and technical innovation begun. Hammered down for £25,000 was an exquisite Kangxi mark and period wine cup finely pencilled with an underglaze blue design of five dragons, symbols of imperial power with a six-character reign mark to the base. Bowls of this 'dragon medallion' type, produced in both underglaze blue and copper-red, appear in a number of well-known collections.
Lot 187. Blue and white 'dragon' wine cup, Kangxi mark and period (1662-1722); 9.2cm diameter. Estimate £500-700. Sold for £25,000. © Lyon & Turnbull.
The technique of applying a brilliant coral-red enamel over white-glazed porcelain was one perfected at Jingdezhen during the later Qing period. A pair of 11cm diameter bowls decorated in reserve with freely executed bamboo shoots, had six-character Qianlong marks in underglaze blue to the base and were deemed of the period. In the possession of the same London family for more than a century, they sold for £23,750.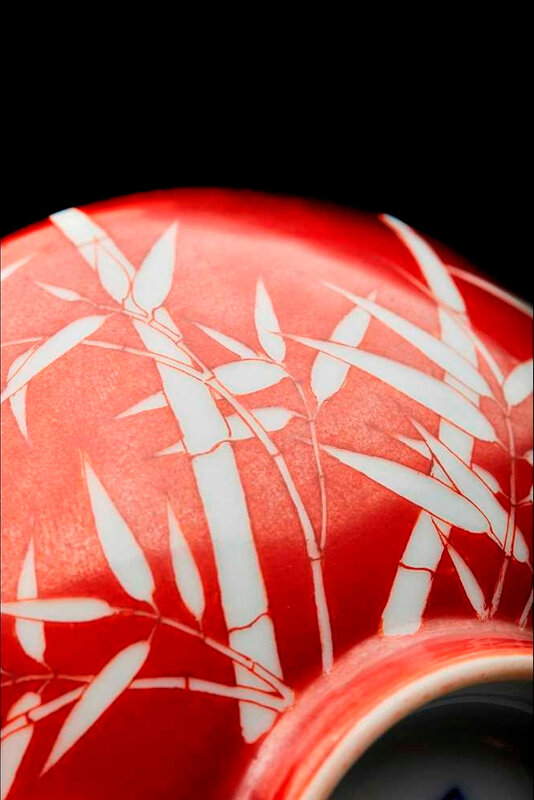 Lot 162. Pair of coral-ground reserve-decorated 'bamboo' bowls, Qianlong mark and period (1736-1795); 11.3cm diameter each. Sold for £23,750. © Lyon & Turnbull.
each finely potted with deep rounded sides rising from a short straight foot, reserve painted in rich coral-read with leafy bamboo branches, the interior glazed white, the base inscribed with a six-character Qianlong mark in underglaze blue.
Provenance: Private London collection; fomerly in a private English nobleman collection, the family acquired this pair of bowls in early 20th century in London and placed them at a monor house located around Holland park.
IMPERIAL AESTHETICS
Qianlong, in the Manchu language, means "blessed by god". The Qianlong emperor (1711– 1799) indeed appeared to have found special favour as the Son of Heaven: he ruled for six decades, from 1736 to 1795, leading the Qing dynasty to a pinnacle in both civil and military achievements. Highly cultivated, the Qianlong emperor's appreciation of and innovation in the arts were based on his heartfelt love of art and culture, with his devotion to artistic activities and cultural matters being found everywhere in daily life.
From the Ming period (1368-1644) onwards, the official kilns in Jingdezhen were controlled by the emperor, making imperial porcelain in large quantities for the court and the emperor to use in daily life or give as gifts. This pair of Qianlong period porcelain bowls, each delicately thrown with the exteriors rendered in brilliant iron-red enamel decorated in reserve with freely executed bamboo shoots, are a wonderful example of the craftsmanship and creativity involved in the production of imperial porcelain.
The strong visual contrast was achieved by applying iron-red enamel over white-glazed porcelain. A technique invented during the Yongzheng period (r. 1722-1735), it went on to become a favoured characteristic of Qing Dynasty imperial porcelain. A high level of skill, likely only held by imperial craftsmen, would have been required to successfully apply such a technique, as noted by The Oriental Ceramic Society's Iron in the Fire, "the iron-red enamel is extremely sensitive to thickness and such an even effect is a considerable technical achievement."
This pair of bowls also represents the sinicisation of the Manuchu people in Chinese history. Bamboo is a symbol of oriental elegance in the traditional Chinese Han culture, representing the character of moral integrity, modesty and loyalty. Qing dynasty was founded by the Manchu Aisin Gioro clan in Manchuria, Northeast Asia in 1636 and replaced the Ming dynasty of Chinese Han origin in 1644. During the Qianlong period, the Han culture was revered among Manchus, and the assimilation between Manchu court and Han culture is clearly reflected in the imperial porcelain of the period.
Closely comparable bowls in similar technique, design and with Qianlong mark could be found in the Palace Museum Beijing, the Nangjing Museum, the Hong Kong Museum of Art, and in the Victoria & Albert Museum (no. 74A-1883, currently at The Curtain Foundation Gallery).
Qing and Republic period jades remain a market strength with the fashion very much towards the lighter coloured stones. Another top-performing lot in the sale was a late 19th or early 20th century white jade table screen carved on one side with a scholar and two young attendants walking in a mountainous landscape and to the reverse with two scholars and a crane gliding in the sky. Key to its appeal was its original elaborately carved hardwood stand inlaid with silver wire. It sold at £16,250.
Lot 89. White jade inset hardwood table screen, Late Qing dynasty-Republic period, 19th-20th century; screen: 22cm x 15cm; 35.8cm high with stand. Sold for £16,250. © Lyon & Turnbull.
the white jade plaque of rectangular shape, carved on one side in various reliefs with a scholar accompanied by two young attendants walking in mountainous landscape settings, the reverse with two scholars in similar settings and a crane gliding in the sky, with an elaborately carved and silver-wire inlaid wooden stand raised on a podium.
The government is expected to permit auction houses in England to reopen to the public (and conduct home valuations) from June 1, providing guidelines are met. The situation in Scotland, Wales and Northern Ireland is unconfirmed.

* All results inclusive of buyer's premium.