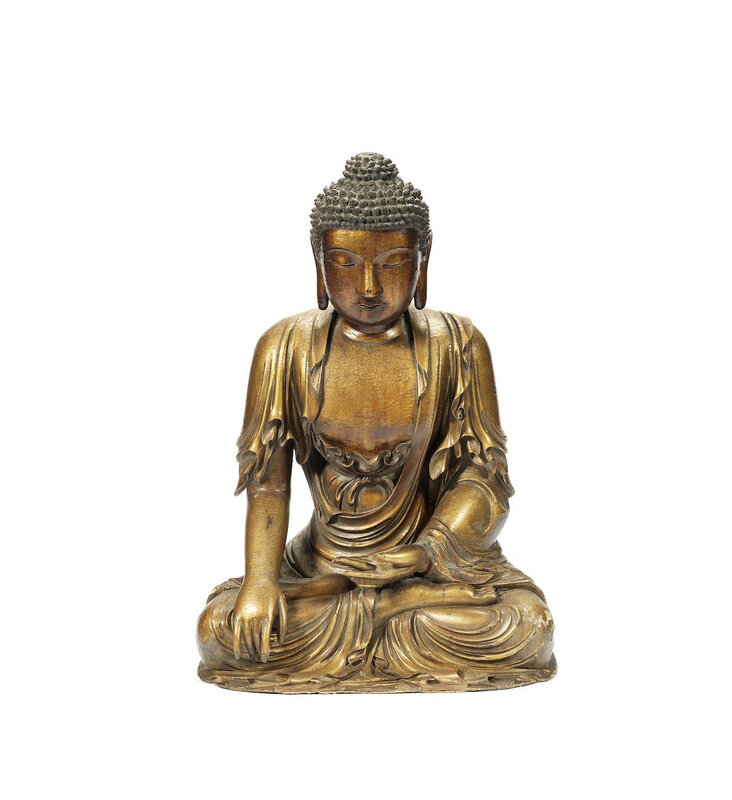 Lot 51. A fine gilt-lacquered wood figure of Buddha, 17th-18th century; 55.2cm (21 3/4in) high. Estimate £5,000-8,000. Sold for £80,500 (€ 90,087). Photo: Bonhams.
Seated in dhyanasana, the Buddha carved with downcast eyes forming a serene expression, the right hand casually placed on the lap with the other slightly raised in bhumisparsa mudra, dressed in long flowing robes detailed with draping folds and loosely open at the bare chest, with a prominent usnisha formed with tightly coiled curls.
Property from the Cheng Huan Collection of Buddhist Art.
Provenance: a European private collection.
Note: The gilt lacquered wood figure of Buddha is remarkable for the superb craftsmanship demonstrated in the naturalistic rendering and arrangement of the folds of the robe cascading over the shoulders and around the legs, and the peaceful expression with eyes downcast.

The technique of coating carved wood figures with gilt-lacquer appears to have emerged during the early part of the Ming dynasty, continuing on to the Qing dynasty and echoing in form and decoration Buddhist bronze figures.

Compare a related larger gilt and lacquered wood Bodhisattva, 16th century, sold at Sotheby's London on 15 May 2013, lot 154. See also a related larger gilt-lacquered wood figure of Buddha, 18th century, sold at Sotheby's New York on 17 September 2014, lot 437.