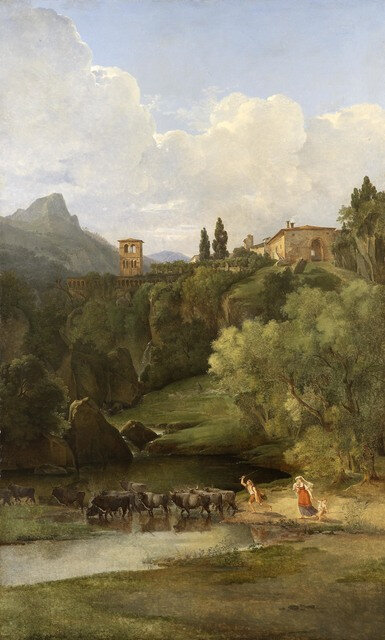 Lot 7. Hubert Robert (Paris 1733-1808) and another hand, A Mountainous landscape with ramparts and buildings of an Italian village, oil on canvas, 767⁄8 x 471⁄8 in. (195.2 x 119.6 cm). Estimate : GBP 30,000 - GBP 50,000 (EUR 34,149 - EUR 56,915). © Christie's Images Ltd 2020.
LONDON.- Christie's announces Out of Office: Art that Transports, a themed sale encompassing 46 lots ranging from £1,000 to £30,000 across a selection of paintings dating from the 16th Century through to the 20th Century. In a time before mass public transport, when the world moved at a slower pace and personal horizons were necessarily closer to home, art was a means for people to explore the vastness of the world from their own homes without ever leaving. Out of Office: Art that Transports allows us, in our newly restricted world, to continue the voyages of artists.

Christie's invites you to take a journey which transports you from England, France, Switzerland, Italy, Germany, Greece, India, Lebanon, Hawaii and the Arctic Circle amongst other destinations depicted. Experience an ever changing landscape and global destinations via the eyes of the artists including William John Huggins, Pietro Cappelli, Giacomo Van Lint, Joaquin Sorolla Y Bastida and William Hodges.

The auction incorporates Dutch landscapes from the Golden Age of the Republic, Italian city views, watercolors and drawings of the rolling bucolic British countryside, sun-drenched images of the Near East and sea-voyages to the Arctic, as well as taking some more fanciful journeys with capriccios and mythological woodlands. The sale stands as testament to the continued power of art as the ultimate escape, as well as the close connection by artists to the world around them and the importance of close observation of our own and foreign cultures, landscapes and moments.

Olivia Ghosh, Specialist and Head of Sale, comments: 'Whilst sitting at my kitchen table, I am very much both out of the office physically and very much in it mentally. Adapting to working from home I've greatly enjoyed examining each of the paintings and drawings in this sale, constantly aware of how lucky I am to be connecting with art every day and these recent visual explorations have enabled me to transport myself to far flung destinations – Madeira with William Hodges – as well as nearer to home – Devon with John Middleton, at a time when the physical world is closed to us. Art has an important part to play in our well-being and has the ability via visual stimulus, to decrease stress and anxiety, taking us to another place or time.

Olivia continues, "These works will take you round the world and back in time. It shows a great variety of nature, culture and terrain that has existed through the centuries. One of art's magical properties is escapism – away from the sofa to the shores of Hawaii or the deserts of the Levant".

Out of Office: Art that Transports is now open for browsing and bidding online until 1 June.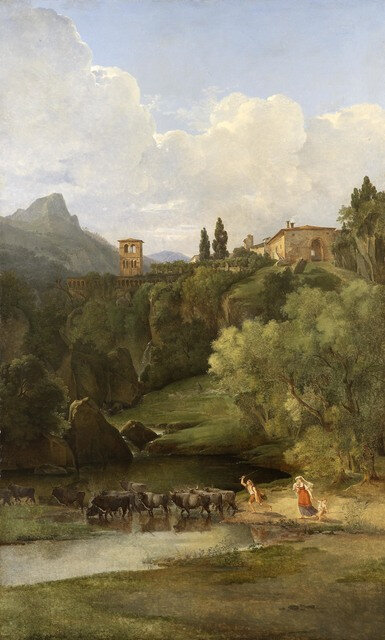 Lot 7. Hubert Robert (Paris 1733-1808) and another hand, A Mountainous landscape with ramparts and buildings of an Italian village, oil on canvas, 767⁄8 x 471⁄8 in. (195.2 x 119.6 cm). Estimate : GBP 30,000 - GBP 50,000 (EUR 34,149 - EUR 56,915). © Christie's Images Ltd 2020.
Provenance: Private collection, Brazil.
Private collection, USA, from whom acquired by the present owner in 2006.
Note: This painting is to be included in the forthcoming catalogue raisonné on Hubert Robert, currently in preparation by Joseph Baillio and the Wildenstein Institute, who confirm the attribution and date the picture to circa 1800. It has been suggested that the landscape is by another hand, possibly that of Pierre-Henri de Valenciennes, although there is no documentary evidence of collaboration. The figures and cattle are by Robert.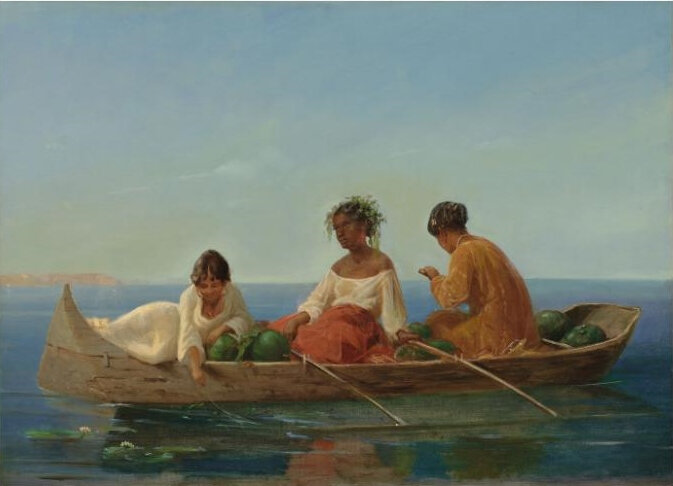 Lot 37. Poul August Plum (Copenhagen 1815-1876 Fredensborg), Hawaiian women in a canoe selling fruit to the crew of the Galathea, signed with initials 'A.P.' (lower right), signed and inscribed 'Poul Aug. Plum Galatea' (on the stretcher), oil on canvas,28 x 38 in. (71.1 x 96.5 cm). Estimate : GBP 30,000 - GBP 40,000 (EUR 34,149 - EUR 45,532). © Christie's Images Ltd 2020.
Note: Poul August Plum was the official artist on the first Galathea voyage, a Danish political, commercial and scientific expedition which circumnavigated the globe between 1845 and 1847. Recognised at the time in his native Copenhagen for genre scenes, Plum was tasked with visually documenting the landscapes and, to a greater extent, peoples the Galathea encountered on her voyage.

The three-masted ship and its crew of 231, including five scientists and two artists, under the captaincy of Steen Andersen Bille, sailed from Copenhagen on 24 June 1845. She made her first landfall at Madeira in July before proceeding south to round the Cape and sail on to India. Here, Bille had been instructed to witness the transfer of the Danish colonies of Tranquebar (Tharangambadi, Tamil Nadu) on the Coromandel coast, and Serampore in West Bengal to the British East India Company. Early 1846 was spent across the Bay of Bengal in the Nicobar Islands (administered by the Danes from Tranquebar) which, by royal decree, they planned to re-colonise following their abandonment due to outbreaks of malaria. The Galathea sailed on to southeast Asia, mooring at Penang, Singapore, Batavia (Jakarta), and Manila before turning northwards and running along the Chinese coast. She visited Hong Kong, Macau, Canton, Amoy and Shanghai, and crossed the Pacific to Hawaii in August-September 1846. Fine drawings and watercolours by Plum, many dated, now in the collection of the M/S Maritime Museum of Denmark, Helsingør, chart their progress.

After a gruelling two-month crossing of the Japan Sea, during which many of the crew developed scurvy, the Galathea dropped anchor off Honolulu, Hawaii at 9 o'clock on the morning of Monday, 5 October 1846. She was the first Danish man-of-war to visit the islands. Tasked to set up a favoured trading nation agreement with Hawaii, Bille signed a treaty of peace and trading cooperation between the nations of Hawaii and Denmark on 19 October 1846. The Galathea remained at Hawaii until she finally weighed anchor on 16 November 1846. During the stay, Plum compiled hundreds of portraits of the native Hawaiians. Notable sitters were King Kamehameha III and Queen Kalama (portraits now in the Bernice Pauahi Bishop Museum, Honolulu), the latter, according to Cornelius Schmidt (a crew member of the Galathea), 'liked the portrait of her that an artist of the Galathea had painted so much that she embraced him.' (J. Jensen, 'A Danish Sailor's View of Hawaii in 1846', The Hawaiian Journal of History, vol. 30, 1996, p.112).

The present picture is a rare finished painting worked up from his drawings and sketches. Although there are no direct studies for this picture at Helsingør, there are two extant smaller oil sketches (art market). Three young Hawaiian women have come out in a Hawaiian outrigger canoe to meet the Galathea and sell fruits to the crew. The women, clad in 'silk and satin' are not in native costume, although their faces are prettily framed with native maile vine leaves and ferns that feature in many of Plum's portraits taken at Honolulu (and later at Tahiti and Bora Bora).

The Galathea sailed on from Hawaii south to Tahiti, and then east to the South American Pacific coast, running along the ports of Lima, Callao and Valparaiso. She rounded Cape Horn, and visited Buenos Aires, Montevideo, Rio de Janeiro and finally Bahia before returning to Copenhagen in August 1847.

The death of King Christian VIII and the wars with Germany which followed the Galathea's return to Copenhagen meant that the results and accounts of the voyage remained unpublished. Plum, assisted by sketch artist Christian Thornam, produced a large number of drawings, in variously worked stages, during the voyage, which provided an important visual record of the circumnavigation. A handful of Plum's drawings were lithographed for Steen Bille's account of the voyage Beretningen om Corvetten Galathea's Reise omkringjorden 1845, 46, 47, 3 vol., Copenhagen, 1849-51 (and for the second and German abridged editions). His original drawings and artwork remained otherwise long forgotten and unpublished, until a collection was acquired by the M/S Maritime Museum of Denmark, Helsingor, and a selection of the Hawaiian sheets from the museum included by David W. Forbes in his Encounters with Paradise Views of Hawaii and its People 1778-1941 (Honolulu Academy of Arts, Honolulu, 1992).

We are grateful to Line Hallbjørnsson at the M/S Maritime Museum of Denmark, Helsingør, for granting access to the Plum drawings in the museum's collection.
Lot 33. Théodore Géricault (Rouen 1791-1824 Paris), Study of a panther skin, oil on panel, 187⁄8 x 227⁄8 in. (48 x 58 cm.), inscribed `164' (upper left), and marked on the verso with the wax seal of the Harcourt collection. Estimate : GBP 25,000 - GBP 35,000 (EUR 28,457.50 - EUR 39,840.50). © Christie's Images Ltd 2020.
Provenance: Comte Jean d'Harcourt (1885-1980), Paris.
Alain Delon (b. 1935), Paris; his sale, Palais Galliera, Paris, 26 November 1971, lot 15.
Claude Aubry, Paris.
Caraman-Chimay collection, Paris.
Anonymous sale; Tajan, Paris, 18 December 2002, lot 58, where acquired by the present owner.
Note: Largely considered to be a preparatory study for the saddle-cloth of the famous painting l'Officier de Chasseurs à Cheval de la Garde impériale, chargeant, the present lot is one of eleven surviving study sketches for the acclaimed work which Gericault debuted at the Paris Salon in 1812.
Théodore Géricault (Rouen 1791-1824 Paris), Officier de chasseurs à cheval de la garde impériale chargeant, 1812, huile sur toile, 349 x 266 cm, INV 4885, Musée du Louvre.
Professor Lorenz Eitner, in a letter dated 8 April 2002, writes how he considers the present work to be a painting of high quality, by the young Géricault, and goes on describing it as being `of characteristically bold execution and of great interest as an example of his working method at that time'.
Eitner concurs with Philippe Grunchec who agreed with the attribution to the artist (cfr. Grunchec, 1991), while Germain Bazin (cfr. Bazin, 1996) rejected the work together with the Study of Lions, after Rubens (Study after Rubens' Daniel in the Lions' Den, cfr. Grunchec, 1991, 38b) that originally formed the back of the present panel.
Grunchec mentions how the paint treatment resembles that in Coq et poules (Grunchec, 1991, no. 82) and how the structure of the painting and the pale blue background give a poetic character to this study.
Eitner considers the present work an important document of Géricault's development of the Officier de Chasseurs à cheval and concludes describing the present lot as `a painting of striking painterly execution'.
According to Grunchec, the number `164' on the front was added by the artist before his departure to Italy in 1816.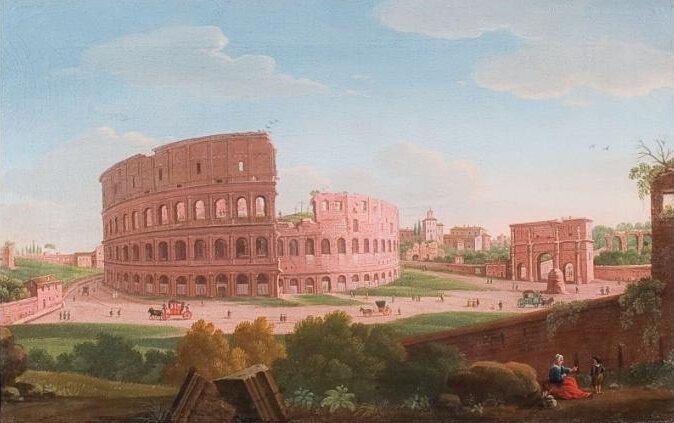 Lot 8. Giacomo van Lint (Rome 1723-1790),A View of the Colosseum, Rome, with Figures and Carriages; and A View of the Basilica of Maxentius, Rome, with Figures and Carriages, the first signed and indistinctly dated 'Go VAN LINT / 17[...]' (lower right), the second signed, inscribed and indistinctly dated 'G: VAN LINT / A ROMA 174(?)' (lower right), oil on canvas, unlined, 111⁄2 x 181⁄8 in. (29 x 46 cm.), a pair. Estimate : GBP 20,000 - GBP 30,000 (EUR 22,766 - EUR 34,149). © Christie's Images Ltd 2020.
Provenance: Private collection, Germany.
Lot 35. Joaquin Sorolla y Bastida (Valencia 1863-1923 Madrid), Rosal. Apunte - Sketch of a climbing wild rose bush, signed and inscribed 'Sorolla / en Valencia' (lower right), oil on panel, 53⁄4 x 93⁄4 in. (14.7 x 24.8 cm). Estimate : GBP 15,000 - GBP 25,000 (EUR 17,074.50 - EUR 28,457.50). © Christie's Images Ltd 2020.
Provenance: Maria Sorolla Garcia (1889-1956), the artist's daughter.
Note: The present work is registered as no. BPS 3095 in the forthcoming Joaquín Sorolla catalogue raisonné by Blanca Pons Sorolla.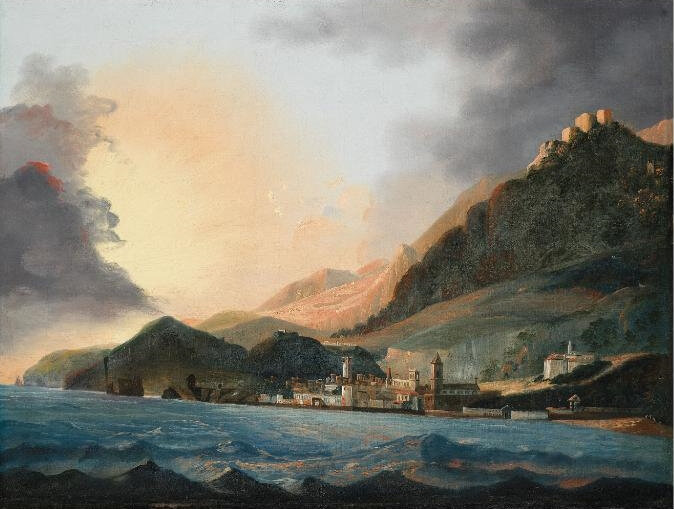 Lot 39. William Hodges, R.A. (London 1744-1797 Brixham), Funchal, Madeira, oil on canvas, 28 x 36 in. (71.2 x 91.4 cm). Estimate : GBP 15,000 - GBP 25,000 (EUR 17,074.50 - EUR 28,457.50). © Christie's Images Ltd 2020.
Provenance: Anonymous sale; Sotheby-Parke Bernet, London, 30 May 1979, lot 8, as 'A Seaport, Possibly St. Helena', sold with its companion, 'Cape Town and Table Mountain'.
with Spink & Son, London, 1979.
Literature: R. Joppien and B. Smith, The Art of Captain Cook's Voyages: The Voyage of the Resolution & Adventure 1772-1775, New Haven and London, 1988, p. 254, no. 2.M2.
Exhibited: New Haven, Yale Center for British Art, William Hodges 1744-1797: the Art of Exploration, 27 January-24 April 2005, no. 67.
Note: Probably based on drawings Hodges made at Funchal on his return from India in the spring of 1785, for which see the panorama on three sheets 'View of Funchal from the Sea, Madeira' in the National Maritime Museum, Greenwich, London (47-246).
'Hodges's homeward passage from India on board the Worcester was broken by a short stop at Funchal, Madeira, to take supplies. Hodges probably made several drawings of the coastline during this time, and worked up this painting from those studies on his return to London. He had painted this harbour before, during or shortly after Cook's visit to the island in July 1772. ... In comparison with the smooth gradations of the earlier painting, the present picture is characterized by a heavy tonality that presents a much more dramatic view of this coastline.' (J. Bonehill, Ibid).
Its companion, the Cape view, was also engraved and published in 1787, and was published as a sepia aquatint in 1785, as probably was the Funchal view ('The view of Funchal was likewise probably issued in a sepia aquatint in 1785, and it was engraved by Morris in 1791 for The Literary Magazine and British Review, though it does not appear to have been included in the magazine.' I. C. Stuebe, The Life and Works of William Hodges, New York and London, 1979, p.323). Hodges had painted a similar view of Funchal from the Resolution on Cook's voyage, the view taken during their three-day stay in July 1772, albeit a smaller canvas and handled in a quite different manner. The latter was probably one of the three Madeira subjects that were sent back from the Cape on the outward voyage and exhibited at the Free Society of Artists in 1774 (no.384, A view of Fonchial in the island of Madeira').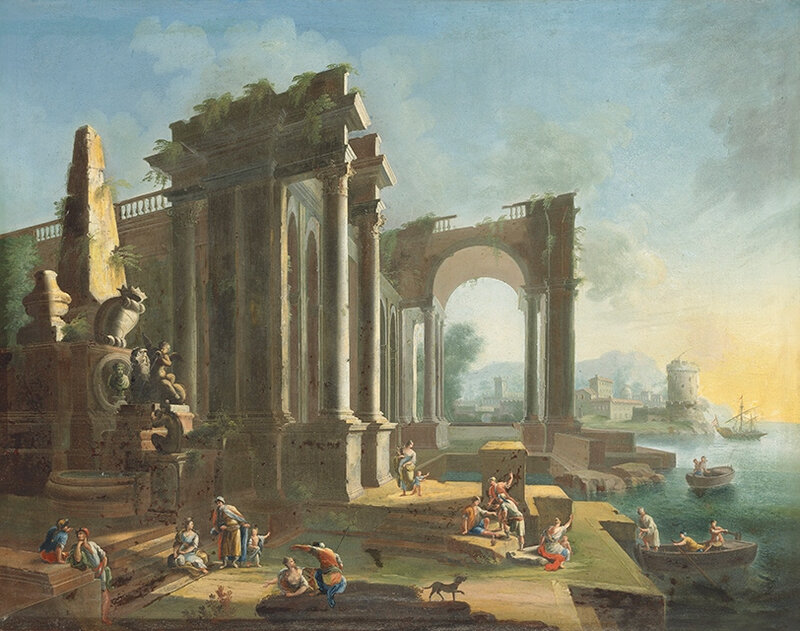 Lot 4. Pietro Cappelli (d. Naples 1724/1734), Capriccio with figures on the shore, oil on canvas, 401⁄8 x 501⁄2 in. (101.7 x 128.3 cm.) Estimate: £15,000 - 20,000 (EUR 17,074.50 - EUR 22,766). © Christie's Images Ltd 2020.
Note: Little is known about the artist, who lived in Naples and died young. Trained in the studio of Francesco Solimena, Cappelli is believed to have painted predominently architectural scenes and was a fierce rival of Leonardo Coccorante.
We are grateful to Dr. Ermanno Bellucci for confirming the attribution after first-hand inspection.