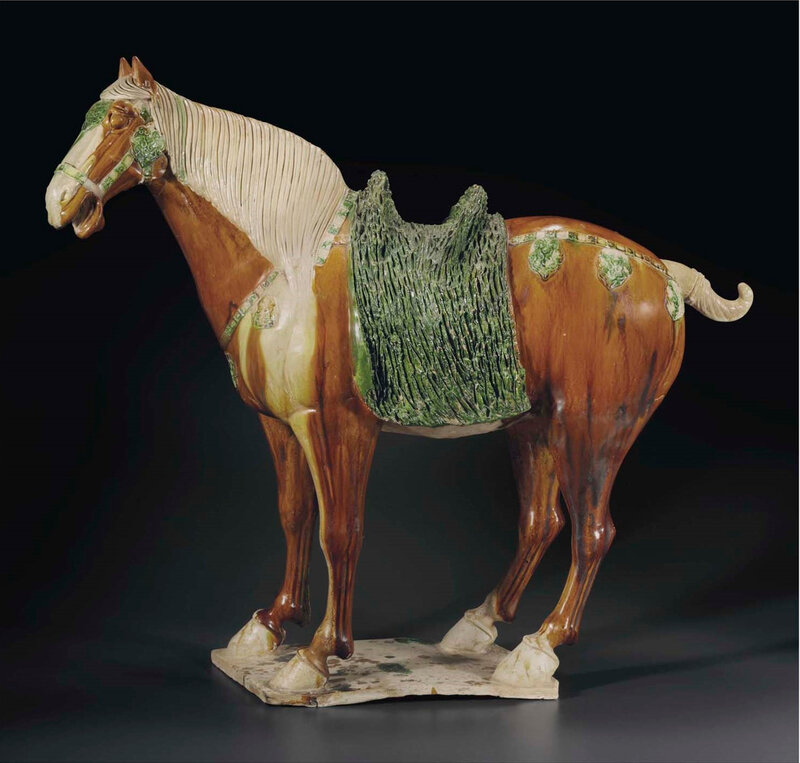 Lot 3225. A rare large sancai-glazed pottery figure of a caparisoned horse, Tang dynasty (AD 618-907); 16 in. (40.5 cm.) high. Estimate USD 200,000 - USD 300,000. Price realised USD 221,000. © Christie's Images Ltd 2015.
The horse is superbly modeled standing with the head turned slightly to the left, the ears pricked and the mouth open, and is glazed predominantly in chestnut with a cream-colored blaze running from the poll to the muzzle and with a further large cream splash on the left shoulder. The long, naturalistic mane covered in a cream-colored glaze falls onto one side of the powerful neck and is incised with grooves to simulate the thick hair. The green-glazed saddle cloth is deeply scored and roughened to simulate fur, and there are green-glazed, foliate-molded plaques pendent from the halter, breast and crupper straps. The hoofs and docked tail are covered with a straw glaze.
Property from The Collection of Geronimo Berenguer De Los Reyes Jr.
Provenance: The Jingguantang Collection, Part II; Christie's New York, 20 March 1997, lot 53.
Literature: The Tsui Museum of Art, Chinese Ceramics I, Hong Kong, 1993, no. 90.
Kerry Nguyen-Long, 'Ceramics from the Chinese Antique Collection of the GBR Museum', Arts of Asia, January - February 1998, fig. 2.
The Chinese Collection at the GBR Museum, Geronimo Berenguer de los Reyes, Jr. Foundation, Manila, 1998, pl. 4.
Exhibited: On loan: Metropolitan Museum of Art, New York, 2000-2010.
Note: Sancai horses of this rare type are distinguished by their realistically modeled manes, the foliate-based 'metal' trappings and simulated-fur saddle blankets. A comparable figure was included in the Min Chu Society exhibition of Ancient Chinese Ceramics, Hong Kong, 1980, no. 13. For other similar figures see E. Schloss, Ancient Chinese Ceramic Sculpture, Stamford, Connecticut, 1977, vol. II, col. pl. V; Mayuyama, Seventy Years, Tokyo, 1976, vol. I, pl. 202; Oriental Ceramics, The World's Great Collections, Tokyo, 1982, vol. 1, Tokyo National Museum, col. pl. 64; M. Prodan, The Art of the T'ang Potter, New York, 1960, col. pl. 1, in the Count Cesore Cicogna Collection; and Kaogu, 1972, no. 3, pl. 8, fig. 2, from Henan.
Foliate-derived plaques rather than tassel trappings appear in a variety of forms and multiples. The present type has been labeled 'hazel-leaf' or 'apricot-leaf'. For actual examples of similar gilt-bronze ornaments from the tomb of Princess Yongtai, buried in AD 706, see Mino and Robinson, Beauty and Tranquility: The Eli Lilly Collection of Chinese Art, Indianapolis Museum of Art, 1983, pl. 61, fig. E; Eskenazi, Tang, June 9 - July 3, 1987, no. 10, for an equestrian design; and the line drawings in Wenwu, 1981, no. 10, p. 85, figs. 1-8.
The result of Oxford thermoluminescence test no. 866b45 is consistent with the dating of this lot.
Christie's. Fine Chinese Ceramics and Works of Art, New York, 15 - 16 March 2015