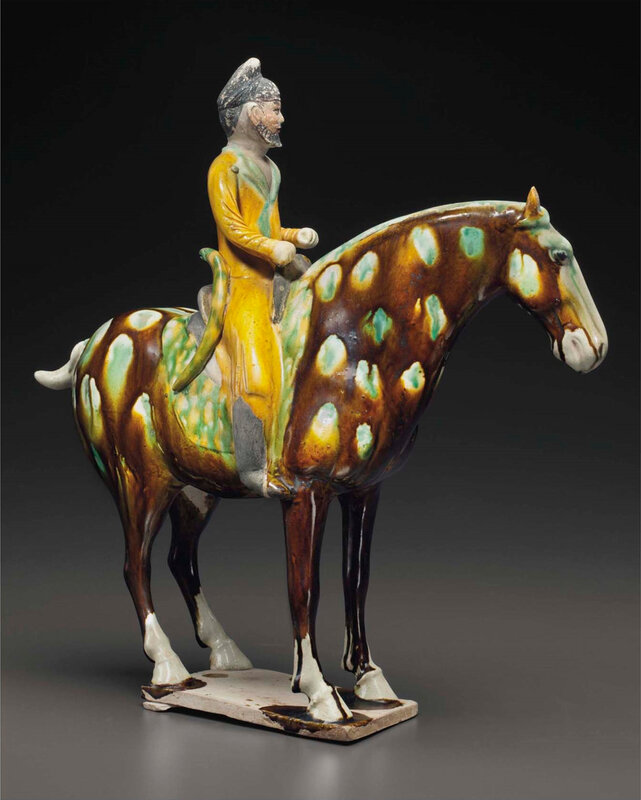 Lot 3228. A superb and very rare painted and sancai-glazed pottery figure of an equestrian hunter, Tang dynasty (AD 618-907); 15 ¼ in. (38.7 cm.) high. Estimate USD 150,000 - USD 250,000. Price realised USD 197,000. © Christie's Image Ltd 2015
The rider is exquisitely potted with hands positioned to hold reins, and wearing an amber-glazed coat with turquoise lapels applied at each corner with a rounded button. His face is cold painted with a beard and facial details below the black cloth cap. Pendent from his belt on one side is a fur tassel and a green-glazed quiver and on the other side a splash-glazed curved bow. The figure is seated astride a well-modeled, piebald horse of deep chestnut color splashed with well-controlled patches of greenish-turquoise and cream, and with subtle turquoise coloring in the salt glaze on the muzzle, cropped mane and stripe that centers the rump above the docked tail.
Provenance: Christie's New York, 1 December 1988, lot 237.
Note: The domestication of the horse in China is believed to have begun in the Neolithic period, and it is from this era that the earliest artistic representations of horses have been discovered with horses being depicted in significant numbers amongst the cave paintings from the Inner Mongolia Autonomous Region and Gansu province dating to the Bronze Age. Three dimensional stone carvings depicting lifelike horses have also been discovered at Bronze Age sites at Bayan Urad, Dengkou country in Inner Mongolia, where a carving of a man riding a horse has also been found (see University Museum and Art Gallery, Heavenly Horses, Hong Kong, 1997, nos. 4-6). During the Han dynasty the famed Ferghana horses were introduced into central China from the West. These horses were known for their speed, power and stamina, and were sometimes referred to as 'thousand li horses', after the belief that they were able to cover a thousand li in a single day.

In the Tang dynasty these powerful horses were highly prized by succeeding emperors and an imperial stud was even established. Such horses were not only used in war or for transportation but were associated with leisure activities at the court and amongst the elite. Polo was played by both men and women at the Tang dynasty court and was especially encouraged by the Tang Emperors Taizong and Xuanzong, who believed that it helped to develop useful skills. The other courtly activity in which these magnificent horses played a crucial part was hunting, which was a very popular activity amongst both male and female members of the Tang aristocracy. An imperial hunting party is depicted in a mural on the wall of the tomb of Li Xian (AD 653-84), who was created Crown Prince Zhanghuai after his brother's death in 672, but was forced to commit suicide on the orders of Empress Wu. In 706, following the death of Empress Wu in 705 and the ascent to the throne of Emperor Zhongzong, Li Xian was reinterred at the Qianling Mausoleum northwest of the capital Xi'an with full honours. It is in this tomb that the hunting mural appears (illustrated in Imperial China – The Art of the Horse in Chinese History, Lexington, Kentucky, 2000, pp. 162-3, figs. 152-4), showing the prince on a pale horse accompanied by more than forty other riders. The horses are painted at full gallop and some huntsmen carry banners, while others have cheetahs perched on the backs of their saddles, and a number carry quivers and bows similar to those carried by the current sancai-glazed huntsman. Huntsmen riding powerful horses and shooting their prey with bows and arrows while at the gallop also appear on Tang dynasty silver vessels, such as the goblet excavated in 1963 from a cellar in Shapocun, Xi'an (illustrated by Li Jian (ed.), The Glory of the Silk Road – Art from Ancient China, Dayton, Ohio, 2003, p. 196, no. 105).

Two marbled earthenware sancai-glazed models of mounted huntsmen, of approximately the same size as the current figure, have been excavated from the tomb of Li Xian's brother, Prince Yide (d. AD 701), whose tomb is also at the Qianling Mausoleum. One of these Yide mounted figures is illustrated in The Glory of the Silk Road – Art from Ancient China, op. cit., p. 173, no. 88, where it is noted that similarly mounted huntsmen were found in the tomb of the prince's sister, Princess Yongtai. The other mounted huntsman from Prince Yide's tomb is illustrated in World of the Heavenly Khan – Treasures of the T'ang Dynasty, Taipei, 2002, p. 128. This figure is shown in a pose suggesting that he is using a bow and arrow to shoot a bird that flies above him. A further marbled earthenware, sancai-glazed figure of a mounted huntsman, of similar size to the current figure, was excavated in 1972 in Qianxian, Shaanxi province (illustrated by the National Museum of Chinese History in A Journey into China's Antiquity, vol. III, Beijing, 1997, pp. 112, no. 111). Like the current huntsman, the Qianxian huntsman has a quiver hanging from his belt.

While the horses ridden by the huntsmen from Lide's tomb and the Qianxian find are plain dark bay and rather heavy, the current horse is powerful but elegant with well-modelled legs and a proud head. Its dark chestnut coat is splashed with cream and green, suggesting an elaborate version of piebald. It is possible that the group originally had reins, made of an organic material that has not survived from the 8th century, as the rider holds his hands before him as if lightly holding reins.

Rosemary Scott
International Academic Director, Asian Art

The result of Oxford thermoluminescence test no. 466n29 is consistent with the dating of this lot.
Christie's. FINE CHINESE CERAMICS AND WORKS OF ART, 15 - 16 March 2015, New York, Rockefeller Plaza