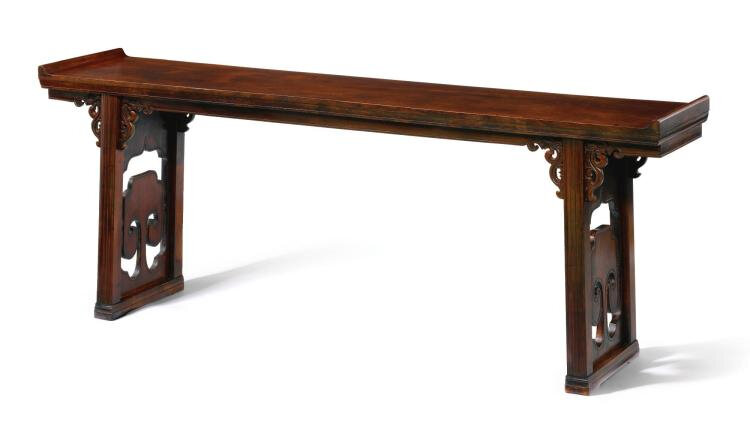 Lot 127. A huanghuali dismantable recessed-leg table, qiaotouan, Late Ming dynasty; 82.6 by 215.3 by 46 cm., 32 1/2 by 84 3/4 by 18 1/8 in. Estimate 6,800,000 — 8,800,000 HKD. Lot Sold 11,120,000 HKD (1,278,310 EUR). Courtesy Sotheby's.
the removable single plank top of well figured wood with small rounded, shaped everted breadboard ends, supported by four transverse stretchers underneath, the everted flanges continuing downwards and mortised and tennoned to the plank top, the flat edge of the top moulding inward and downward and ending in a narrow flat band, supported on a frame formed by the long beaded-edged removable aprons decorated with exquisitely shaped spandrels carved in openwork with phoenix motifs and the removable short end aprons, and held in position with four small tenons, the rectangular legs cut to house the long aprons and decorated with wide beaded edges and a wide band in the centre, the lower section of the legs tennoned into shoe-type feet decorated with a series of mouldings, legs and feet framing an inset openwork panel carved with a stylised lingzhi motif bordered with wide, beaded edges.
Exhibited: In Pursuit of Antiquities: Thirty-fifth Anniversary Exhibition of the Min Chiu Society, Hong Kong Museum of Art, Hong Kong, 1995-96, cat. no. 242, p. 270.
Grace Wu Bruce, Chan Chair and Qin Bench: The Dr. S. Y. Yip Collection of Classic Chinese Furniture II, Art Museum, Chinese University of Hong Kong, Hong Kong, 1998, cat. no. 18, pp. 94-95.
Grace Wu Bruce presents Ming Furniture from the Collection of Dr. S. Y. Yip, Institute of Contemporary Art, London, 1999.
Grace Wu Bruce, Grace Wu Bruce presents a choice selection of Ming Furniture from the Dr. S. Y. Yip collections, Hong Kong Convention and Exhibition Centre, Hong Kong, 2012, pp. 42-43.
Note: "Even when dismantled, the separate parts display a distinctive sculptural effect!"
This qiaotouan table is easily dismantable into its eleven component parts. Very similar to one in the National Museum of China, Beijing, and another in the Minneapolis Institute of Art, this type of table, when dismantled, facilitates easy carriage and transportation from workshops to the homes of patrons for assembly. It is similar to canopy beds where the superstructure above the bed seat is completely dismantable. This type of construction is suitable for large, heavy pieces. There are few surviving examples.
A very similar example is illustrated in Robert D. Jacobsen and Nicholas Grindley, Classical Chinese Furniture in the Minneapolis Institute of Arts, Minneapolis, 1999, p. 127. For another related piece, see Jianyue Huamei: Mingqing Jiaju Jingcui [Simplicity, Opulence: Masterpieces of Ming & Qing Dynasty Furniture], National Museum of China, Beijing, 2007, pp. 70-71.
Sotheby's. Ming Furniture – The Dr S Y Yip Collection, Hong Kong, 07 October 2015