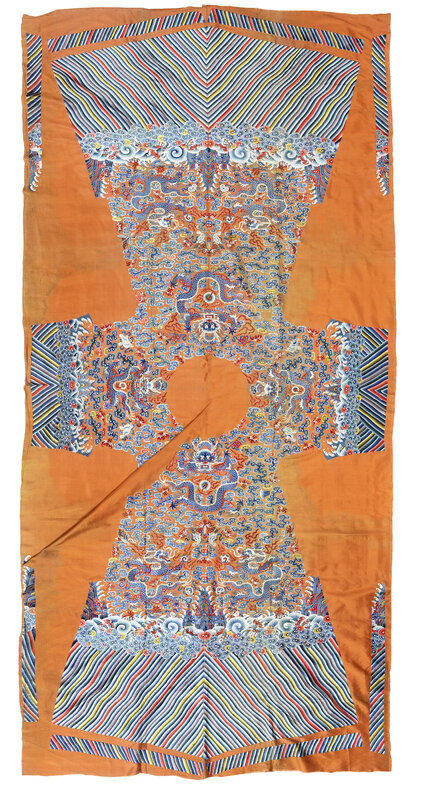 Lot 292. An uncut silk double-sided apricot yellow-ground 'nine dragons' robe, Mid 19th century; 303.5cm x 143cm (119 1/2in x 56 1/4in). Estimate £ 5,000-8,000. Sold for £ 20,000 (€ 22,342). Photo: Bonhams.
Finely embroidered with nine variously-coiled five-clawed blue dragons amongst constellation-clouds interspersed with pairs of catfish, wan symbols, red bats, and the Imperial symbols and another constellation, all above waves breaking against rocks issuing from a lishui band, the edges of the cloth with further embroidered lishui bands.
Note: The fine embroidery on the present lot is equally finished on both sides of the silk ground, suggesting that it would have been made up into a double-sided robe without a lining, suitable for wear during the more temperate weather of spring or autumn. Additional facings are embroidered on the yardage for attachment on the inside to re-enforce and straighten the hems and edges.

The bright orange-yellow colour of the ground suggests that the intended wearer would have been a son of the Emperor, but the placing amongst the embroidery of two of the twelve Imperial symbols (the axe and the fu character) together with a three-starred and a four-starred constellation is extremely unusual. It may be that the owner was entitled to wear some of the symbols but not all, perhaps suggestive of a quasi-Imperial rank.

The present lot is particularly noteworthy for its embroidered pairs of catfish, symbolising abundance and marital bliss. Together with other auspicious symbols, such as bats, wan symbols and peaches, representing 'ten thousand blessings' and 'long life', and the vase with halberds and a musical stone representing 'auspicious blessings', the robe is replete with blessings and hopes for happiness.
Bonhams. FINE CHINESE ART, 14 May 2015, LONDON, NEW BOND STREET