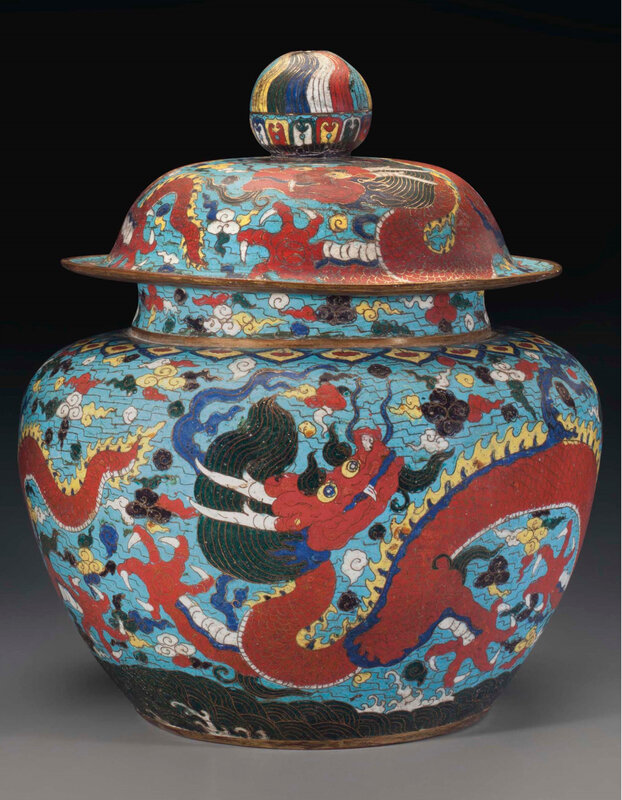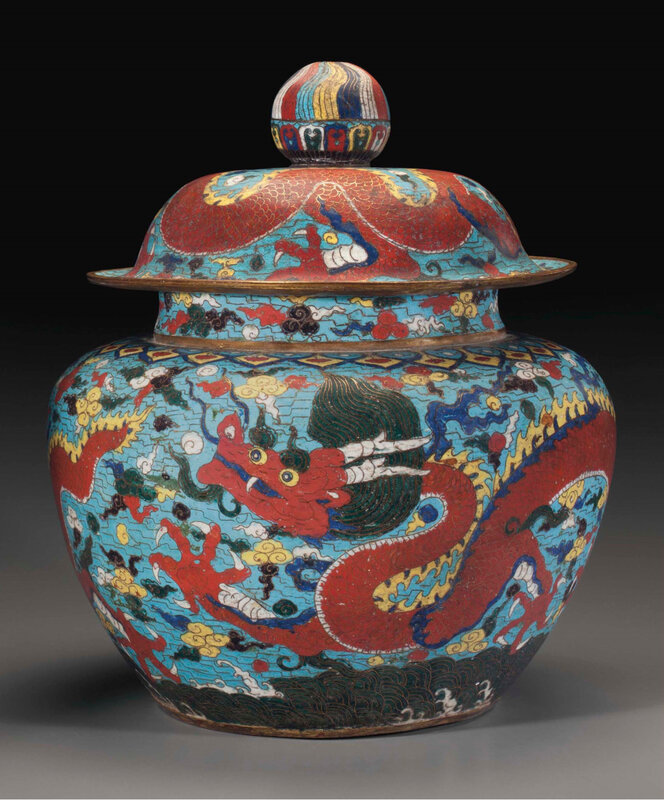 Lot 3271. A magnificent and extremely rare large cloisonné enamel 'dragon' jar and cover, 15th-16th century; 20 7/8 in. (53 cm.) high. Estimate $1,500,000 – $2,500,000 . Price Realized $2,517,000. © Christie's Image Ltd 2015
The heavy jar with high shoulder is finely decorated on the body with two ferocious, scaly, red five-clawed dragons striding amidst multi-colored scrolling clouds above cresting green waves and below a petal band, all against a light turquoise-blue ground. The domed cover is decorated with a third five-clawed dragon in red below the spherical finial decorated with radiating stripes of color above upright petal lappets. The base and interiors are gilded.
Provenance: Private collection, Virginia, acquired prior to 1900.
Note: Very few examples of cloisonné enamel jars of this size and design from the Ming dynasty are known. However, an almost identical example is illustrated by H. Brinker and A. Lutz in Chinese Cloisonné: The Pierre Uldry Collection, New York, 1989, no. 256.
The masterful rendering of the striding dragons, which exude compelling vigor and force, is reminiscent of those on the well-known cloisonné enamel jar from the British Museum, which bears a Xuande reign mark and is enameled with dragons racing amidst scrolling clouds. (Fig. 1) The British Museum jar, which is very similar to another Xuande-marked jar in the Uldry Collection, illustrated op.cit., no. 5, was included in the exhibition, Ming: 50 Years That Changed China, 18 September 2014 - 5 January 2015, London, fig. 65, and one can see the influences of the Xuande jars on the present example, not only in the shape but also the decoration. On the Xuande examples the dragons are executed in yellow rather than the red but the dragons on the current jar retain the full proportions and vivid animation. Hence the present jar represents a continuation of the admiration for early Ming cloisonné enamel wares decorated with powerful Imperial symbols.
A proliferation of Imperial porcelain jars painted with the dragon motif during the Ming dynasty allows for close comparison with the examples produced in cloisonné. Compare, for example, a large Xuande-marked dragon jar in the Metropolitan Museum of Art illustrated by S. Vallenstein, A Handbook of Chinese Ceramics, New York, 1989, illustrated on the frontispiece. The same design would carry through to the later Ming dynasty as can be seen on a blue and white Jiajing-marked jar similarly painted with two five-clawed dragons on the body and further dragons on the domed cover, in the National Palace Museum Collection, Taiwan, illustrated in Porcelain of the National Palace Museum: Blue-and-White ware of the Ming Dynasty, Book V, Hong Kong, 1963, pl. 14. It is interesting to note that by the 16th century, the depiction of the dragons became much less standardized, and they are shown with much thinner bodies contorted into snake-like postures, their large heads often appearing cartoon-like with bulging eyes. A blue and white jar of ovoid shape and large size with dragon decoration (66.5 cm.), with a Jiajing mark, is illustrated in Sekai toji zenshu, vol. 14, Japan, 1976, p. 205, no. 212. Also illustrated, no. 211, is a blue and white Jiajing-marked jar decorated with boys at play, where the bud-form finial can be seen to be striped above a band of upright petals like that on the present cover. Another blue and white example of ovoid shape bearing a Jiajing mark in the Qing Court collection, Beijing, is illustrated in The Complete Collection of Treasures in the Palace Museum - 35 - Blue and White Porcelain with Underglazed Red (II), Hong Kong, 2000, no. 96. Jars and covers of related shape with similar dragon decoration are also found in polychrome porcelain, such as the Jiajing-marked jar and cover decorated with yellow dragons above waves on a red ground, from the Ataka Collection, illustrated in Sekai Toji Zenshu, vol. 14, ibid., p. 79, no. 80.
Christie's. FINE CHINESE CERAMICS AND WORKS OF ART, 15 - 16 March 2015, New York, Rockefeller Plaza