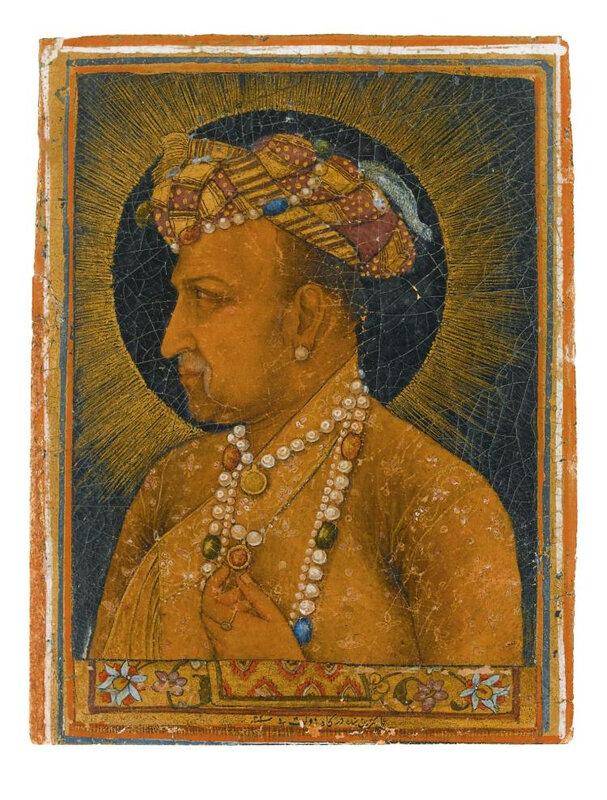 Lot 26. A bust-length portrait of the Emperor Jahangir, signed by Daulat, Mughal, dated 1627; 7.5 by 5.7cm. Estimate 30,000 — 40,000 GBP. Lot sold 60,000 GBP. Photo Sotheby's
gouache heightened with gold on paper, ruled in red, blue and white, inscribed, signed and dated in nasta'liq script 'amal-i kamtarin bandah-i dargah Daulat' ('the work of the most insignificant servant of the court, Daulat'), [regnal] 'year 22', in a khatamkari frame.
Provenance: Acquired in London in 1980.
Exhibited: The Indian Portrait, National Portrait Gallery, London, 2010.
Literature:Beach-Koch-Thackston 1997, p.210 & p.215, under Dawlat (sic) 46, footnote 3, fig.139
Beach-Fischer-Goswamy 2011, pp.308, 316 & 320, fig.11
Crill and Jariwala 2010, pp.74-75, no.13.
Note: This small and exquisite portrait of Jahangir (r.1605-27) is one of a number of portraits of Mughal emperors, predominantly Jahangir and Shah Jahan, that show their head and shoulder at a window. The majority of such portraits were used in the composition of royal album pages, where they were mounted with other thematically related small portraits or separate miniatures (Crill and Jariwala 2010, p.74). Examples can be found in the various royal albums of Shah Jahan and the later-assembled St. Petersburg Album (see, for example, Canby 1998, p.143, no.106, Wright 2008, pp.336-341, nos.48-49, von Hapsburg et al 1996, pls. 21, 24, 25, 28, 29, 227; Okada 1992, p.183, fig.217). The other context in which such portraits appear is within larger scenes of state occasions or performances, where the emperor sits either at a palace window watching an event, or on a raised throne platform within a palace, receiving princes and courtiers. Examples of these appear frequently in the Windsor Padshahnama and in related paintings in albums. For examples of these see Beach, Koch and Thackston 1997, pp.93, 105, nos.37, 43, and pp.219, 222-3, figs.145, 156-158; Canby 1998, p.142, no.105).
This example is signed by the artist Daulat and dated the 22nd regnal year of Jahangir's reign - the final year of his life and reign, when he was 58 years old. His age is delicately but realistically portrayed in the grey hair of his moustache and sideburns, the jowly chin and cheeks and the somewhat tired look in his eyes.
Daulat, a pupil of Basawan, became a favourite painter of the Emperor Jahangir. Self-portraits appear in both the 1595 Khamsa of Nizami and the margins of the Tehran section of the Gulshan Album (Brend 1995, p.64, col.repr.; and Pal et al. 1991, p.88, fig.1), but little more than his appearance and the fact that he was a Muslim is known about him. That his career started in the reign of Akbar is revealed by a page of the Baburnama of c.1597 (Pal et al., p.89, col.fig.2). The present portrait presents further proof that Daulat remained active for longer than was thought. It is the last known of the large number of portraits of the Emperor Jahangir. It is also the last dated work known by Daulat. Beach compares this portrait with an exceptionally large one painted on cloth (sold in these rooms 18 October 1995, lot 85, and again at Bonhams London, 5 April 2011, lot 322, see Beach, Koch and Thacston 1997, p.215, no.456, footnote 3; Crill and Jariwala 2010, pp.76-77, no.14). Daulat continued to paint during the reign of the Emperor Shah Jahan, a page of the great Padshahnama being attributed to him and dated circa 1635 (Beach, Koch and Thackston 1997, pp.110-1, no.46, pp.210-1). For further discussions of Daulat see Beach 1978, pp.113-116; Beach, Koch and Thackston 1997, p.215; Das in Pal et al. 1991, pp.87-104; Leach 1995, vol.II, pp.1101-02, Beach in Beach, Fischer and Goswamy 2011, pp.305-320; Verma 1994, pp.126-130.
For comparison with a selection from the numerous portraits of Jahangir by various Mughal artists of the period, see Beach 1978, pp.158 & 160, no.58, (drawing, c.1615); Beach 1992, p.111, fig.81 (drawing attributed to Hashim, c.1620); Canby 1998, pp.142-3, no.106 (by Balchand, c.1625-30); Crill and Jariwala 2010, pp.76-77, no.14; Godard 1937, pp.197 & 199-200, pl.12, fig.70 (drawing by Hashim, c.1619); Leach 1995, vol.I, pp.395-6, no.3.22 (by Hashim, c. 1620), and pp.396-8, no.3.23, (by Hashim, c.1615-20); Stchoukine 1929, pl. XXIb; Thackston 1999, p.45 (attributed to Daulat, c.1610); Welch et al. 1996, p.28, col. pl.28 top rt. (c.1625), pp.58-59, col.pl. 29 top rt. (c.1620), p.92, col. pl.124 (c.1620), p.100, col. pl.154 (as Prince Salim, attributed to Manohar, 1601), p.106, col. pl.177 (attributed to Manohar, c.1607), p.113, col. pl.201 (by Abu'l Hasan), p.114, col.pl.204 (c. 1618) and pp.114-5, col. pl.205 (by Bichitr, c.1615-18); London, 1982-II, pp.34-35, no.10 (drawing attributed to Abu'l Hasan); Paris 1986-I, pp.34-35, no.7 (by Hashim and Abu'l Hasan, "Jahangir at the age of 30 years").
Sotheby's. The Sven Gahlin Collection, London, 06 oct. 2015