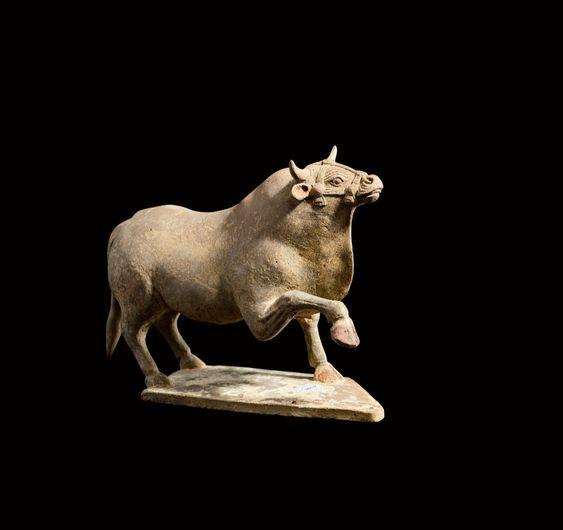 Lot 5022. A finely modelled painted pottery figure of an ox, Northern Wei dynasty (386-534); 19.5 cm, 7 5/8 in. Estimate 200,000 — 300,000 HKD. Sold for 437,500 HKD (51,765 EUR). Courtesy Sotheby's.
delicately and dynamically modelled, depicted sturdily standing on a trapezoid base with the right hoofed foreleg raised as though walking while ploughing, the animal portrayed with the head held high, accentuated with well-defined features including a pair of curved tapering horns above a pair of projecting ears, and further rendered bound by a halter composed of straps and roundels, all above a pronounced dewlap echoing the subtle muscular contours of the beast, the grey surface with traces of red and white pigments.
Provenance: The Norman A. Kurland Collection.
Eskenazi Ltd, London, 2017.
Exhibited: Six Dynasties Art from the Norman A. Kurland Collection Part One, Eskenazi Ltd, London, 2017, cat. no. 18.
Note: This powerfully and sensitively modelled figure of an ox embodies the qualities for which they were revered in Chinese culture: strength, endurance and patience. Traditionally associated with agriculture, during the Six Dynasties period the ox-drawn cart began to replace the horse-drawn chariot as a form of transport for the elite. Pottery models of oxen attest to this, as do images on the sides of stone sarcophagi, such as that found on a Northern Wei tomb at Zhijiabao, Datong, Shanxi, illustrated in Shi Jinming, 'The Northern Dynasties and Major Archaeological Discoveries', Willow Weilan Hai, Annette L. Juliano et al, Art in a Time of Chaos, Masterworks from Six Dynasties China 3rd – 6th Centuries, New York, 2016, pp. 74-5.
A similar example in the Matsuoka Museum of Art, Tokyo, was included in the Inaugural Exhibition, Selected Masterpieces of the Matsuoka Museum of Art, Tokyo, 1975, cat. no. 17.