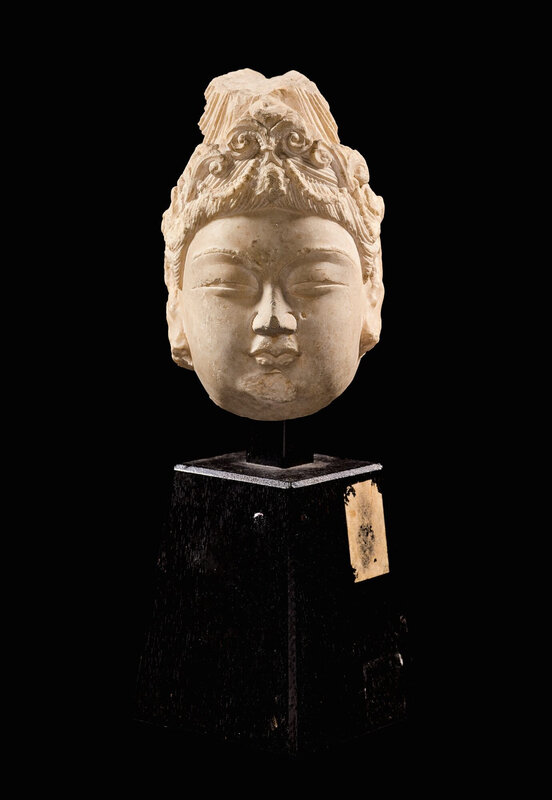 Lot 5103. A marble head of Avalokiteshvara, Tang dynasty (618-907); 14.6 cm, 5 3/4 in. Estimate 300,000 — 400,000 HKD. Sold for 375,000 HKD (44,370 EUR). Courtesy Sotheby's.
sensitively carved as the sensuous full face of the Bodhisattava, portrayed with slender almost half-closed eyes beneath arched eyebrows exquisitely depicted with fluidly carved lines tapering at the ends, the small bud mouth with soft contours and superbly rendered pursed into a faint smile, all beneath neatly coiffed hair gathered into a high chignon and adorned with an elaborately beaded crown, wood stand.
Provenance: A Japanese private collection, acquired prior to 1970s.
Note: Buddhist sculpture of this period is characterised by the very sensuous physical appearance of the deities represented and the current head, exuding influence from the stylised iconography of the Northern Wei dynasty, is a remarkable testament to the renaissance of statuary in China at the beginning of the 7th century.
See a related Tang dynasty example of an eleven-headed Avalokiteshvara unearthed in the western suburbs of Xi'an, similarly carved with plump cheeks and eyes rendered beneath a neatly coiffed chignon, illustrated in Cheng Jianzheng et al., Xi'an Forest of Stone Tablets Museum, Xi'an, 2000, p. 134.