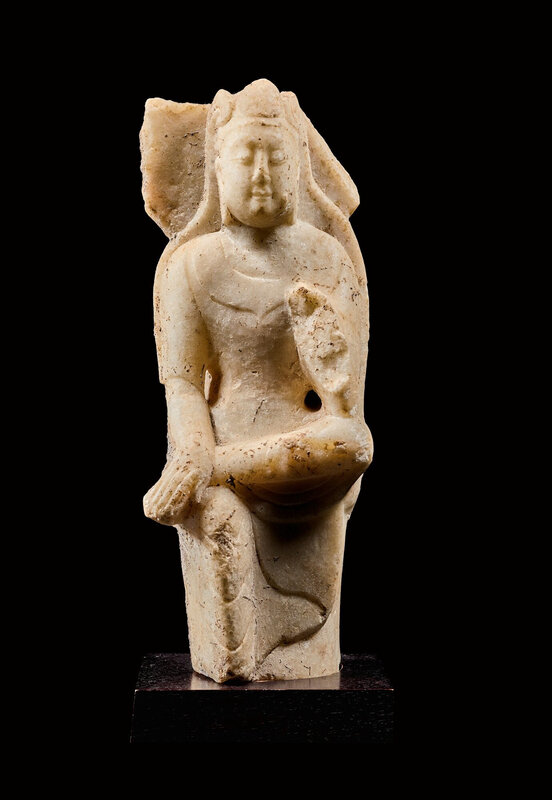 Lot 5030. A marble figure of seated 'pensive' Maitreya, Northern Qi dynasty (530-577); 23.8 cm, 9 3/8 in. Estimate 260,000 — 280,000 HKD. Sold for 325,000 HKD (38,454 EUR). Courtesy Sotheby's.
the bodhisattva portrayed as the Lord of Tusita, modelled in the round seated in lalitasana on a raised circular base with the left leg crossed over the right knee, his right hand resting on his left foot while the right arm (now missing) bends up toward the face, the hand most likely with one finger raised touching the side of his face in pensive thought, the figures dressed in a long snug robe clinging around the body and draping in loose folds over his legs, the chest detailed with a simple, low relief pointed torque, the round benevolent face finely carved with a broad nose, bow-shaped eyes and a small bud mouth, the hairline framed by a rounded diadem wreathed in curling veils falling behind his pendulous earlobes and along his shoulders, against a truncated bodhi tree, the white marble of slightly pale buff tone with light brown calcified patches on the reverse of the figure, Japanese wood box.
Provenance: Collection of Sakamoto Gorō (1923-2016), acquired between the 1950s and 60s.
Sotheby's Hong Kong, 8th October 2013, lot 114.
Note: Another closely related marble figure of a 'pensive' Maitreya, dated in accordance with AD 570, is illustrated in Osvald Sirén, Chinese Sculpture from the Fifth to the Fourteenth Century, London, 1925, pl. 244b, and was also included in the exhibition Ancient Chinese Sculpture, Eskenazi, London, 1978, cat. no. 12, from the collection of K. Takenouchi, Tokyo. Compare also two closely related figures illustrated in Matsubara Saburō, Chūgoku bukkyō chōkoku shi kenkyū/Chinese Buddhist Sculpture, Tokyo, 1966, pls 146a and 146b, the former bearing a dedicatory inscription with a date corresponding to AD 564.
See a further example of a standing bodhisattva figure with closely related features included ibid., pl. 267b, from the collection of George Eumorfopoulos, London; and an early Northern Qi period Maitreya figure published in Matsubara Saburō, Chūgoku bukkyō chōkoku shiron/The Path of Chinese Buddhist Sculpture, Tokyo, 1995, plate vol. 2, pl. 474, dated to 550.