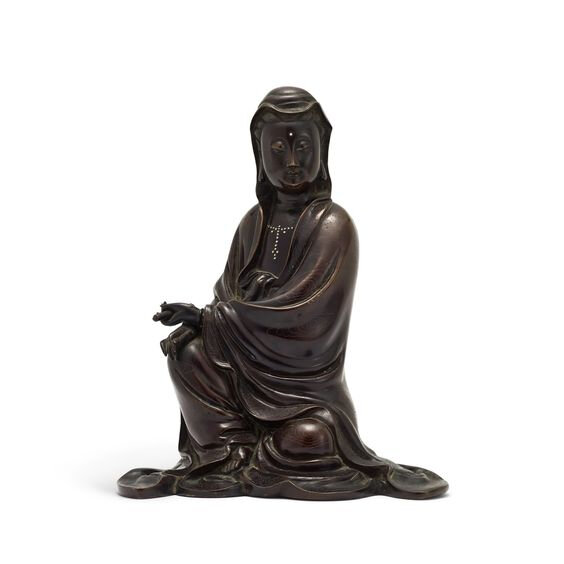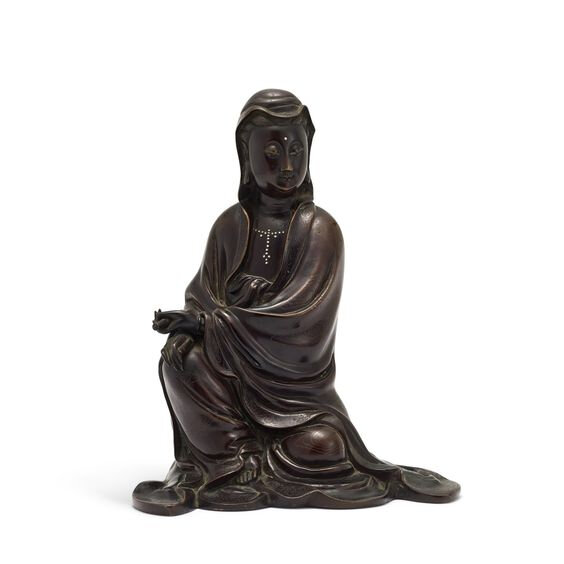 Lot 5115. A silver-inlaid bronze figure of Guanyin, Shisou mark, 17th century; 12.9 cm, 5 in. Estimate 150,000 — 180,000 HKD. Sold for 275,000 HKD (32,538 EUR). Courtesy Sotheby's.
depicted seated with the right knee raised supporting both hands with one holding a scroll, clad in long flowing robes falling into voluminous folds and draped over by a shawl, the garments embellished by silver wire-inlaid clouds and scrollwork borders, opening to reveal the bare chest, the expression rendered serene and meditative, framed by pendulous earlobes and a cowl, the reverse similarly inlaid with a Shisou mark.
Provenance: An Irish collection since the 1970s, by repute.
Note
: Shisou, a legendary artisan, is believed to have lived at the end of the Ming dynasty and excelled in silver-inlaid bronzes, especially scholar's objects. The precise dates and biography of Shisou remain unclear, however, due to a lack of historical documents.
For Shisou-marked seated bronze figures of Guanyin, see one example dated to the 16th to mid-17th century, illustrated in Emperor, Scholar, Artisan, Monk, Sydney Moss Ltd, London, 1984, pp. 280-281, no. 132; a figure reputedly from the collection of Kichirobei Yamaguchi, the founder of Tekisui Museum in Ashiya, Japan, but attributed to the 17th to 18th century, was sold in Christie's New York, 21st/22nd March 2013, lot 1282; and another example dated to the Ming dynasty, illustrated in Gems of Beijing Cultural Relics Series: Buddhist Statues, vol. 1, Beijing, 2001, p. 79, no. 40.